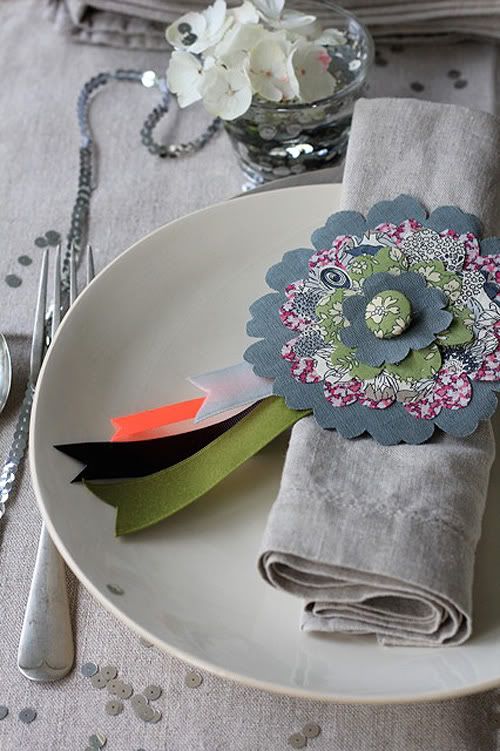 When thinking about a tabletop, it was important for us to use handmade elements along with Liberty products during our styling demonstration in-store. Sania, Leslie and I all place extreme importance on personalizing things and the best way to do so is to make things by hand.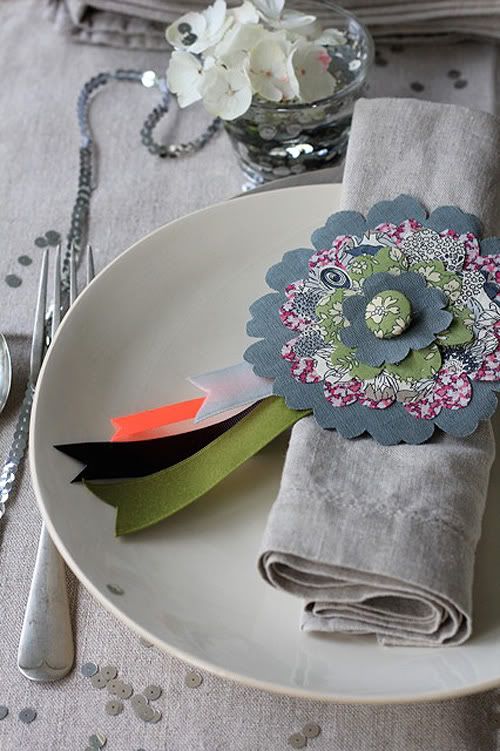 In my book, Decorate, there is an entire section devoted to the importance of details. That section, Attention to Detail, begins with an image from Sania's home that was taken for my book at her house. I chose that image to open the section because it really spoke to me. You'll have to locate a copy of Decorate and turn to page 237 to see it and once you do, you'll know exactly why I selected that photo to open the section. A little insider's note… Attention to Detail came to be in the 11th hour and wasn't even mapped out to be IN Decorate but I wanted to include more detail shots that Debi had taken as we traveled so the publisher agreed to it and Attention to Detail was born and I'm so glad it was since many of you have commented that it is your favorite part of the book! But I digress…
But yes, back to our tabletop styling demo and the idea to create a Springy tabletop with pretty details using a combination of products found in Liberty that were already made (like the Lisa Stickley placemats and napkins that we used) along with things from Liberty's fabric + notions department showing customers how to use Liberty patterns in a fresh and new way to create their own products. Sania is very passionate about making things by hand so she was more than happy when I asked if we could take this in a handmade direction. In fact, she was delighted!
For the next tabletop DIY idea, Sania will walk you through how to make gorgeous Flower Napkin Rings using linen (that you can purchase anywhere) and Liberty patterns though you can use any fabrics that you like. Please note that she purchased a very basic, affordable linen since my budget for buying all of these things was pretty low — but had I done this at home I would have purchased a thicker, more tactile nubby linen to give the flowers more bulk. It's up to you – but bare in the mind the weight of the fabrics determines how the flowers look in the end. You also may need a stronger needle if you use heavier weight fabrics. We used inexpensive cotton linen and lightweight cotton fabric from Liberty.
Let's go to Ms. Pell reporting live from her craft loft in London… Sania, you have the mic girlfriend!
Hi again everyone, it's Sania Pell here and now I'm going to explain how to make the flower napkin rings used for our table setting at Holly's Decorate book launch styling demo at Liberty last month.
The wonderful thing about these pretty flower napkin rings is that they have multiple uses. The way they were designed for the table setting was that they would be little favours for each guest to take home with them. As they are simply safety-pinned to the napkin ring, our guests could remove them and pin them to their outfit or bag and take them home with them. A little bit of fun that would make our guests remember their time with us when they were back at home. They can also be pinned onto cushions (pillows) to add detail too. Some were even pinned to the tablecloth along the edges, as you can see if you click here.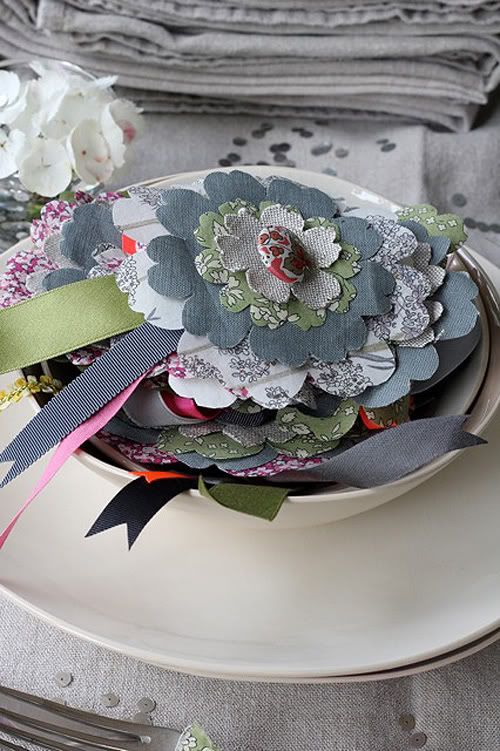 (Click HERE to download XL version of the above steps.)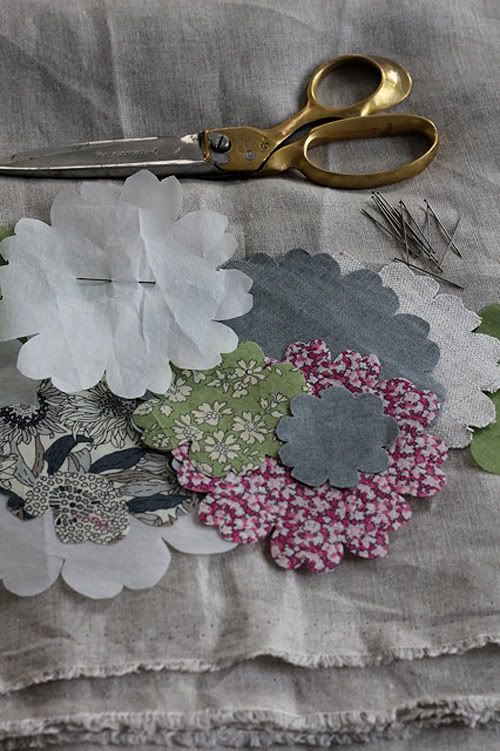 Lay out your cut pieces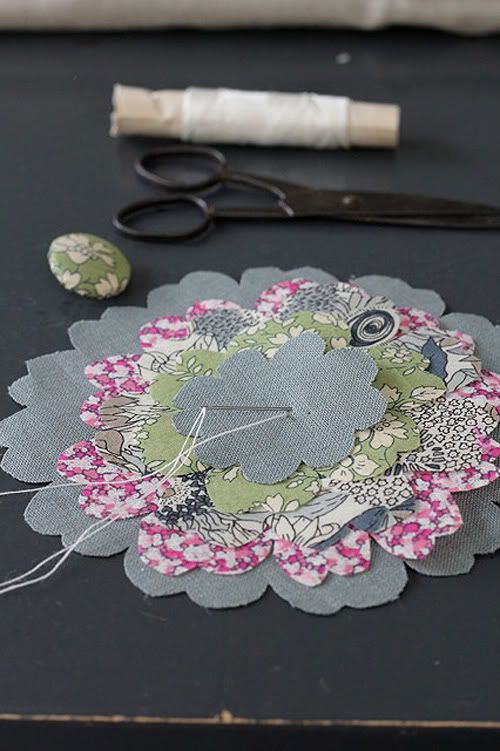 Sew them together in the center by hand.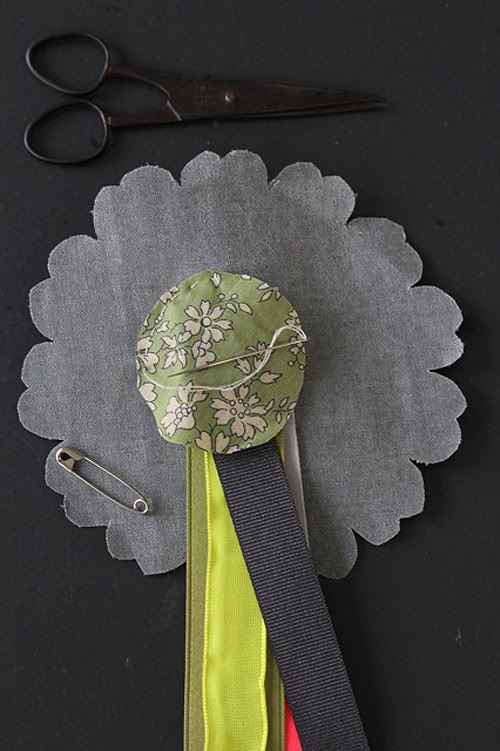 Place safety pin on the back along with ribbons of your choice.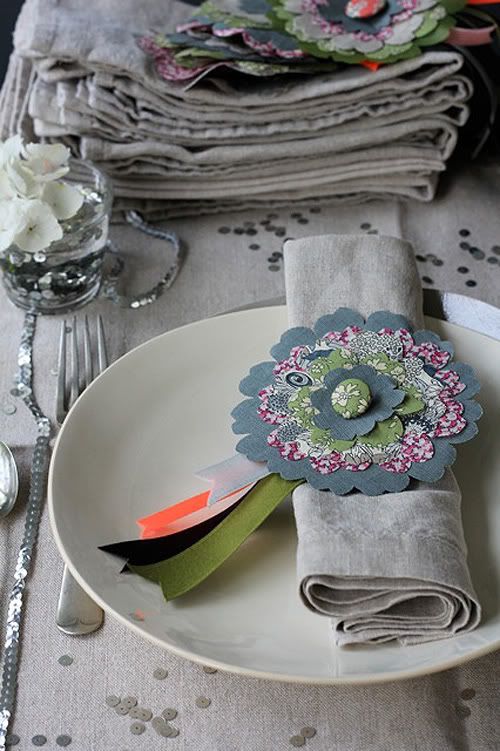 We coordinated these with our overall table setting style for Holly's book launch, using the Liberty fabrics we had chosen. By using lots of different fabrics and making these by hand you can ensure that each one is unique and individual – something your guests will love and can help be a little ice breaker and conversation starter for your dinner party.
I mentioned in the steps above the idea of creating your own fabric button for the centers of each flower. Covered-button kits are available from most haberdashers, they have little hooks to grip the fabric and a snap-on back to finish it off and keep it neat. They have a loop (shank) on the back for attaching. Here is how you can make them.
Tools: Button covering kit (buttons can be bought in various sizes and are not too expensive), needle and thread,
scissor, scraps of fine/thin fabric and safety pins.
How to: First, you cut out a circle of fabric with a diameter slightly less than twice the diameter of the button. Next, and this is optional, but using a needle and thread you can sew running stitch around the edge of the circle and place the button upside down in the center of the circle and pull the threads together to gather the fabric around the button and knot. Then, snap the back on so it clamps the fabric in place and finishes the button. If your fabric is thick it can be quite difficult to push the back on. A cotton or fine linen works well and finally, if the shank sticks out too far you can push it in so it is flatter to the back.
Ready for a little bonus material before I move on to the final DIY project? Great, here is a mini styling tip for your next dinner party… I call this one Sequin Glamour.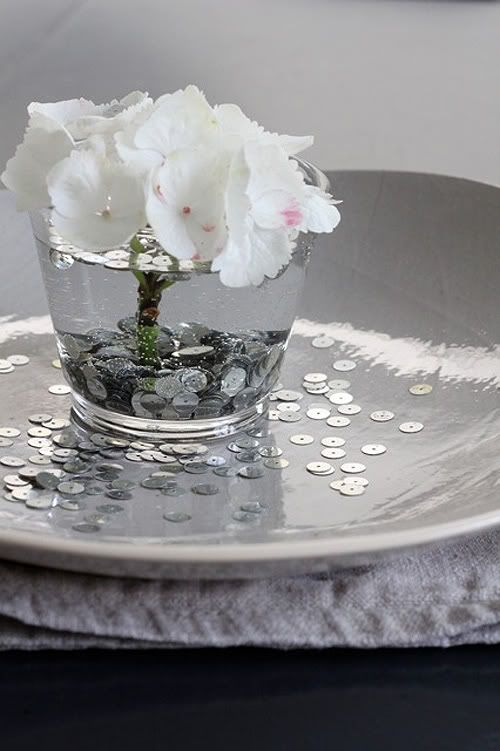 The sequins in the small glass vase, add a little glamour. Some float, some sink, but they are a really easy way to make your table interesting. It is the same with the sequins scattered on the table, they just add a little sparkle, fantastic for a celebration.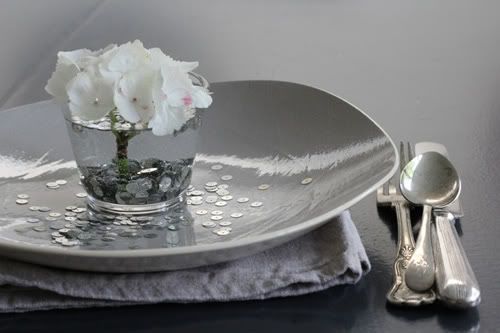 The beautiful handmade plates are by Brickett Davda, the napkins are from Habitat and the little glass vase is actually a tea-light votive from IKEA. The cutlery is vintage from a car boot sale bought for next to nothing. I'll be back in a moment with a final DIY project. Happy making! – Sania x
(images: sania pell)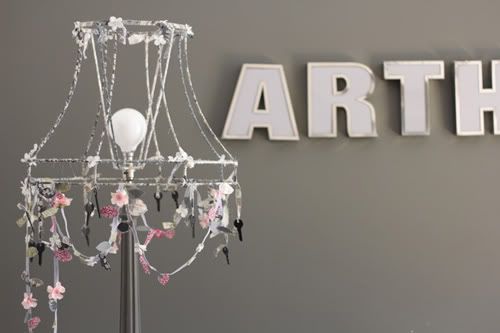 The next DIY that we've prepared to you taken from an idea to make a funky lampshade that we've called the Liberty Fabric Wrapped Lampshade because Liberty fabrics were used to make it that were selected in-store. I'm proud of this one because we had a really fun time trying to figure out what to put over the table (see table here) and at first I had envisioned stripped and wrapping three rice paper lanterns from IKEA in Liberty fabric then hanging handmade garlands from the bottom of their frames but then I thought that having IKEA products in Liberty may not be the best idea! So my friend Sania Pell and I thought to try something else — perhaps something vintage and affordable to inspire our guests, and as our ideas evolved a wrapped fabric lampshade was born. I love the evolution of ideas, collaborating with others, and pushing the envelope when it comes to ideas. This is a quirky shade, but it's fun and totally worth trying at home.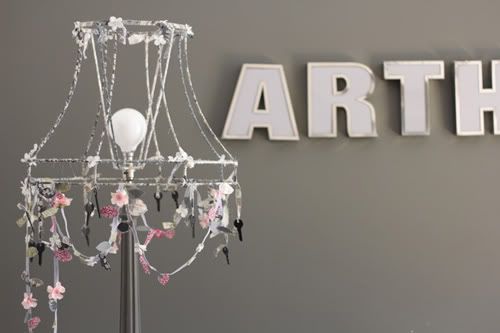 Sania made the one shown in this post to hang over our table at Liberty that we, along with Leslie Shewring, showed during my book launch party. So! Sania is back with a little inspiration for us again — this time, the fabric wrapped lampshade. You're up, Sania!
Hello it's me Sania again! This lampshade is the one we used at the Liberty demo suspended as a centrepiece over the table, with a mirror ball for a bulb and draped with the garlands and ribbons. Holly showed you how to make a similar version here so I won't go into too much detail for this DIY since she covered it already. But I will give you some styling tips in case you're wondering how to fit this type of shade into your own decor or at a party.
* Use several different patterned fabrics but all from the same colour palette.
* Double-sided sticky tape at the top and bottom of each wire rod helps attach the fabric quickly and easily.
* Knot the fabric strip when you get to the end of a rod, leaving little tabs and swatches of the fabric pattern sticking out. I consciously embraced the fraying edges as part of the overall look.
* For this shade, strips of fabric left hanging down with old (not antique) keys tied to them spray painted black formed a link with Decorate – which is a book about beautiful homes. You could try something similar, but with objects that you love.
* To finish it, add small silk flowers to varying places on the frame to provide a visual connection with the garlands (how to make the garlands here) and to add some detail.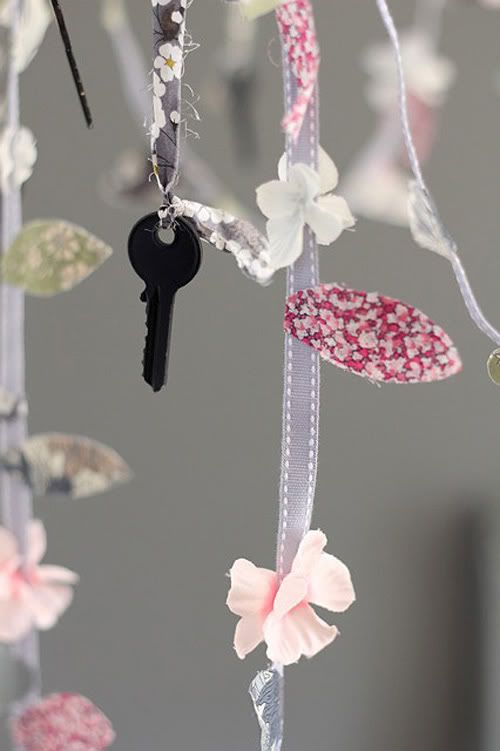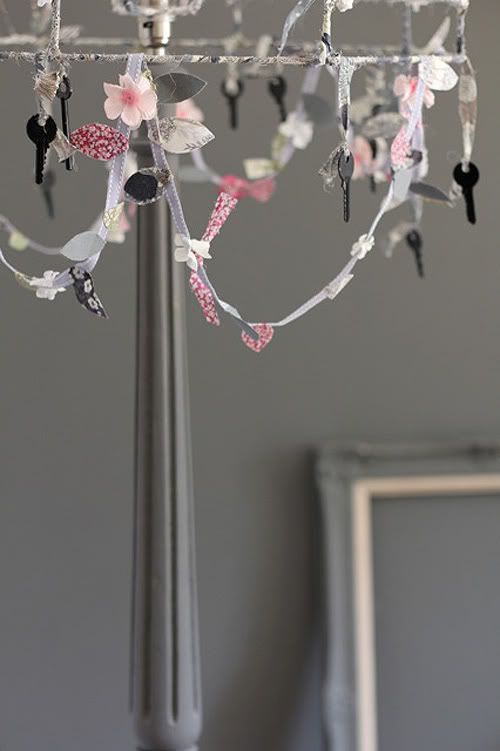 I thought you might also be interested in how I styled these photos. I used a lamp base, picture frame and wall all in a similar dark grey – one of my favourite colours – to ensure the pattern and colour of the leaves and the shade pop out in the pictures. The common element in all the Liberty fabrics we choose was that there was a subtle grey link between them so I know this colour scheme would work. It would look good against white too, prettier but less dramatic. I purposely chose to display the garlands on the graphic letters on my wall as a contrast against their organic shapes and softness. I also used my big mirror ball to reference the one we used at the demo, to add a bit of glamour and to pick up on the silvers and greys of the other props.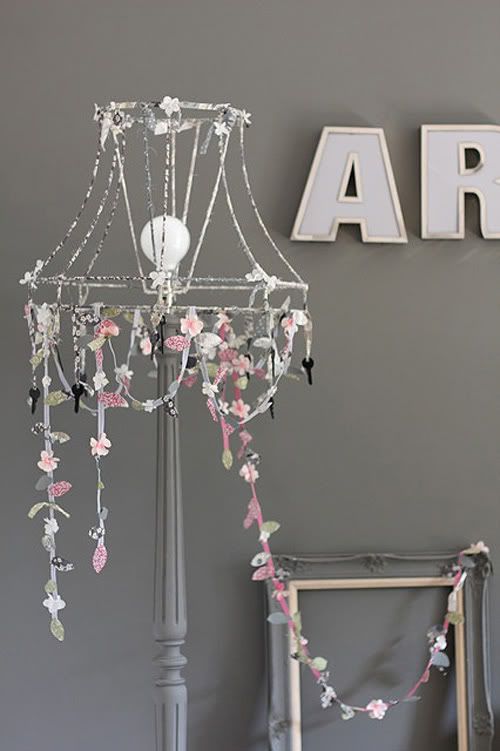 ll the props in these photos cost hardly anything, they were just painted, cleaned or customised. The lampshade came from a charity shop, the lamp stand, frame and mirror ball were from car boot sales, and we spotted the metal letters being thrown away when an old office building was having a new sign installed. We asked the builders and they let us have them for nothing. Hopefully it shows with some creative thinking and a little bit of effort you can create something stylish and personal for next to nothing.
I hope you've enjoyed this project and that it has inspired you to try something new. If you have any queries about this project please put them in the comments and I'll help if I can! In my next post I'll be telling you how to make the hanging house mobiles we had suspended above Holly's signing table. Thank you for reading and happy making! – Sania.
Caution: Fabric near a bulb should always be treated with a flame retardant spray. As this was just a display shade it wasn't necessary, but I will either treat it before use or unravel the area nearest the bulb to be on the safe side.
(images: sania pell)
Are you ready to be inspired by some tabletop DIY ideas? Today London-based stylist Sania Pell has so generously taken time away from writing her next book to join all of us on decor8 to share how to add handmade touches to your table. I have three posts from her that she so beautifully prepared to inspire your next party, from a wedding to a sweet and festive brunch at home amongst friends, all taken from the styling demo that we did at Liberty in London last month for the launch party celebrating my new book Decorate. Take it away, Sania!
Hello everyone, it's Sania here. I'm sure you have all seen Holly's post about the Decorate book launch and styling demo at Liberty last month. It was an amazing day and a pleasure to collaborate with Holly and Leslie and to meet everyone who came along. If you were there, I do hope you took some useful ideas away with you to use at home. If you weren't able to make it, then Holly has kindly given me the opportunity to share how to make some of the items we created.
I thought I would start by showing you how to make these decorative Spring garlands.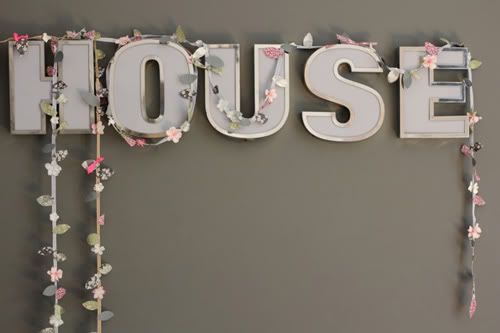 I love the way these garlands look like little Spring branches with new leaves and blossom – perfect for a Springtime party. The great thing about these garlands too is they are made so that they look equally lovely from both sides, so you can hang them as you wish.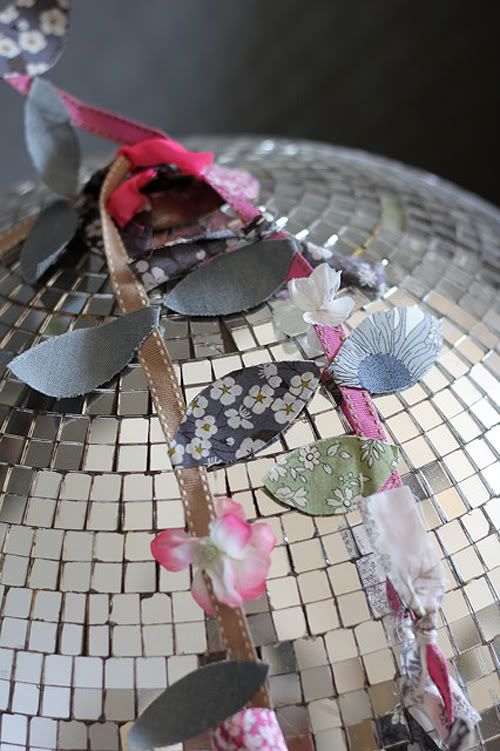 They are quite simple to make and although we used Liberty's own fabric designs. You can see a selection of their patterns on their website.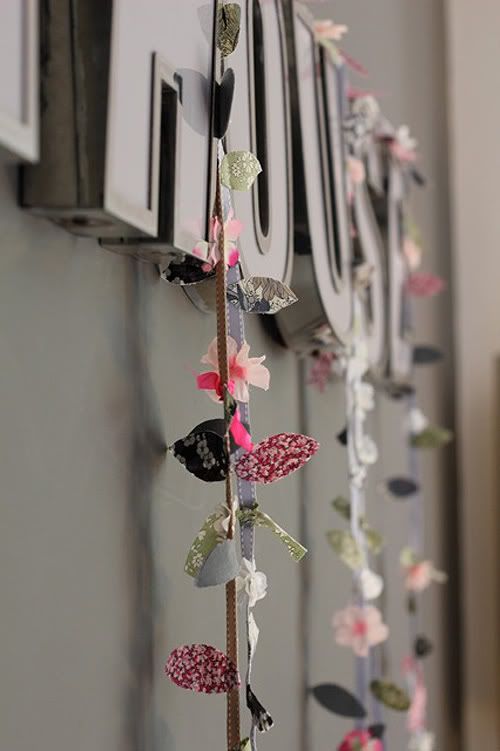 You could be thrifty though and make them using scraps of fabric and ribbon you already have at home or if you want a specific color palette you could buy some ribbon and fabrics to match. They don't use that much fabric, though it does depend on the length of your garland!
(Click HERE to download XL version of the above instructions.)

One of the things I talked about at the demo is that when styling , 'a little bit of wrongness' can make things right. It can make things more visually interesting and stop things looking too safe. We added a little bit of bright, neon ribbon to the garlands and overall table setting so that it didn't become too matchy-matchy and to add a pop of colour to grab your eye as you look at it. – Sania Pell.
Thank you Sania for breaking this down for us – gorgeous and inspiring just like you!
Readers: If you have trouble reading the instructions above, please click on the image and then save/print it out to refer to while you're making — or just drag and drop it to your desktop. Enjoy!
(images: sania pell, holly becker)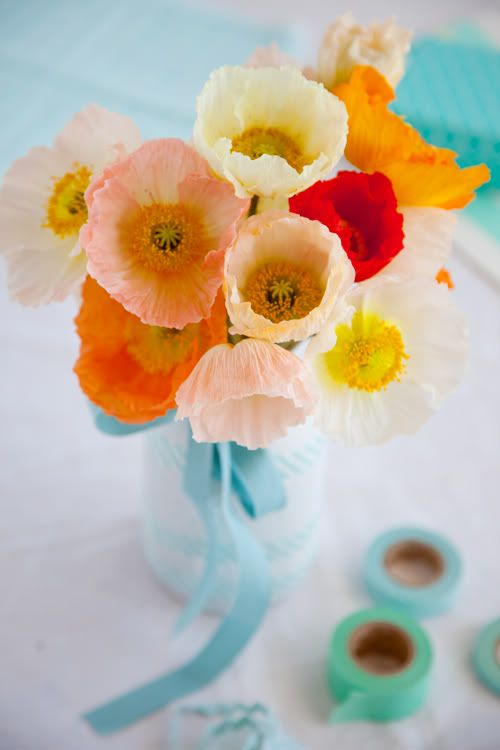 Hello friends, it's Leslie here with Color Me Pretty for March. With all the heartache over the last ten days I wanted to focus on spring with the sense of hope, creativity and new life it brings. I thought I would revisit one of my favorite palettes, which includes pale blue, watery aqua, minty green, and splashes of dark coral. To change it slightly I added some chalky looking lavender. I have been seeing this palette in various forms lately and thought you may enjoy it.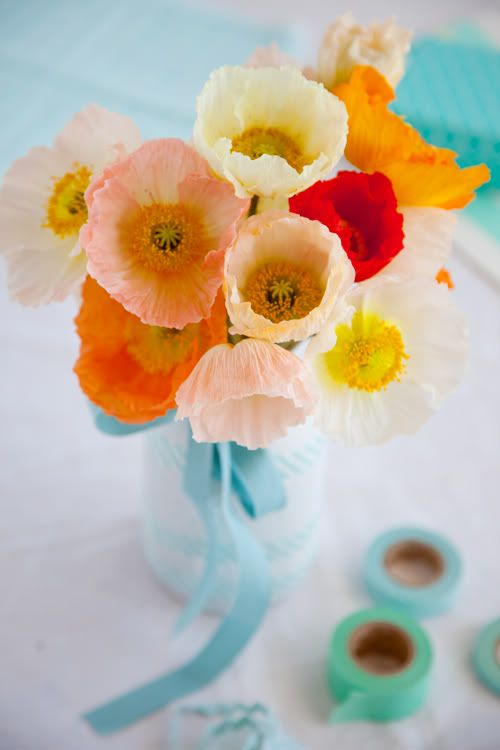 Cheerful poppies have been blooming in my garden and I decided to place these ones in a spray painted mason jar. I further decorated the jar with ribbon and a few strips of Japanese washi tape. Decorating some white floral containers with tape is simple, quick and adds a sweet handmade quality don't you think?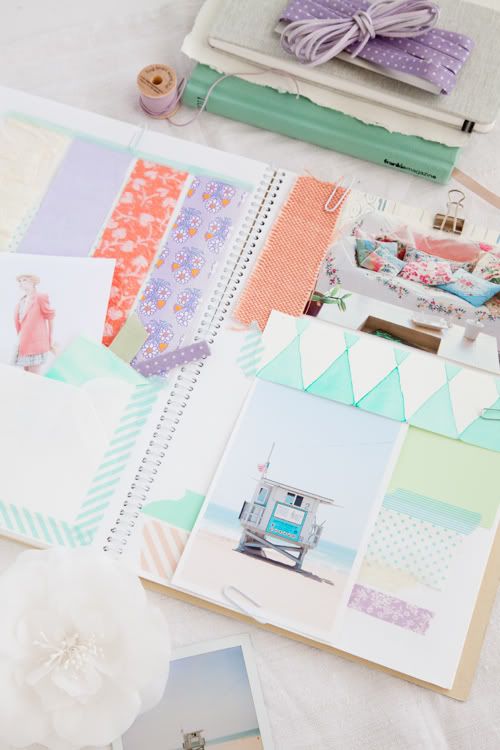 I was really inspired by the work of Thomas Campbell who Holly introduced me to in her post a few weeks ago. I couldn't help but get back to my sewing machine to sew more paper together. I made some interesting wrapping paper quickly as well as some larger pieces I may frame and use as wall hangings for my home. When I did not have the right color of paper I used watercolors to create the tones I needed.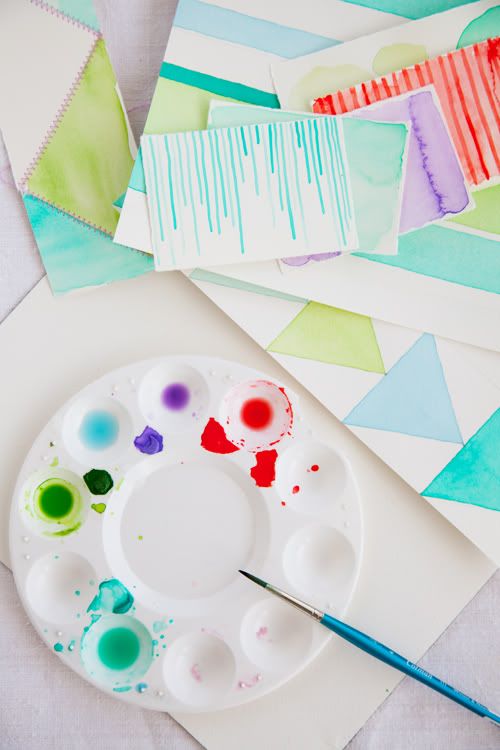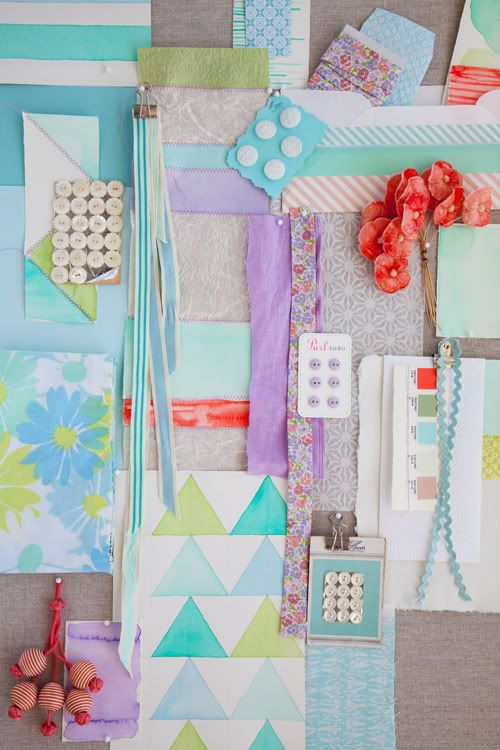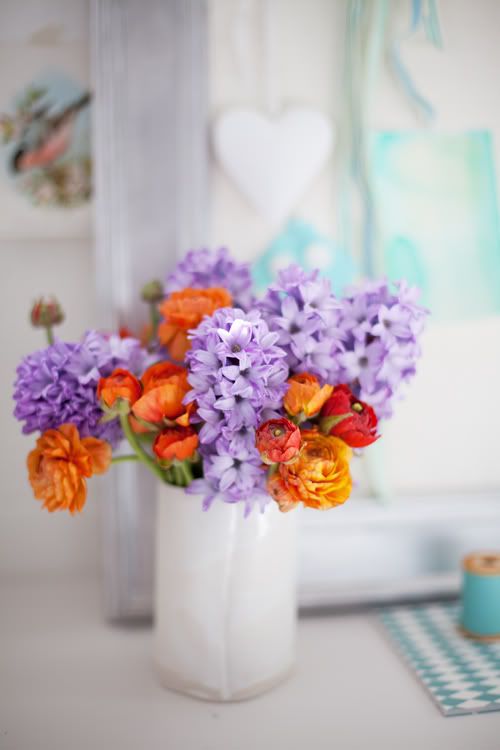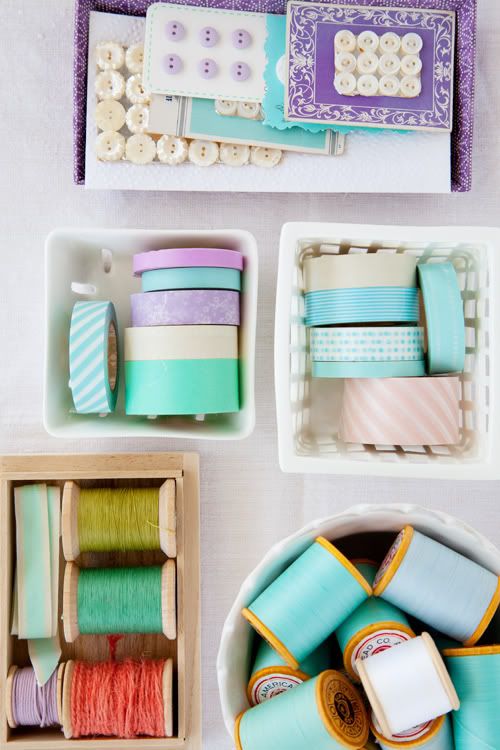 I filled my journal pages with pieces of freshly colored paper and photographs. I love having this record to go back and look at when I want to create something down the road and am lacking inspiration. My journals have always helped keep my visual ideas organized. They act as mini mood boards that are portable, easy to keep and refer to. Long after my tack boards have been cleaned off I still have my journals waiting neatly on the shelf.
I hope I may have sparked an idea or two for you to carry out in some of your creative projects. Please take a moment this week to stop and notice the flowers of the season. Even if they are just the ones on display at the market! I will see you back here next month, until then take good care and thank you. – Leslie.
(images: leslie shewring)
Leslie