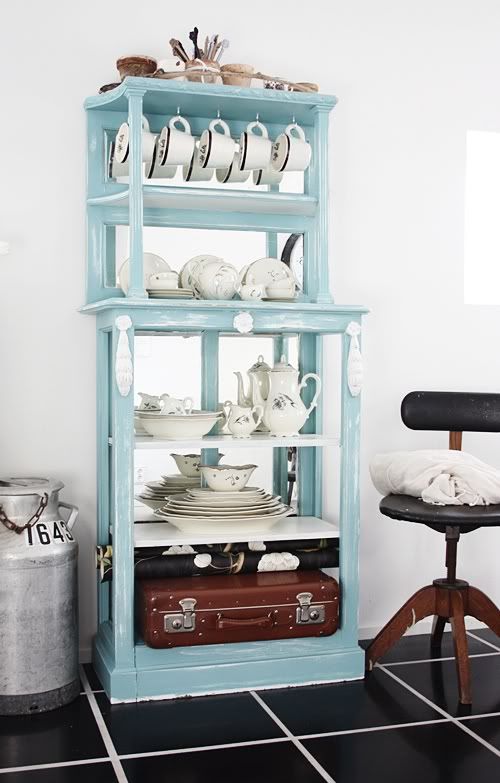 Hello everyone! This is Anna-Malin Lindgren from Helt Enkelt visiting decor8 today for my once monthly column, Handmade Home! This month I'm going to share with you one very special cabinet that I've used in three different ways in my home. A few years ago I was given this gorgeous old French cabinet by my dear mother. It's an antique but was already painted when I received it so I figured painting an antique that was already painted wasn't going to break any rules, right?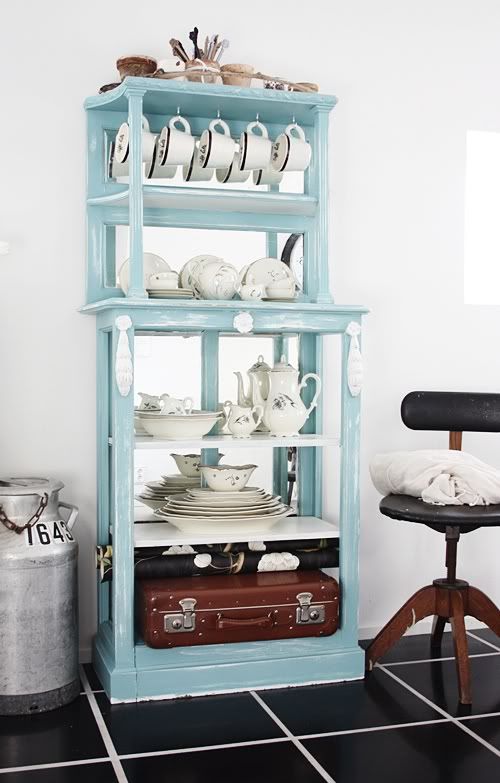 At the time it was a creamy white but after living with it for a few months I decided to give it some color. If you read my blog you know that I'm not usually drawn to using much color in my home but I thought that an aqua color would make it stand out a bit. At first I placed it in my kitchen, but then I got tired of it there and moved it to my bedroom instead.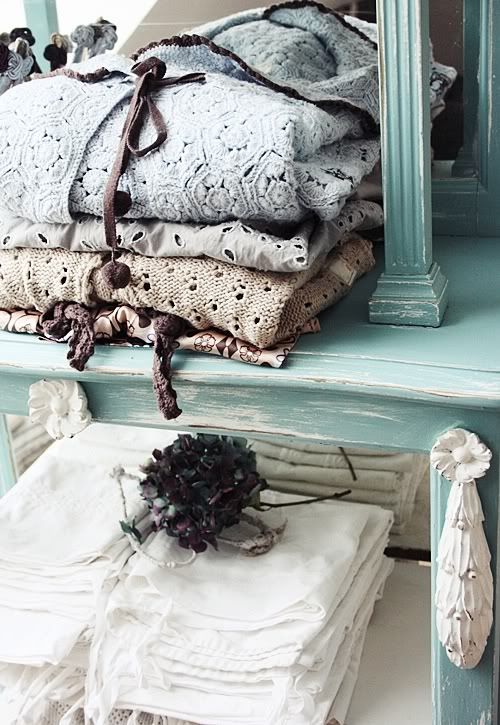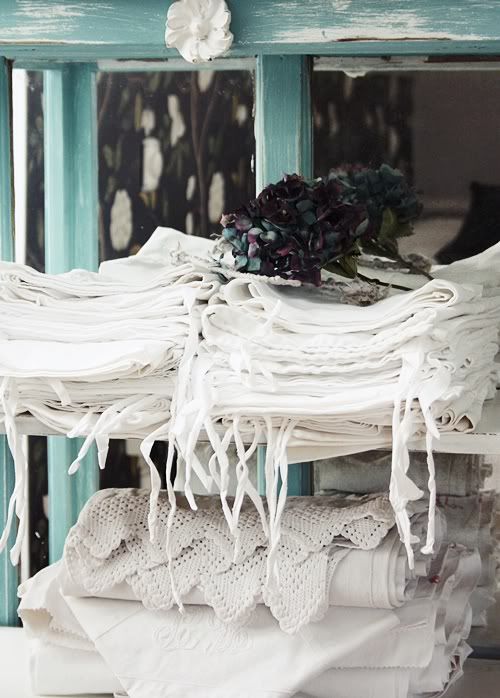 It looked really nice next to my bed — I placed vintage linens inside and some of my favorite cardigans. It stayed in the bedroom until recently when I decided just a few days ago to move it again into my…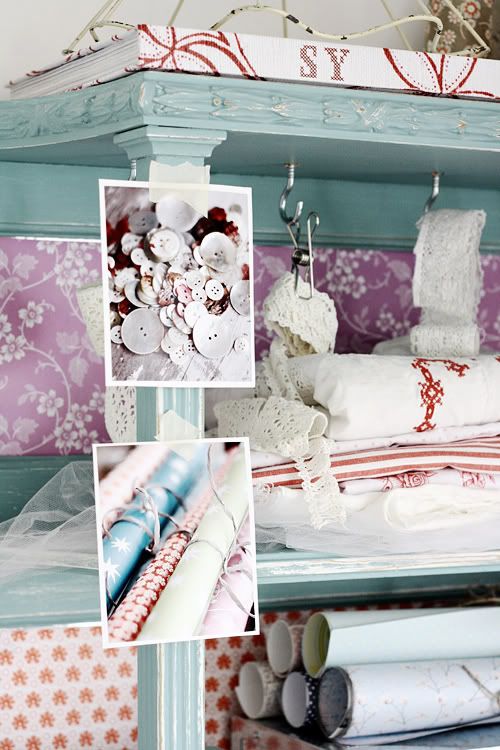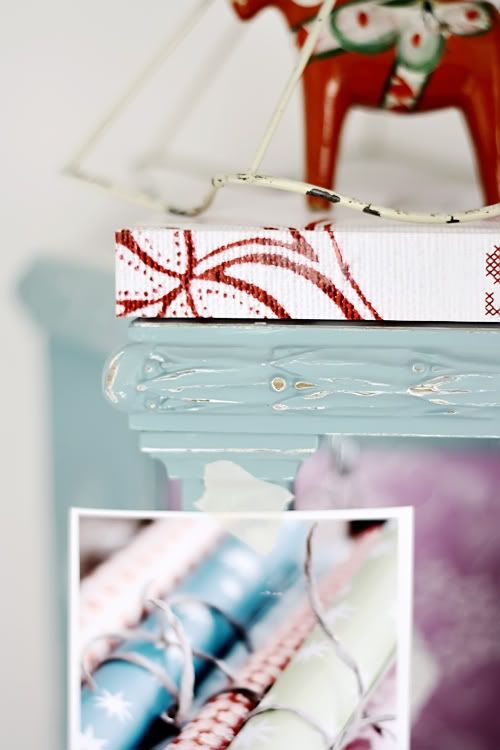 …Studio! Things move around all the time in my home so this is nothing new. :) Maybe you can relate? I thought to freshen up the cabinet that I would add some patterned papers in cheerful colors, placing them over the mirrors in the back of the cabinet. Out of respect for the cabinet (especially since it is antique), I used double-sided tape so that I can easily remove it when I decide to change things up again. As you can see, it is a perfect storage solution for my some of my creative stuff (and you can see Holly's book on the shelf, some rooms from my home are in her book since she was here last year to photograph it). Who knows… maybe when you see this cabinet again it will be in a new space and in a new color. Only time will tell!
See you next month with some more decorating ideas and inspiration from my home to yours. xo, Anna-Malin
(images: anna-malin lindgren)
Hello everyone! This is Anna-Malin Lindgren from Helt Enkelt visiting decor8 today for my once monthly column, Handmade Home! Thank you for all your wonderful comments on my first post! You made me really glad to be here and I feel so welcome. Yesterday was Valentine's Day so I thought I'll share a romantic project for the dinner table that you can try for any celebration in your life really – maybe an upcoming anniversary? My inspiration began with a photo I took a couple of weeks ago of a flower and I liked it so much that I used that as my base to inspire a table setting.
After taking the photo, I uploaded it to my computer and made some edits to it, then I decided to trim the photo and use it as part of the place setting. I made a few cards by hand and used the photo on the front of them. For this occasion I worked with soft romantic colors. I set the table nicely, always use your best plates and fabric napkins on Valentine's Day! I made some fabric hearts and applied my flower photo to each heart using t-shirt transfer paper and a color printer. This was a very easy project and a nice way to personalize my table decor. I bought cherry blossom branches to hang the hearts on and that was the centerpiece on the table.
I also made a box using paper and filled it with chocolate hearts, placing them on the table. Again, very simple ideas but your family and friends appreciate such kind gestures — your thoughtfulness is always appreciated!
As you can see, I used things that I already had around the house to pull together something nice. Antique linens found at flea markets, a photograph that I took, t-shirt transfer paper, pretty papers, heart-shaped chocolates, wooden clips, rubber stamps and other crafty things created a special table setting.
Remember: Have fun and use your imagination. You can't go wrong. Maybe you can use this idea for a wedding? An anniversary party? Next Valentine's day? Or  you can work with brighter colors and use it for a children's party!
(images: anna-malin lindgren)
I'm so excited to bring you Anna-Malin Lindgren, a new decor8 columnist based in Sweden, who will produce a special project for us to share on the 2nd Monday of each month. She isn't really writing a DIY column, so all of the details will not be provided step-by-step, but she will be sharing things that she makes for her home along with how she used them to decorate a room for a little decorating inspiration. I'm going to hand the mic over to Anna-Malin now, so please, take it away and show us what you've made!
Hello decor8 readers! Today I'll show you a nice, personal lamp that I made from simple means and how I decorated my dining room around the light so that you can get a double dose of inspiration. I will do this in all of my columns because showing only what I made may not be that helpful but seeing something handmade in the home — "in-situ" — just may give you a different perspective on how you can decorate nicely on a budget by making things yourself. If you want to try to make this affordable branch pendant you'll need only a few key ingredients: an electrician, a branch from a tree (quite large) and 4 fabric-covered cables with either plastic or porcelain white sockets (try NUD Collection for a variety of cord colors). I got the idea for this lamp when I saw a picture in a magazine a year ago (inspiration below) and I thought to  myself – I can do this! Here is my inspiration…
I kept this tear from a magazine, I can do this! So I did!
I had the branch already for several months. It was brought home by my youngest son when we were out walking in the woods last summer. I started by hanging the lamps on the branch to figure out the perfect placement. When they had the right amount of space in between them, I used ordinary black tape to secure them in place. The next step was to measure the distance from the ceiling and then I selected a point where I gathered all of the cords and taped them together, tightly. Tip: When you finish, make sure you use clear bulbs – not frosted ones!
Taping them into place…
Next, I cut the cords (with a few inches to spare) and called my "hubby" — he did all the electrical stuff and fixed it so that the four cords connected to only one. You can use a terminal strip for this but I suggest calling in a friend who is an electrician because you can seriously cause problems or worse, burn your house down if you do this wrong – I nor decor8 can take responsibility for your safety, so check with a trained electrician! My husband also removed the tape and secured the cords onto the wood with u-shaped nails.
Voilá! Not hard at all. Now I have a unique, personal lamp for not much money at all. The cords were about 10 euros each (so 40 Euros) and the branch was for free! Of course, you'll have to pay for the time of an electrician (I was lucky to have my husband) but if you have a friend who is one, or relative, perhaps this light will be an affordable option over your dining room table, too.
Did you like this? Next month I will surprise you with something fresh and fun (and affordable) so stay tuned. If you have any questions about this project please ask in the comments section below.
See you with another project on February 14th! — Anna-Malin Lindgren.
(images: anna-malin lindgren)
I have some exciting news that I must share before the weekend begins. I hired a second columnist to write on decor8, so in addition to the lovely Leslie Shewring and her wildly popular Color Me Pretty column I now have the talented Anna-Malin Lindgren from Helt Enkelt, a Swedish blogger, photographer, illustrator, craft lover, wife, mother and DIY-queen joining us. I can't wait to work with her, I'm so happy she has accepted!
I met Anna-Malin last year (I wrote about it here) and saw her beautiful home and was so impressed that I knew that somehow I would think of a way that we could work together — so of course, parts of her home is in my upcoming book but beginning next week, you can expect Anna-Malin to visit us once a month for the entire year with a DIY project that she will produce especially for decor8 readers that she'll share in English. I agreed to let her show it on her own blog in Swedish a week later, but we have first dibs and she is creating them with the decor8 reader in mind so we can count on her to share projects that we'll all love.

In this post you can see some photos from Anna-Malin's beautiful blog to give you a glimpse of her fresh, Scandinavian style — and to whet your appetite for the projects that she'll be sharing with us! And stay tuned, because next week her column will debut and she will demonstrate how we can make a very cool pendant lamp on a budget.
My goal is to have 4 columnists on decor8 so I'm looking for 2 more to join me so that I can have Mondays each week devoted entirely to our visiting columnist of the week. I'll let you know how my search goes!
Thank you Anna-Malin for accepting my offer to work with me on decor8, I can't wait to see what you have in store for us.
(images: anna-malin lindgren)