Hello Friends! It is Leslie here with this month's Color Me Pretty. For some reason I can't stop thinking about blue. Maybe it's all the denim in fashion or maybe it's my daydreams of exotic vacation spots like Marrakesh or Ibiza. Needless to say blue is on my mind and I cannot help but pair it with a little strawberry red. This traditional mix can still be fresh for your creative projects big or small. I do hope you enjoy this series.
I had fun gathering all my blue vintage stamps together and arranging them on my scanner to make an interesting piece for hanging on the wall or for use in a paper craft. Quickly scanning and printing out the image was easy and would be fun with any collection of stamps or tickets. I may use my stamp scans to create a cover for my travel journal.
I do not have a lot of red in my home but I love adding simple dabs of it once in a while. Like a red vase on white tile or red stitching on linen tea towels. It is hard to resist the color of strawberry jam with warm scones or a fresh bowl of berries on a white tablecloth. Red gingham is charming too and speaks about summer picnics like nothing else.
Outdoors, even the most basic red geraniums look fabulous with classic Mediterranean blue and loads of white. I also love using a little red in small art projects like collage and wrapping.
What about you? Do you use red in big bold ways or do you tend to use it on a much smaller scale like me?
I really loved creating this column for you and I hope you have enjoyed it. I will see you back soon. Until then, take care and enjoy the rest of May. — Leslie
(images: leslie shewring)
Hi there! My name is Brigitte, and I blog over at Covet Chicago. I'm here to chat with you a bit about white spaces, while Holly is off writing her best seller. I hope it's ok to confess that I'm unbearably nervous, because Holly is like a rockstar to me. But, luckily, I am uniquely qualified to share some tips on designing dazzling white interiors, because I cannot have white walls in my own home. And, of course, we tend to obsess about what we can't have, don't we?
I've always known that those gorgeous white walls (and glossy floors!) that I lust over in design mags and on my favorite blogs won't work in my home. And, I always had a hunch that it had something to do with the very minimal natural light that I get.
But my resolve wavers. Until a few weeks back, when one of my favorite bloggers, Penelope Trunk (who does not write about design at all, coincidentally) tipped me off to the blog Colour Me Happy. I heart the interwebs. A few reads in, I hit gold with the post White is a Snob. Finally, truth acknowledged. In the post, Maria laid out advice from the book All About Colour.
According to the book (and Maria), good white rooms always meet three demanding criteria. They must have: 1. Good light, 2. Harmonized proportions, and 3. A few attractive objects artfully arranged. Sadly, my home is lacking the first condition, which I find to be the most important.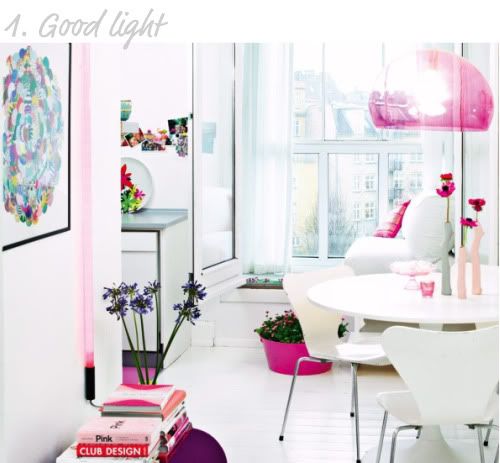 See what I mean? I want to pack up my cats and move in! Not only is this image, found in BOLIG magazine, flooded with dazzling white light, but the hot pink accents are killer .
The next rule is one I actively avoid. Mainly because I'm a perfectionist who could all too easily become overly adherent to the rule. But!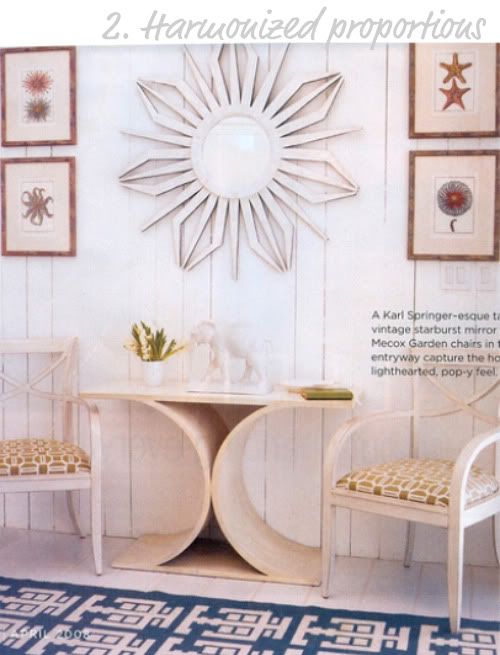 Or…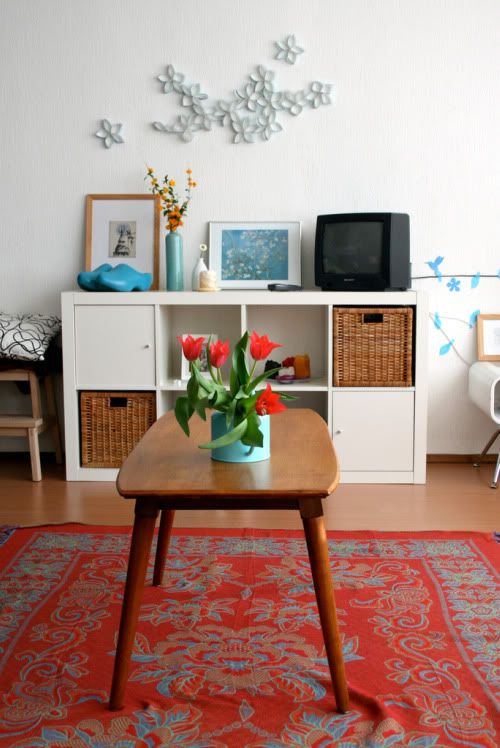 Perfect proportions by i l'aria.
Which brings me at last to #3. The biggest challenge. The styling trick that slays me, even though I purport to write a design blog myself. Ha!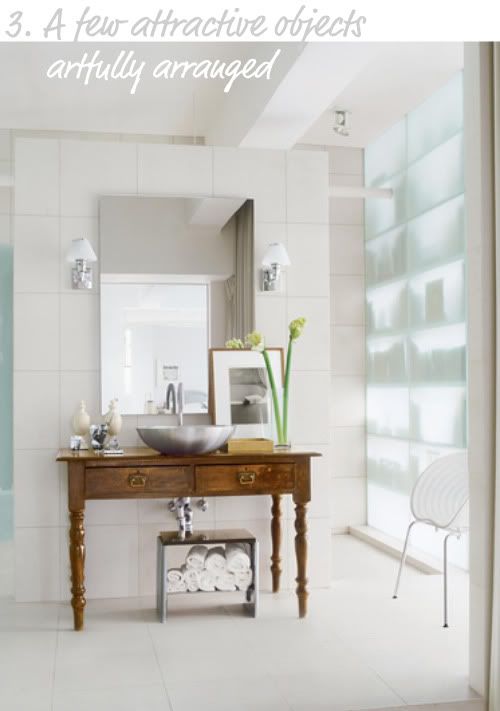 And!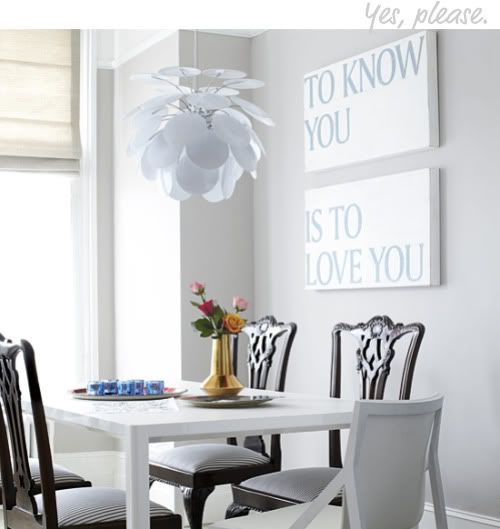 There is one rule that I would add, and it's evident in all of these images save two. It's a taste thing. I like my home to feel eminently livable.
1.Veranda. 2. BOLIG 3. Country Living 4. Domino
Now that I've teased you with these images, I'd like to know…how many of you are in my boat?
And, what would you add to these criteria?
– Brigitte

I'm loving this easy and affordable DIY art project from the talented Jess Constable over at Make Under My Life. She told me that she has a crush on chevron patterns currently so she decided to create her own art in gold and white to place over her dining room table. Jess asked if I wouldn't mind posting this on decor8, and since it's so lovely, why not? I am suddenly crushing on chevrons after seeing this!
Materials Used: 3 22×28? stretched canvases (each one cost about $22) Bronze gold acrylic paint ($10) Large, soft bristled brush ($10) 1 roll blue painters tape ($4) thumbtacks nails + hammer (to hang) Chevron pattern stencil (free at Sunset Magazine found first over at Kelly + Olive) Jess gives you the full DIY scoop below. Take it away, Jess!
First, I printed out the stencil three times to get the right length for your canvases. I carefully trimmed the paper to include just the zig-zag and then taped them together to get the correct width.
I recycled some old canvases, I decided I can always recreate the string art look on new canvases, and in the meantime save some $$ by reusing the two I already had.
To transfer the chevron pattern from the paper stencil to the canvas, I used a thumb tack to mark each of the points. I did this for both stripes on the stencil and then used blue painters tape to fill in where the white zig-zag was on the stencil. The thumb tack prints helped me know where to start and stop the tape. You can use anything to mark yours, the thumb tacks are completely optional.
TIP: I found lining up a whole bunch of tape makes the process quicker.
Once the canvas was complete with the chevron pattern, I taped the sides as well to keep them white. I also used a credit card to smooth down all the lines and make sure no paint would bleed into the stripe pattern. After that, I just needed to paint the canvases with a solid coat of paint. It didn't take nearly as much paint as I thought it would. I painted all three canvases with one tube of paint, and I still have some left over! The canvases needed about 20 minutes to dry and then I removed the painters tape. You can also let them dry overnight, just in case since your home may be cooler or more humid than mine. I love how the metallic gold paint shines against the solid white stripe. – Jess.
If you have any questions for Jess, please ask her below and thanks Jess for visiting decor8 today with your awesome project!
(images: Jess Constable)
Hello Friends, it's Leslie with Color Me Pretty and this time around I wanted to work with red, white and kraft paper brown for a simple and slightly nostalgic approach to the winter holidays. There are lots of vintage bottles, twine and old newspapers combined with apples, pine cones and a few berries. I hope you enjoy this series I made for you.
It is always nice to turn wrapping into a tiny design project – right? For the few gifts I choose to give, no matter how small, I love the creative challenge and the result of having a gift show care and attention. If you give yourself a little extra time it is amazing what you can use up from around your home – scrap papers, brown lunch bags, extra buttons, kitchen twine or whatever else you can find to add a little extra love to your gifts.
Holiday decorating can be so elegant when done with simple gestures that speak about what you love. Like a bowl of crunchy red apples waiting to be eaten or made into a pie. Lots of pie cones gathered from walks and sprinkled around the house. A few sprigs of berries or a small bunch of roses on the table. Whatever you love and whatever helps you settle into what the holidays mean for you. Of course some yummy smells from the kitchen are always good too!
I really hope you liked this collection and I will be back soon with one more holiday series, until then, all my best to you. – Leslie.
(images: leslie shewing)