Lots of people ask me how to create a mood in the home. It's very, very easy. Turn on some music! In addition to food (cooking makes the home come alive), cozy nooks, lighting, including candlelight, and dimmer switches (a must!), music is another instant way to add a special vibe to your home. Think about it: when you are in a cafe with great music, doesn't it feel better to be there? When you're shopping say, Anthropologie, don't you feel more inspired because of the sounds floating through the air and into your ears? I do. Music sparks imagination and definitely puts me in a better frame of mind if I happen to be in a rather bleh mood.
Lately, I've been listening to these cd's shown on my table above and below. I also found another favorite, a Dutch jazz singer (not shown), who I'm a bit obsessed with at the moment and her name is Caro Emerald and I love her song Night Like This. You can see a video and listen to it here.
In addition to lovely Caro Emerald, these are the tunes I have on rotation in my office linked below. I hope you find some new music in my collection to inspire you at home, on the road, etc. You'll notice half of it is in German. I listen to German music because 1) It's good! and 2) I'm studying the language and it helps me while I'm living here to connect more to the culture and language. If you like diversity in what you listen to, want to be transported to another place, or simply want to brush up on a foreign language I also encourage you to listen to foreign language music or even music in English from different parts of the world like Australia or the UK. It's inspiring to hear what people are being influenced by outside of your home country. I started listening to French pop when I was around 12 years old, thanks to that store Limited Express,  now called Express. Do you remember it had a distinctly French flair at one time? I would buy their French pop music compilations along with my clothes! It was great and I felt very international. For a young girl living in South Carolina at the time, I felt quite international and chic. :)

Shown above: Hurts (great song/video), Charlotte Church (Welsh singer, in English): Watch this video to get a feel for her vibe, Adele, Swedish House Mafia (from Sweden music in English), Pixie Lott (English pop singer) and Katy B (also English pop).
Clueso (German – love his chilled out sounds), Lisa Bassenge (German), Lena (German pop star from Hannover where I live but she sings in English), Frida Gold (German – watch this video to get a feel for what she does, love it!!!), Annett Louisan (German, you must check out her brilliant website, some clippings below – but don't miss THIS VIDEO – interiors eye candy all the way!!!), Anna Depenbusch (German), Sia (from Australia), Chapel Club (from England), Lenka (from Australia).
Photos of lovely German singer Annett Louisan who lives in Berlin.

What are you listening to for inspiration lately?
(images: top three: holly becker for decor8 bottom: annett louisan)
I decided to start four new columns on decor8, three that I'll write and another authored by a dear friend who will join me once monthly for a brand new styling column. Yay! I'll share them all with you soon but for today I want to get started on the first, my new once weekly post scheduled to run on Thursday called From Pinterest With Love. I know, I'm the queen of corny titles! But I was thinking… as I pin things over on the Pinterest site I see lots of themes in color palettes and vibes as I pin and find myself continuously inspired by the process of it all. However I am saddened at times because I want to do more than pin things, I want to point to the sources in an attempt to introduce you to the talented people + makers who created the beautiful images in the first place. And so with that, From Pinterest With Love has been created to highlight favorite finds with links to their sources so you can learn about new sources of inspiration running around out there. Here are my Pinterest Picks that I'm calling Soft + Pretty, for this week.
Do you spot a theme? I certainly do! Watercolors, cozy comfort, freshly picked hues, gorgeously soft and natural light and handmade touches. Ah, a soft and pretty springtime vibe.
Nikki McWilliams, cannelle-vanille, Stevi Savage of Avery House, traveling mama, Sophie Allen, Dottie Angel, happenstance, Old Brand New.
style me pretty, Marie claire idees, somethings hiding in here, steve steinhardt, scrapbooks etc, tocotoco.
Do any of these images inspire you? How about the colors? Patterns?
View April 28th Pinterest Board Here.
(images linked to their sources above.)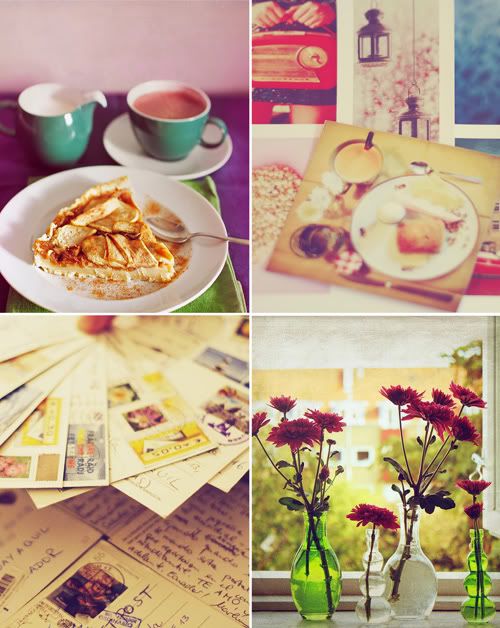 I recently came across the work of 27-year-old graphic designer and photography Julia Dávila in Madrid. Julia is so talented and I love how she finds inspiration everywhere – from her travels, on the streets where she lives and in the subtle way she uses flowers and other objects to tell a story in her home. Julia is a contact of mine on Flickr and I find her photographs quite transporting and so I asked her if I could share them with you today to inspire you.
I think it's important to be on the look out for inspiration no matter where you are. The details are there, you just have to look for them and if you have a camera or even a camera phone, capture them somehow and see where those captures lead. Perhaps after seeing these photographs you will feel motivated to take more photos. I have to make a point of it more myself so today I plan to go out and grab a few bouquets from the farmers' market for myself so that I can photograph them at home tomorrow. I'm dying to see what is selling at the market now that spring has sprung!
Julia told me that her source of inspiration comes from the changes in nature as the seasons unfold with new flowers and colors in the nature environment around her. She is also inspired by the many marvelous photographers out there who, "Capture the wonders of nature with great finesse," and their work plays an important role in the progress of her own. Julia dreams to someday cover the walls of her home with her own photographs and also put flowers of all kinds on her walls (I must admit that sounds quite avant-garde and intriguing) as part of a beautiful installation to inspire her work further which instantly made me think of this photo showing tons of silk flowers in a dining area.
Beautiful!
(images: julia dávila)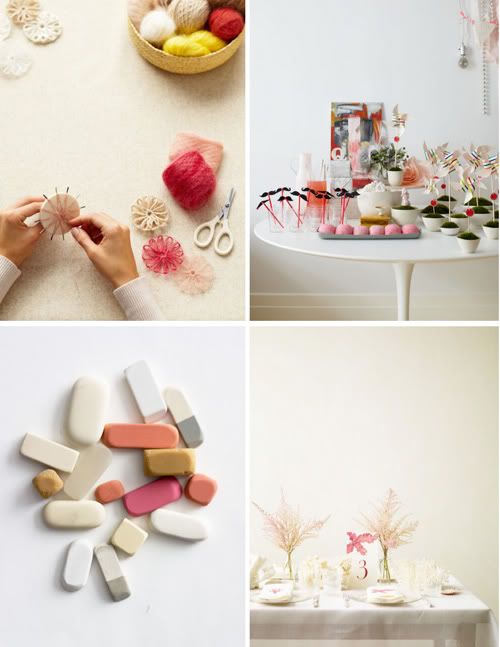 I was reminded recently of Johnny Miller's work from event planner Amy Atlas since she is documenting her new book project and recently revealed that she has teamed up with him to shoot some of it. Johnny is a true genius, he is definitely one of my top ten photographers in the world and Amy is a very lucky lady to have his creative vision for her book — but then again, he is very fortunate to have Amy because her dessert tables are stunning. Together Amy and Johnny make a winning team!
Johnny also photographed the newly released craft book, Paper & Craft, authored by the fabulous Minhee and Truman Cho (love this video of them and their cute baby) who run Paper + Cup — the book is available at Chronicle. I have a copy and I really liked the Mommy + Me Flower Shoes project and the Cone Wreath project, both show below.
Johnny is from Kansas but now lives in Brooklyn and works with some fancy pants clients like MSLO, Kate Spade and Anthropologie. He earned his BFA at the highly regarded Parsons School of Design and then went on to assist photographer Mary Ellen Mark for nearly three years which was no doubt the experience of a lifetime. Johnny blossomed into quite the photographer with his work in numerous ad campaigns, catalogs, magazines (Martha Stewart Living comes to mind), books and has been exhibited at the Center for Photography, New York Historical Society, Museum of Contemporary Photography, Museum of Modern Art and the Museum of the City of New York. Not too shabby!
If you aren't already impressed and slightly jealous, there's more! You can even find Johnny's photography included in the permanent collections at the Library of Congress, New York Historical Society and the George Eastman House. What an amazing career Johnny has going for him and well… from the looks of things, he deserves every bit of success he's earned.
(images: johnny miller)