Hello Friends! This is one of those, "Stop and smell the roses" posts. Even though the blooms have all faded and summer has come to a close, we can still draw inspiration from flowers because stores still stock plenty that you can bring indoors to add color long after your garden has faded.
It is during these busy autumn days that we need some time outs, wouldn't you agree? Time to notice the subtle seasonal changes and time to enjoy what is left of summer's bounty. I feel like I am writing this post primarily for myself as I only have a few moments to sit in between getting my son down for his nap, doing the fifth load of laundry, figuring out what is for dinner and then picking my daughter up from school. We all have our various forms of daily madness and hence the need for a moment or two of quiet solitude (if we are lucky).
Creativity needs these moments.
We need these spaces in our day to take a deep breath and notice some leaves or the color of some petals or whatever else nature is offering us. Since work is important and many of you cannot go outside right now and find some flowers to smell, I thought I would gather up some of my floral photographs from the past for you to enjoy. Hopefully this brief pause will help give you some creative ideas or at least a little break from your daily routine. It is pleasure to be back here on decor8 after taking a mini break this summer to travel, and I will see you here soon with my usual Color Me Pretty column later this month.
Until then, take good care. – Leslie Shewring.
(text, styling + photos: leslie shewring from a creative mint)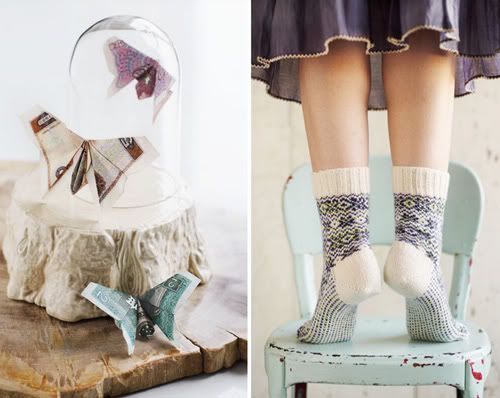 I'd not heard of New York photographer Alexandra Grablewski until today which makes me wonder how I could have missed her!? I recognize her photos, some of them at least, but not her name. This makes me almost sad and further inspires me to write this post to shout her name and website out to the world in case you identify her work but never knew of the genius behind the lens either. That would be such a pity…
Ah yes, she is a really good still life and food photographer. Her lighting is positively sublime. I could live in any of these views above. Would you like to take a peek into her portfolio online? You'll really like it and may do so here. It's a nice, relaxing way to wrap up a long week. I wonder who styles her photographs? Perhaps she'll pop in and tell us so I can shout them out, too.
(photos: Alexandra Grablewski)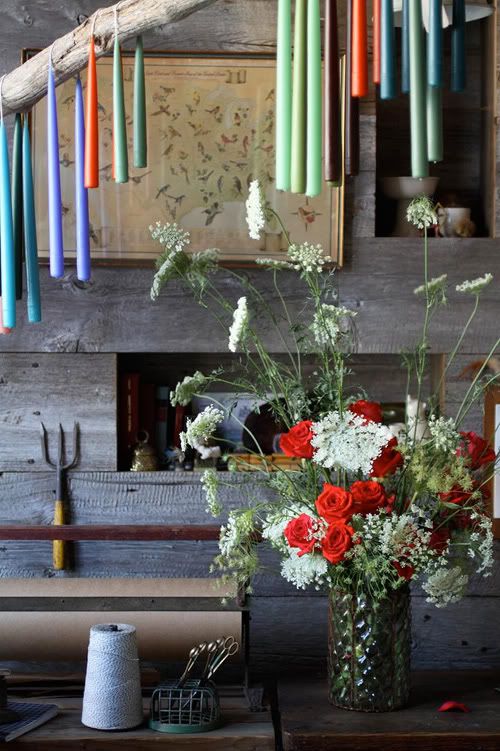 Talented floral designer Sarah Ryhanen is no new name in the blogging community simply because her company, Saipua, has long been an inspiration to so many in Brooklyn and beyond. Sarah and partner, Nicolette Camille Owen really inspires me — in fact her work just plain makes me happy, what can I say? I love her fresh eye, creative color combinations, perfect bits of texture, and her casual approach to arranging. Her work reminds me of my mother's own arrangements and floral still life oil paintings growing up. Mom instilled a love of flowers as art – either on the wall or in a vase – at a very early age resulting in a life long appreciation on my part. I can't pass by a gallery or florist without pausing, or going inside, and I certainly can't leave a farmers' market without a bunch of fresh blooms.
Sarah doesn't simply buy flowers in bunches at street stalls and haphazardly toss them in a vessel — she loosely, yet artfully, arranges them to create a fresh, living masterpiece. When I see a photograph of her work I often stop dead in my tracks and think that I'm looking at a painting brought to life. See for yourself… and while you're at it, look to some of these arrangements for a little Autumn color palette (and texture) inspiration.
In case you were wondering, Saipua is a Finnish word for soap and that is also what Sarah and Nicolette do very well – they make wonderful soap that I've purchased in the past at Anthropologie and enjoyed immensely. You can also purchase their soaps and things online here. But that's not all – these ladies are also teachers! You can take floral arranging classes in a barn-like loft space behind their shop in Brooklyn and they call that their Little Flower School. How sweet! You may really enjoy taking a class with them — I would in a New York minute! How wonderful!
(Photographs: Sarah Ryhanen)
Hello everyone! Are you in need of a little Monday inspiration? Don't worry, you can depend on me to get your week started off on the right foot because I'm inspired by so much and am dying to share with you what's on my radar currently Ready? Okay so first on the agenda this week… let's talk about love and design. Liebe (lee-ba) may be the German word for love, but Liebe was once a Prime Minister in Denmark back in 1920 and today, Liebe is also the brand of Susan Liebe, owner and founder of this gorgeous storefront in Copenhagen known for interiors items and jewelry, ceramics, Liberty London textiles transformed into pretty cushions, and more.
I'm really smitten by Susan's aesthetic and products; I simply must see her shop. I like Susan's trained eye for pattern, texture, and color. I find her color palette quite soothing and modern but also very coastal in pale tones of blue, pink, green… So pretty.
My friend Daniella sells Liebe products in her store around the corner from where I live at a shop called Sommerflugl, but for the rest of you try visiting the Liebe online shop to make a purchase. I'm currently liking the Liebe heart earrings – I want to own several pairs in different colors – especially the yellow ones to pair with a yellow-cream blouse that I have with tiny black polka dots on it.
I'm also inspired by the preview of her work studio (see below) and home in this Japanese magazine with a focus on 19 Scandinavian spaces – so pretty! Susan is a true artist, her style is such a part of her life from the way she decorates to the things that she makes – there is a golden thread that runs through everything she puts her hands on and I love that defined style which is so uniquely her own. Finding your personal style is quite a challenge for many, but so worth it once you do define yours because then their is this lovely cohesive quality that binds together every fiber of your life and it really makes a different in how you approach each day, idea, adventure, goal… I could write a book on this, but it's a topic in which my passion runs deep.
What do you see that catches your eye in the images above? And by the way, happy Monday everyone! Cheers to a brand new week. :)
Oh and do you like what you see? The Traveling Mama posted a review about her visit to Susan's shop in Copenhagen with pretty photos, click here to see more.
(images: liebe)