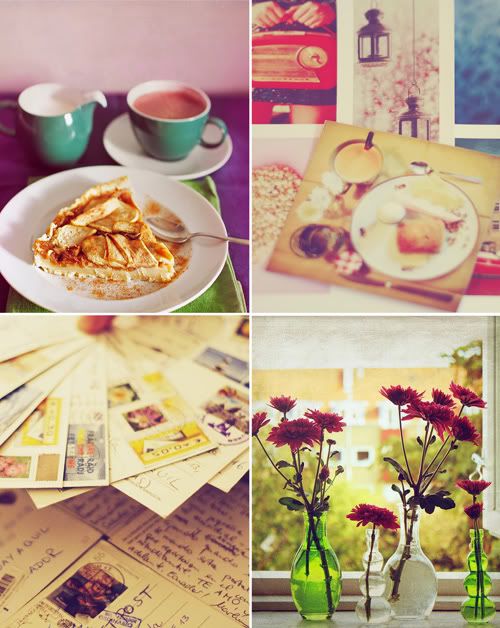 I recently came across the work of 27-year-old graphic designer and photography Julia Dávila in Madrid. Julia is so talented and I love how she finds inspiration everywhere – from her travels, on the streets where she lives and in the subtle way she uses flowers and other objects to tell a story in her home. Julia is a contact of mine on Flickr and I find her photographs quite transporting and so I asked her if I could share them with you today to inspire you.
I think it's important to be on the look out for inspiration no matter where you are. The details are there, you just have to look for them and if you have a camera or even a camera phone, capture them somehow and see where those captures lead. Perhaps after seeing these photographs you will feel motivated to take more photos. I have to make a point of it more myself so today I plan to go out and grab a few bouquets from the farmers' market for myself so that I can photograph them at home tomorrow. I'm dying to see what is selling at the market now that spring has sprung!
Julia told me that her source of inspiration comes from the changes in nature as the seasons unfold with new flowers and colors in the nature environment around her. She is also inspired by the many marvelous photographers out there who, "Capture the wonders of nature with great finesse," and their work plays an important role in the progress of her own. Julia dreams to someday cover the walls of her home with her own photographs and also put flowers of all kinds on her walls (I must admit that sounds quite avant-garde and intriguing) as part of a beautiful installation to inspire her work further which instantly made me think of this photo showing tons of silk flowers in a dining area.
Beautiful!
(images: julia dávila)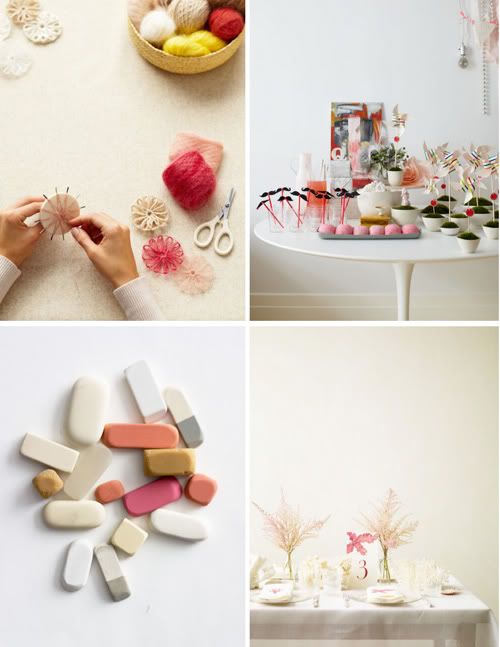 I was reminded recently of Johnny Miller's work from event planner Amy Atlas since she is documenting her new book project and recently revealed that she has teamed up with him to shoot some of it. Johnny is a true genius, he is definitely one of my top ten photographers in the world and Amy is a very lucky lady to have his creative vision for her book — but then again, he is very fortunate to have Amy because her dessert tables are stunning. Together Amy and Johnny make a winning team!
Johnny also photographed the newly released craft book, Paper & Craft, authored by the fabulous Minhee and Truman Cho (love this video of them and their cute baby) who run Paper + Cup — the book is available at Chronicle. I have a copy and I really liked the Mommy + Me Flower Shoes project and the Cone Wreath project, both show below.
Johnny is from Kansas but now lives in Brooklyn and works with some fancy pants clients like MSLO, Kate Spade and Anthropologie. He earned his BFA at the highly regarded Parsons School of Design and then went on to assist photographer Mary Ellen Mark for nearly three years which was no doubt the experience of a lifetime. Johnny blossomed into quite the photographer with his work in numerous ad campaigns, catalogs, magazines (Martha Stewart Living comes to mind), books and has been exhibited at the Center for Photography, New York Historical Society, Museum of Contemporary Photography, Museum of Modern Art and the Museum of the City of New York. Not too shabby!
If you aren't already impressed and slightly jealous, there's more! You can even find Johnny's photography included in the permanent collections at the Library of Congress, New York Historical Society and the George Eastman House. What an amazing career Johnny has going for him and well… from the looks of things, he deserves every bit of success he's earned.
(images: johnny miller)
Would you like to see a lovely e-magazine called 79 Ideas that I came across today? Oh it is very sweet and has a romantic theme to it as it is centered around Valentine's Day and contains some darling things you may like to do to celebrate love and joy in your life.
Radostina Bosseva is the creative blogger behind 79 Ideas and she also happens to be a graphic designer and she takes lovely photos, too. She did a very nice job producing this and I'm so happy that she has an English issue in addition to the Bulgarian version because now so many can read it all over the world.
I'd like to thank Tina from Traveling Mama for sending me this link, I love when readers take the time to reach out to me with really great submissions. Thanks lovely Tina. xo.
(images: 79 ideas)
I'm currently loving some of the new paper goods over at Kate Spade and I'm really liking their e-book called Things We Love At Kate Spade because it is a really sweet online book to peruse — the presentation is so inspiring!
Don't you love the bold brights!? Makes me ready for Spring!
P.S. Did you hear that American actress Bryce Dallas Howard is the new face of Kate Spade?
(images: kate spade)