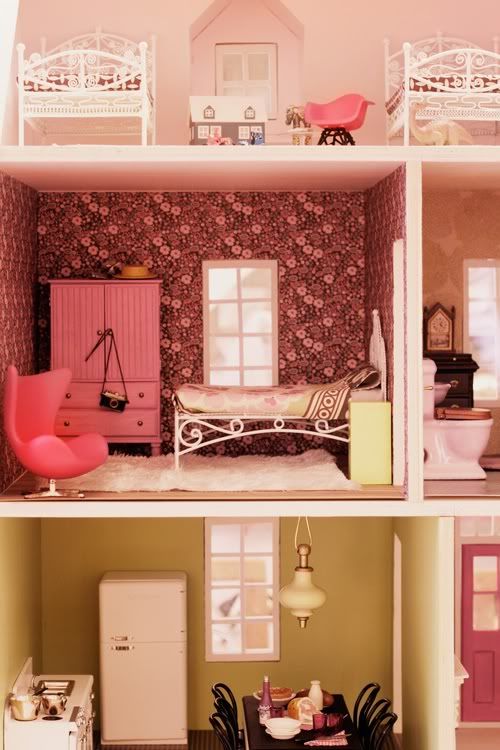 Nicole from Making It Lovely blew my mind last week with her amazing DIY dollhouse. Have you seen it yet? My goodness, it's amazing and I adore how it suits her personal style so perfectly. You don't want to miss the full project, so click here to see the entire thing and learn more about why she made it in the first place. Very sweet and inspiring in all of it's pinkness!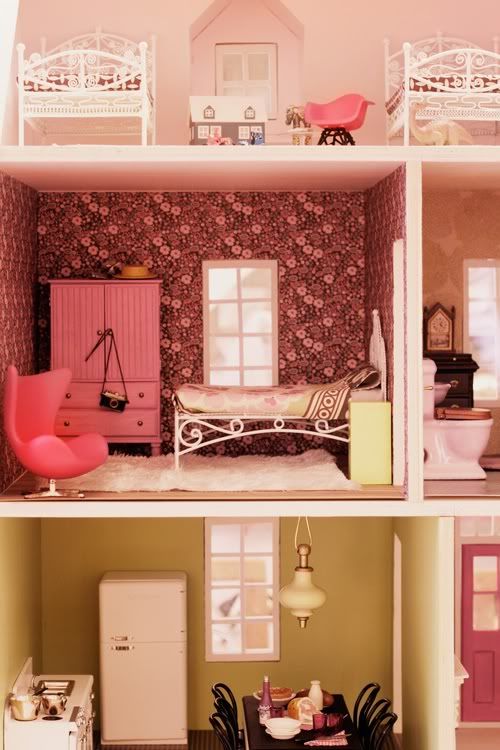 Another sweet thing that I found that Nicole also pointed us to recently are these winter bird tags below – you can find them in full size along with others on the blog of artist Rebecca Kallem so make sure you visit Rebecca's blog to download them for free to pop on your presents!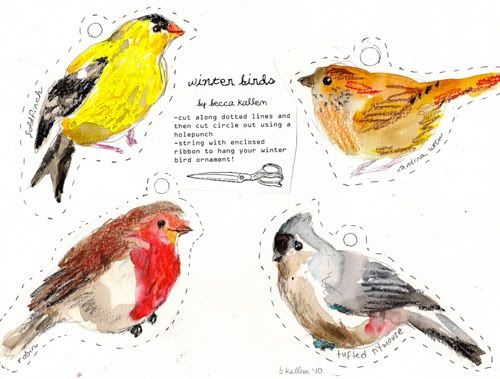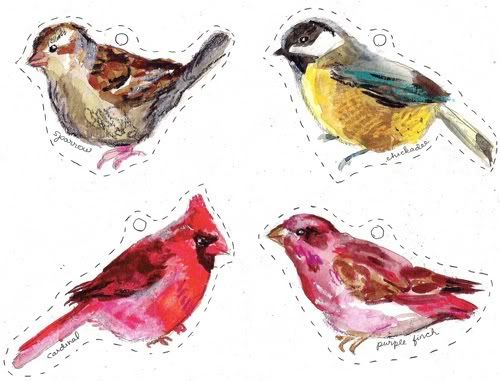 Again, you will find the birdies above in a larger size on Rebecca's blog (here) so you can print them out in color, cut around them, use a hole punch through the little circle drawn on each tag and then tie some ribbon, baker's twine or a 3/4 – 1″ wide strip of torn or neatly cut fabric through them and you have something pretty to top your gifts that didn't cost you a single dime. Tweet! Tweet!
Nicole you are such an inspiration and Rebecca, you too!
(images: nicole balch)
Hello and happy Monday to you, though it's hard to wish anyone a happy Monday isn't it?! It's not the same as saying Happy Friday, but let's pretend for a moment that it is. :) How are you doing? I've been well, feeling a little better though I'm still a bit groggy and achy from last week. I did something surprisingly inspirational yesterday though – I went to our local zoo on the edge of our forest. It's such a beautiful space, the kind where you don't leave depressed worrying about the health of the beautiful animals. It's a surprisingly lovely place to visit, especially during the winter.
Our zoo is filled with so much to see and do from ice skating and a Christmas market to handmade donuts to munch on, an ice rink for skating, gorgeous snow owls, sledding and tubing slides for the kids, various themed areas (Australia, Yukon Bay, India, Africa, etc.) that aren't cheesy but rather very natural and sweet. I really liked the area where you could go in and walk around with the kangaroos – nothing between you and them – it felt so nice to do that. I also enjoyed watching the little kids react to the various animals — and how people's dogs reacted to the animals — one sheepdog was really taken in by the Timber wolf area – he was wagging his tale excitedly and seemed keen on jumping straight in! I think it's great that you can bring your dog (leashed of course) to the zoo. They even have to pay for their own ticket, ha ha! I must confess that I am not a zoo person, meaning I once hated to go almost as much as the circus since most depress me but our zoo is the first one that makes me happy to see animals being cared for, protected and shared with others for educational purposes without sacrificing the comfort of the animals. From my visit, I fell in love with the many patterns on animals that I saw, the tones of blue from the sky to the water – especially navy paired with worn, bleached wood and I found the ice skating rink and outdoor food carts a lovely touch for winter along with the twinkle lights and general peaceful spirit in the air. Funny to admit that I found so much inspiration at the zoo, but I did.
Another place that I explored locally this weekend was the big weihnachtsmarkt downtown. Germans really do this season right, it's incredible how many festivals are taking place in this country and the markets are brilliant and packed. There's nothing like it! It was a color-filled explosion with candied apples, chocolate-covered bananas, nutella crepes and candy canes bursting from carts everywhere along with everything from bratwurst to smoked salmon. We also have a Finnish market and a Medieval market downtown too, so there are lots of yummy things to eat and drink and to see and buy. Between the weihnachtsmarkt, the Asian grocery store that I love to shop in and the flea market along the river… I had plenty to occupy my Saturday.
I also explored my cookbook collection a little and played around a bit with the shelves in the kitchen. I tinkered around a bit — placing all of my washi tape into a single box in my studio drawer instead of having them here and there throughout the house. It's the little things that make us happy, and for me organization is such a little thing but yet also a very big thing if you know what I mean. Without organization so much suffers, at least in my world. I also popped some berries into a ceramic vase that I found on sale and liked at Impressionen (here) and made some cream and silver puffs to display in my home. It's a nice time of the year to nest and craft, cook and bake, organize and chill out. I did a lot of chilling out too – I watched several films and ordered some new music (Snow Patrol, Coldplay and Glasperlenspiel). Yes, I still buy CDs. I know, I know…
Finally, I simply watered my plants, changed the water of my many flower arrangements and dusted a bit – sounds boring but I like tending to things in my home with my favorite tunes on. I like my warm and cozy home in the winter, it makes me happy.
What did you explore and like this weekend?
(photos: holly becker, taken with the instagram app for the iPhone.)
Hello everyone! I've been out and about today and enjoyed it so much! It felt good to get my errands done but above all, to connect with a very good friend of mine and to go shopping together in her store! Fun! I found some great Danish clothes and a pretty dress that I will wear to Berlin on Friday. It's always so nice to be with a sweet girlfriend – so energizing!
I came home home with sweaters, shirts, knee socks, leggings and a dress – and that post-shopping guilt, "Oh dear, I exceeded my shopping budget for like five years!". But they I realized that I did need the clothing but that I also supported two shop owners today who have sweet stores that they love and manage with such care – that really means something to me more and more. It's also a great way to ease the guilt (wink). As I was wrapping (and unwrapping!) myself in clothes all afternoon, I started to think about gift wrapping in general because that's all I see in stores everywhere right now – Christmas things. I thought it may be helpful to you to round up a bit of a best of series for you now featuring some of the most beautifully wrapped presents that decor8 contributor, photographer and stylist Leslie Shewring, has shown over the past few years.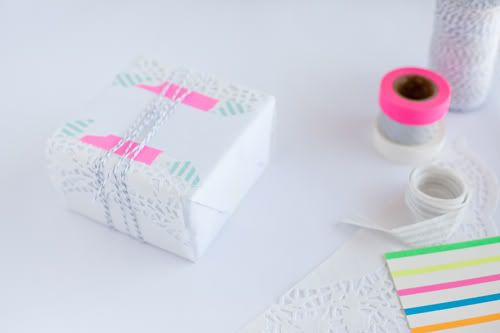 Try neon colors, paper doilies and baker's twine…
Use watercolors to paint your own gift wrap. Add sequins to a simple white gift tag.
Try different textures, velvet ribbon is nice.
A natural touch is always nice.
More watercolors in geometric shapes to dress up plain white paper.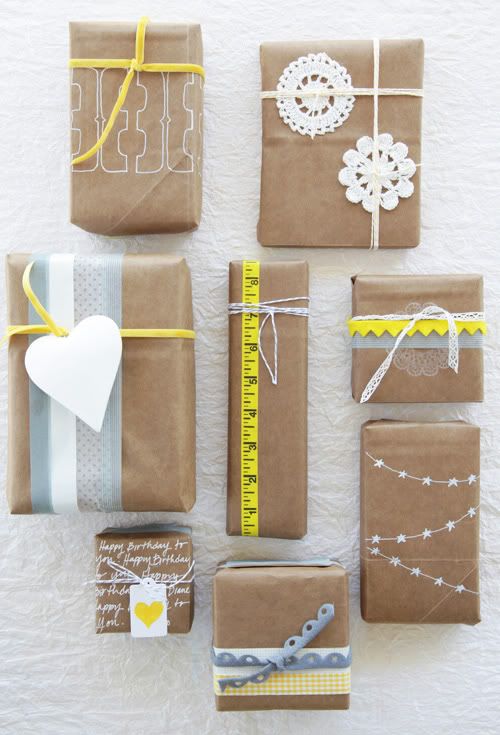 Kraft paper in brown with simple touches goes a long way.

Experiment with Japanese washi tape (masking tape).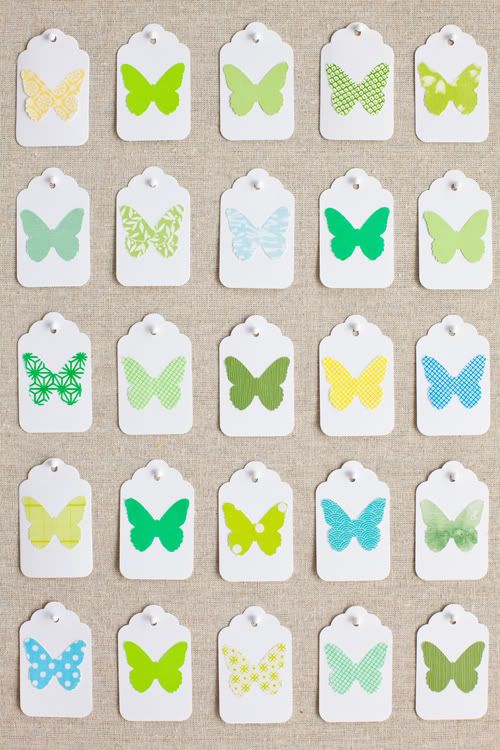 Combine a punch of your favorite shape (butterfly, tree, snowflake) and paper that you love to create a gift tag using a little glue.
Coffee filters, why not, right!?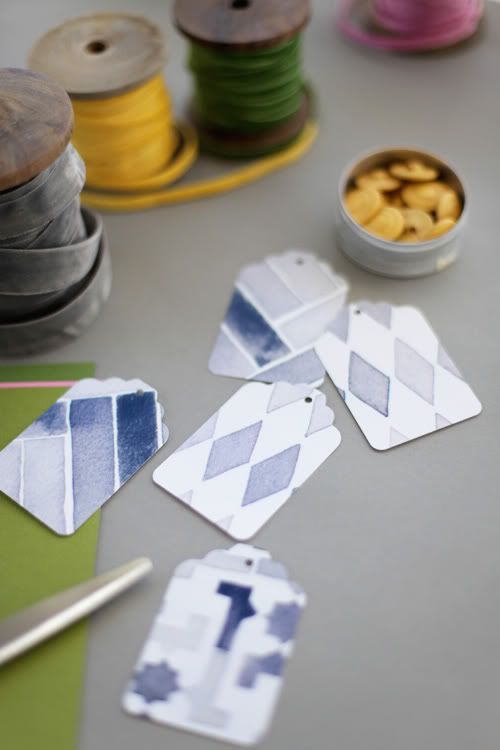 More watercolors on white tags that you can buy in packs from a store like Staples.
Less traditional ways to wrap gifts – from tea tins to a stack of books tied together with ribbon and topped with a handmade greeting.
And speaking of gifts, this little post is my gift to you today and perhaps it has inspired and delighted you. I hope so! A special thanks to Leslie for all of her inspiration over the years!
(images: leslie shewring)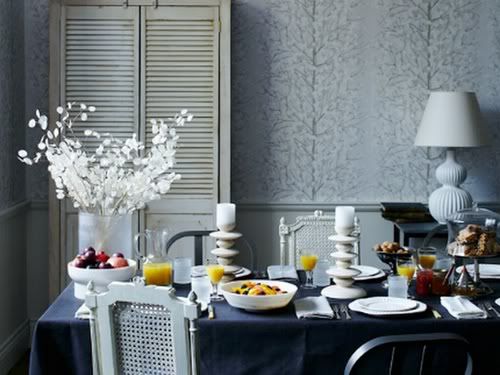 I just discovered the work of Michael Graydon, a photographer based in Toronto, and I had to share what he does because he is very talented and I thoroughly enjoyed looking through his online portfolio today. Here is a tiny glimpse of a few of my favorite shots that he has taken for his rather impressive list of clients… To see many more, visit his website and enjoy!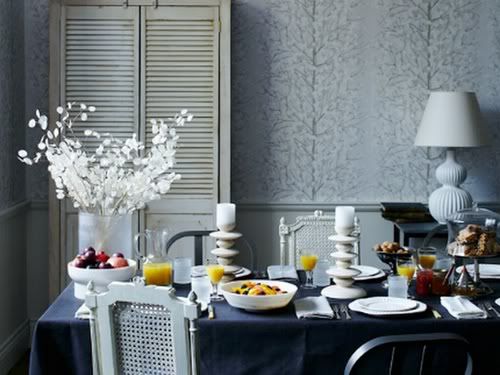 Michael specializes in homes, gardens, still life and food images for advertorial, editorial and packaging. I find his still life and food photographs my personal favorites, though I also noticed some portrait shots that I also found equally stunning. His work has graced the pages of such noteworthy publications as Canadian House & Home and Style At Home and his advertorial work includes some pretty big names like Johnson & Johnson, Knorr, Rowenta, HP and more.
I'm so happy to shine the spotlight on this talented man today because highlighting photographers that I come across who really make an impression on me is important. A photographer as strong as Michael certainly deserves recognition for his beautiful work.
(photography: michael graydon)