Do you recall my review of The Homemade Home by stylist Sania Pell? If so, you may have noticed that her book was shot by the talented Penny Wincer in London, who is represented by ERA Artist Management. (If you don't remember my review, you may click here to read it.)
Some of the photos from Sania's extraordinary book are shown in this post… and I just love Sania's styling work combined with Penny's amazing eye so the combination of these two talents is quite an inspiration to me. I thought I'd show you some glimpses into Penny's portfolio today. If you want to see more amazing eye candy, you have to check out this link…
Penny has long been one of my top ten favorite photographers in the world of interiors — I love her angles and how she finds beauty in the mundane and even how she makes the extraordinary feel within reach somehow. She has a very strong eye, her composition and lighting is inspiring, and overall Penny has enormous talent. I hope you'll check out her work for some inspiration of your own today!
(images: era artist management/penny wincer)
Richard Powers is an amazing talent that I have to point you to today for interiors and still life eye candy. Based in the UK, Powers is a sought-after pro photographer who shoots for top magazines like Elle Decoration, Livingetc, Dwell, RUM, AD, Elle Decor and many more.  He is currently shooting the home of someone I know, but I'm not sure that I am allowed to say who just yet so I may have to tell you later when the article is published. For now you can enjoy some of the views through Powers' lens below..
A lot of friends ask me how I choose the images that I show on decor8, what thoughts run through my head as I place photos one by the other… Truth is, it's intuitive and emotional for me so it's hard to explain but I'll try with what I've shown above… Okay, so I selected images above from Powers' portfolio that fit my current mood and also palette, colors that I am inspired by… violet, green, turquoise, a dash of yellow or pink or red. I also tried to show some of my current favorite textures – because texture makes a room you know… rough, soft, smooth, crinkled, torn, silky… I love the mix of high and low, old and new, worn and untouched. I think it's the combination of these things that make better collages when mixing imagery, at least for me. I also like to try to find something in one photo that is also in the one that I want to lay near to it. It could be a color, a texture, a pattern or something less obvious like the way a photo smells to me (yes, smells!) or how it feels (warm, loving, cold, welcoming, sharing, cozy).
Allow me to illustrate…
In the very first grouping, the two images that I have placed a white frame around, I selected them to sit together because the top image is very violet and traditional and bottom image is very modern and graphic with black and white but I loved pairing the two because though they seem to have nothing in common, they do both contain the color purple in very different doses which I think nicely illustrates how violet can work in both large and small doses in a room.
In the next grouping above, I really like the top two side-by-side for no other reason outside of the shapes. In the image on the left, the door and chair look similar in composition to how the ceramics in the right photo are placed. In the bottom two images, I love the idea of having an abundance and having very little — a lot of dinnerware and then on the table, very little. I also like the worn shelving against the clean, streamlined tulip table and I like how the curves in the china on the shelf mimic the curves in the furniture shown to the right. Another similarity I liked is seeing the handles on many mugs and pitchers and on the table seeing only one handle. Lots of ways we look at things can seem quite abstract, often we think they are not that important because there is no rational, practical explanation behind our thinking, but oftentimes this is the more interesting viewpoint to me – the less obvious, abstract, way-out-in-left-field viewpoint.
And for my final illustration, in the collage above the top two images obviously work well together because of the colors – that strong turquoise is mesmerizing. But more enticed me to pair them side-by-side. I like how in the room, the background is a very soothing scene on wallpaper that is quite muted and serene, and then to the right you have an urban setting with a worn wall that also feels serene and provides for a perfect backdrop. In the bottom two images, I found the curves of the chair very sensual, and strangely enough, I found the collection of bowls sensual as well. I also really like that creamy white in the chair that is also in some of the bowls and how that gorgeous violet in the left hand image works so beautifully with the turquoise found in the photo to its right.
Altogether dreamy.
Do you have any impressions that you'd like to share from these same images above? How do decide how to pair images that you use on your blog? I'm curious to know…
(images: richard powers)
Specializing in interiors, food, travel, still life, lifestyle, portrait and wedding photography (wow, what a list!), talented Australian photographer Amanda McLaughlin has a gorgeous portfolio online to peruse for inspiration today. Would you like to see some lovely visuals that may perhaps spark your creativity? Of course you do!
Amanda's work is so gorgeous, isn't it? I love seeing the branches in vases above… my friend Ingrid brought me a huge "bouquet" of berry branches from the German countryside that she picked and they are gorgeous and in my ceramic vase on my work desk. They are so pretty and really brought in some of the outdoors which always helps to "warm up" a space, especially in a brand new space that is quite spare currently as mine is…
How are you doing today? I hope that you are well! I have been very busy trying to sort out our new apartment (you can see photos of it here) — unpacking, sorting, deciding what I should keep and what I should pass on to a new home, etc. Plus I'm still working on Decorate (which will be published first in England in March and then in May in the US and THEN in Germany next Autumn!), planning my kitchen (the new Smeg (thank you dear Yvonne for the suggestion!) arrived today – I love it and can't wait to bake the first cupcakes in there) and I decided to make some presents for my students that I'll bring to Morocco next week on my teaching adventure there –  so I've been doing a lot of crafty stuff which energizes me so much and makes me very happy! Once I'm back from Morocco, I'll share some photos of the gifts that I made for them so that you can see — but not yet, as they read my blog and I can't blow the little surprise with a sneak peek (sorry).
I'm also working on my class materials and handouts for my lovely class there, too. I can't wait to meet the lovely ladies who will be joining me — I feel so blessed right now. To top it all off, this morning I was able to attend a photoshoot at the home of my new neighbor who lives upstairs from us — a German stylist and photographer from Hamburg were styling and shooting and I was able to watch them in action which was a lot of fun.
So! Those are my updates for the week so far. How are you doing?
(images: amanda mclaughlin)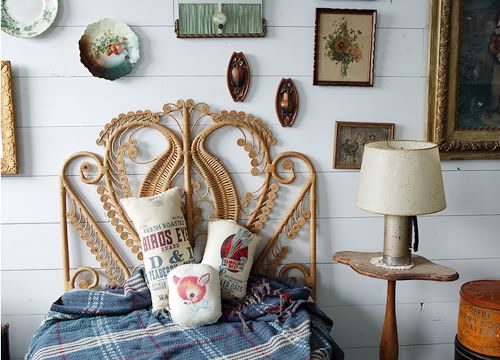 Yesterday was a busy Monday but such a great one. The week started off very well. How about for you? I had to teach the BYW class (we're having so much fun!) and then needed to sketch lots of floor plans for a project I'm working on.
In addition, I was quite busy organizing work things, then I went out for an hour in the forest to just clear my mind and work out which was a real treat. I'm in the process of redesigning the decor8 template and working with a graphic designer on a new logo (and tagline) plus I'm putting a proposal together for my next book to give to my literary agent in October.
On top of that, I'm going to Morocco in a month for a teaching trip and need to plan out my lessons and handouts — and then in early November I'll be in Istanbul for a week. I can't wait to see Turkey! My dear friend will take me to the hidden gems there so that I can share some shopping tips with you upon my return.
I also move in a few weeks — we went into our new place today to measure the kitchen and bathroom, I drew a floor plan for each, and now I have to get started on the design of it. I counted how many lights we need to install, 15! That breaks down to 11 pendants, 2 sconces and 2 bathroom lights. Oh my! Wish me luck on that, I've never had to purchase so many lights in my life in one shot.
This busyness is fun though, but sometimes I wonder how I'm not wearing socks that don't match and how I end up leaving the house with matching earrings on because my brain is all over the place!
I hope you are doing well! In this post I've placed some inspiration taken from my Flickr group called Interior Styling. Members are invited to post edited and styled rooms and corners of rooms, it's a very sweet group and a nice place to take a break during the week to flip through all of the images submitted there. I hope that you'll bookmark it, or join, and visit regularly.
I see a theme above — lots of greens, blues, yellows… so soothing and cozy.
(images linked to their sources above)