When I was in Amsterdam recently at our blogger's event, Meet The Blogger, I met Desiree from the Vosges Paris blog through her friend Karine Kong from online design shop Bodie & Fou. Intrigued by Desiree because she was so enthusiastic, personal and friendly, and since she had reached out to me long before the event, I decided to chat her up a bit. She is quite a passionate decorator! Once back home after the event, she wrote to me about her home and shared some lovely photos of it that got my attention – you'll see why in two seconds…
Desiree lives in Amsterdam in an 85 square meter small ground floor apartment with a little garden next to her living room. The building is about 23 years old and was built when the city of Amsterdam started to revitalize the eastern docklands. She is happy to be surrounded by water and history and says, "There are plenty of old warehouses and during my daily shopping I find myself often in former warehouses… I also live very near to the city center which is A+." Her children are grown and have left home but she is close with her neighbors and colleagues and has a beloved cat called Mister Cheese. She is inspired by Amsterdam and her life there roaming the city, "I love to bicycle through my city… ideas for my home can pop up any moment — from seeing a beautiful piece of furniture to finding an old piece of wood or seeing a bare wall," explains Desiree.
She also loves to find inspiration through reading blogs, interior magazines and books, "You will find them (magazines/books) in every room of my home". In fact, the decorating idea for her studio came to her one day while considering her vast collection of magazines and how much she enjoys displaying them. Around the same time, she noticed that her local post office was throwing out old tables and she got the idea of displaying her magazines on them. She even found an industrial cart (see image below) outside of the post office destined for the trash that she grabbed and brought home. Score!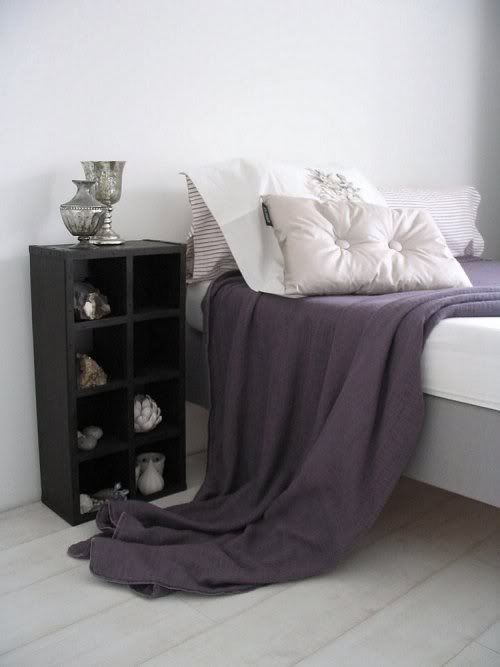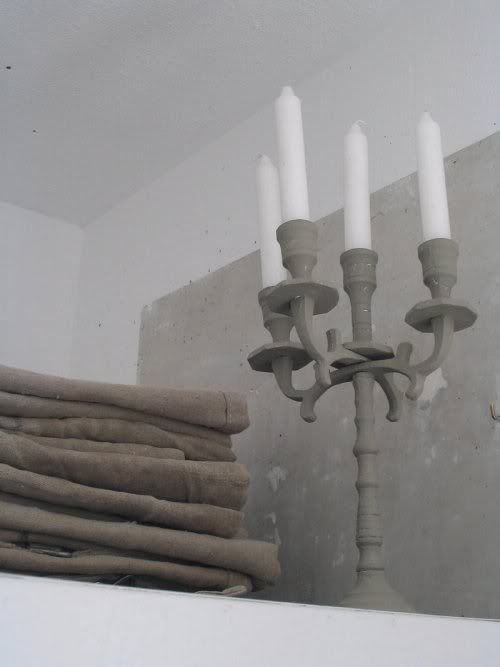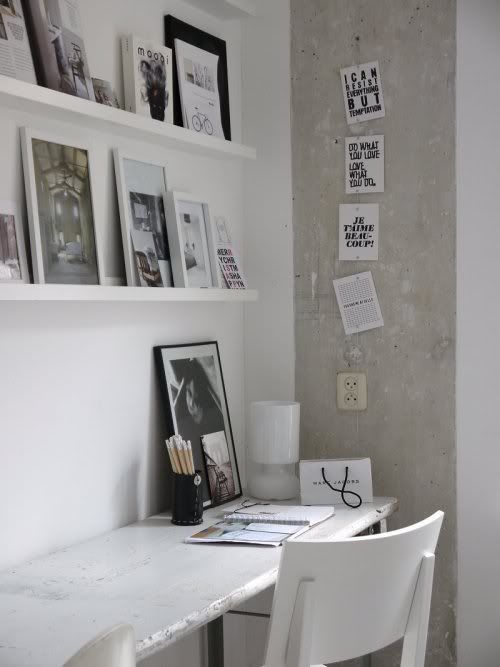 While she loves design, her day job is in a very important, meaningful profession as a social worker where she is not able to decorate but to reach the heart and change lives in a different way. Decorating and blogging help her to use her creativity outside of her important role in helping others in her community. Her life has a good balance that works for her. When it comes to decorating, Desiree doesn't do it professionally but as a hobby. She simply loves experimenting. "I like to try things out. I can display a set of posters on a wall and leave them there for a few days and then if I still like them I may frame them and give them a permanent spot and if not, I'll simply remove them and move on," Desiree says. No stress! Just fun!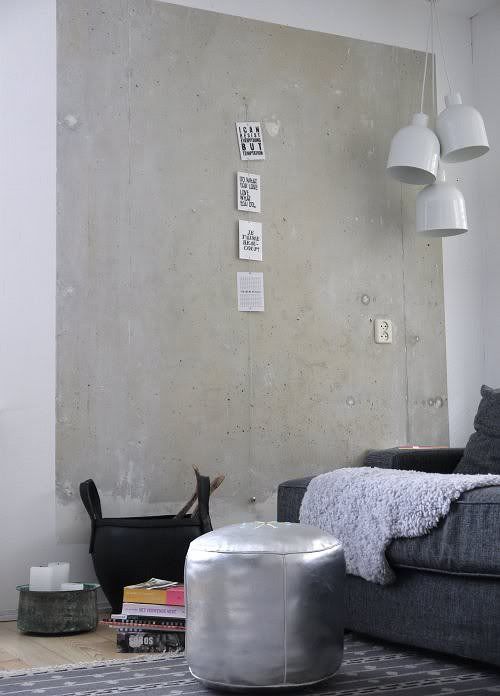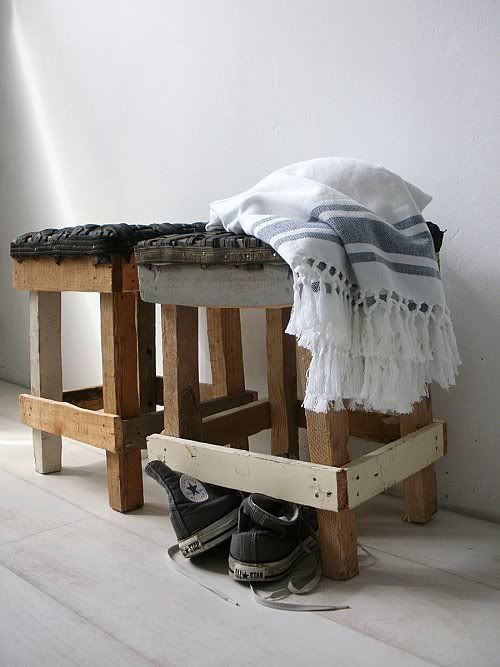 On the wall in her living room she has installed lots of different things in a single hue since finding a common theme among different objects unifies the collection. "Your home does not need to be too serious. I add things and change them very easily. Someone once told me when I was thinking way to much about what color to add that, "It's just paint!", so you can change it again if you don't like it," which helped Desiree to not take decorating so seriously.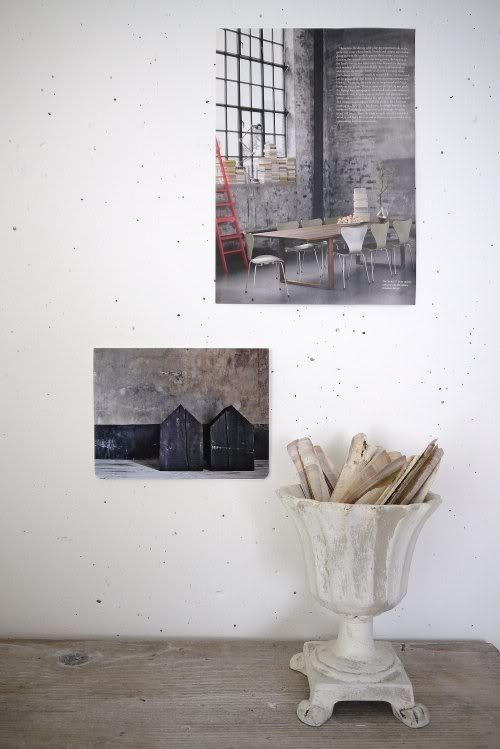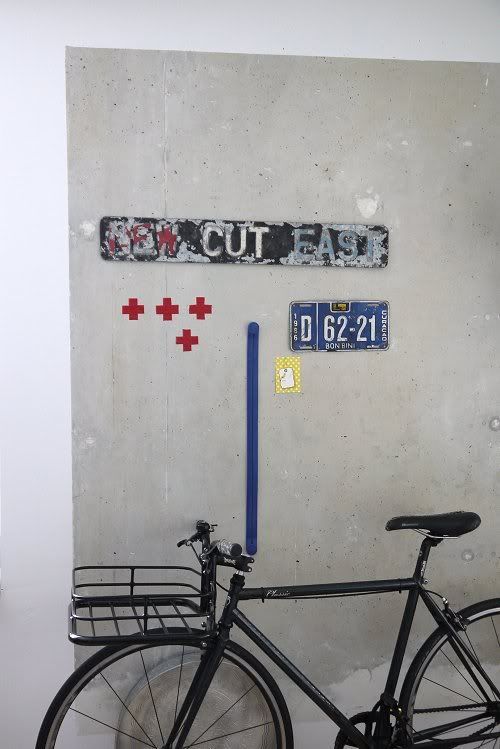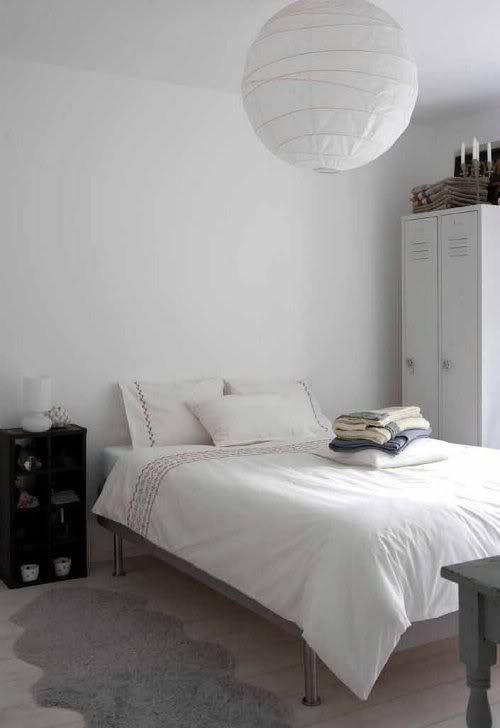 This creative lady loves her home mainly because the atmosphere is calm — something she needs after a long day as a social worker which can be quite the opposite! She likes how the rooms flow from one to the next visually, and to do this she keeps the foundation colors the same. Each room has white walls and a concrete focal point. By repeating certain colors and textures, yet using them a bit differently in each room, she is able to create this calm flow throughout the home.
With her color palette being so limited, you may wonder why her home doesn't feel cold. The secret to making a home that has so much gray, white and black into a cozy abode is to use various shades and finishes (glossy, matte, etc.) and to use lots of texture and mix in natural elements. You can spot everything in her home from recycled rubber to natural wood, vintage wood, fur, glass, concrete, metal, recycled wood, metal and paper — all add texture and life — and is a smart way to inject warmth into an otherwise cool palette. Great trick!
What a lovely apartment in Amsterdam! Thank you dear Desiree for sharing it with us!
(images: desiree and ikea family at home)
I was thinking about what to blog today and all of a sudden I thought that perhaps you'd be interested in seeing a few of my favorite things that are in my work room and living room, which are two rooms near to one another, in my home. I love seeing the details in the spaces of others and know that you do to so perhaps you want to see a little glimpse into my life. These were not styled or shot very well as the lighting in here is rubbish with a storm brewing outside, but they are a genuine reflection of how I live and so I hope that you like them.
Okay so first, remember this post about looking for storage? Well, after posting that I decided to just buy the dream cabinet that I really wanted instead of settling on something that I didn't want only because it was a few hundred dollars cheaper. In the end, I'll end up selling or replacing the one I don't love so it will cost me more long term so I decided to buy a piece that I will have for the rest of my life. I contacted Lys Vintage and to my surprise, they still had the vintage cabinet from France in the lovely grey-brown that I like so much and even better news – they had a driver who could deliver it the next day. Talk about good timing.
When I got it home, I put lots of our favorite things in it that my husband and I collected over time. I asked him if I could use some of his antiques to display and he was very willing to share his prized collections, including many antique books – some handwritten dating back to the early 1600's in which he is very fond. I love all of his collections, combined with mine, and that I have some temporary space for some of my favorite design books. I'll move my design books into a larger cabinet with all the others still boxed up, but for now at least I have access to the best of the best.
The first door that you see tilted out slightly is a door and a window leading to the balcony. The other double door leads to a second room as large as this one but I've shut the doors because I don't want you to see the boxes that lurk there. I'm still furnishing my home, it's taking me forever, but at least I have some corners of my home together while I decide on what to fill all of this space with.
I wish I could say I cleaned up for your visit today, but I didn't. I have magazine files on the floor from a project I was working on and on the table, stacks and stacks again of paperwork and things. This room doubles as my dining room currently but we usually eat in here when we have guests, otherwise we eat in our other dining room. Yes, we have three places to eat in our home – a kitchen table in the kitchen, a dining area outside of the kitchen in our very wide hallway and then this room which is a formal dining room. I have to make roman blinds for this room shown above, and get a pendant for over the table, and get some new chairs… but you know, it is what it is and I'm not making excuses for it. I like my home. My windows are not as dirty as they look by the way, though our window cleaning guy is coming over on Monday (thankfully) so they'll be crystal clear soon enough. :)

Stacks of magazines and stacks of Japanese craft and interiors books… on an antique Swedish bench that I want to paint, I think I may paint the top a minty green and the legs a matte gray, and then do something else but that is a surprise. When I finish I will show you. My makeshift lighting is a vintage green glass jar from the flea market filled with odd bits because I'm quirky like that… and inside are some Christmas lights because I really like how they look at night.
I showed you my first wintergarten in this post, here is my second one above. I did very little to it, I have plans… I'll show you once I set those plans into motion. But for now, at least there is something in there so it doesn't look lonely. I always try to put something in a room until I am able to do what I really want to do in there because at least I can enjoy it for now.
I have lots of little stacks in my house – books and ceramics mostly – things that I'm obsessed with!
Above is a piece of furniture from IKEA that I have in my work room – it's going to have a facelift though as I'm bored with how it looks and I want to paint it and do something fun, including new "knobs" because the ropes are cute but I'm not in love with them as they are.
SO those are some imperfect corners of my home that I thought I'd share today. I love my home, I'm happy here and cannot wait to get it finished but as it is for now is okay with me until I can furnish it and do the curtains, etc. I can't wait to show you more as I continue to work on things!
(images: holly becker for decor8)
As an American living in Germany, I've noticed that the longer I've lived outside of my home country (it will be two years in August), the more American architecture stands out to me as being, well, really American. I finally "get" what my friends once said to me when they traveled to the states and swooned over every New England style farmhouse that they saw on the way from the airport to my converted circa 1875 carriage house in Hollis, New Hampshire where I lived. And I finally get exactly why they loved my little converted home set on a huge apple orchard complete with a backyard pond. It really was the quintessential New England home but at the time, it was just a cute little house where I lived – I didn't see it as being so charming…
Truth is, New England villages with their farmhouses, carriage houses and dairy farms are quite gorgeous and very, very American and now that I've distanced myself from all of that I do see it as very charming, too.
Then you have the gorgeous farmhouses in New York, especially the as you drive north out of Manhattan and just keep going… the land gets greener and more beautiful with each mile. I'll never forget the summers and winters that I once spent at my friends farmhouse in Granville, New York and also in another small town outside of Lake George, I cannot remember the name of at the moment, but it was so nice there. It's such an amazing part of the country.
It's funny, daily sightings become so mundane to us — even here as I am surrounded by gorgeous Jugenstil villas and some buildings that are hundreds of years old, I often forget how amazing the local architecture really is. I guess that's why I want to share this 1850's American farmhouse in Rhinebeck, NY submitted to me by photographer Emily Gilbert for Rue today. For one, I felt a wave of nostalgia for the American farmhouse the second I saw it and the second reason is because I know that so many Americans dream of living abroad, especially in Europe, but America has so many beautiful things that you'd eventually miss if you relocated elsewhere so I guess you really have to stop and smell the roses. There is so much beauty just around the corner… Take for example this lovely countryside gem…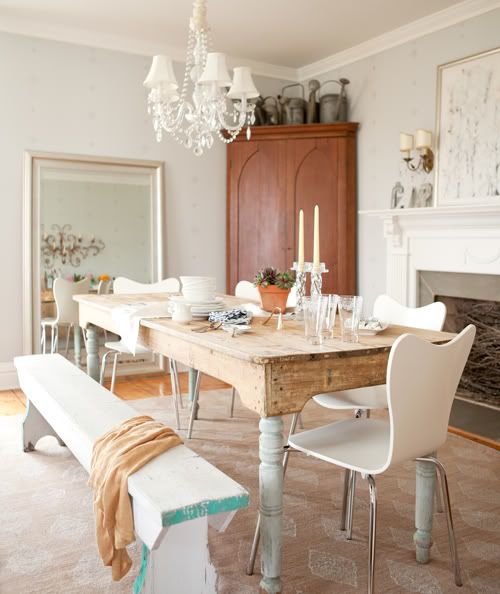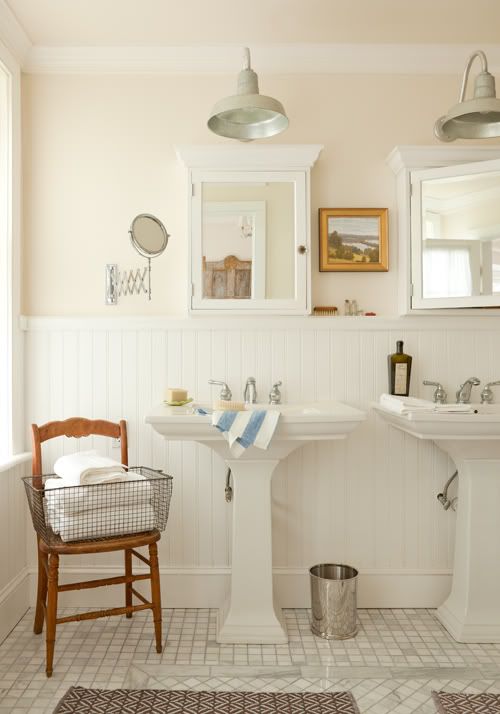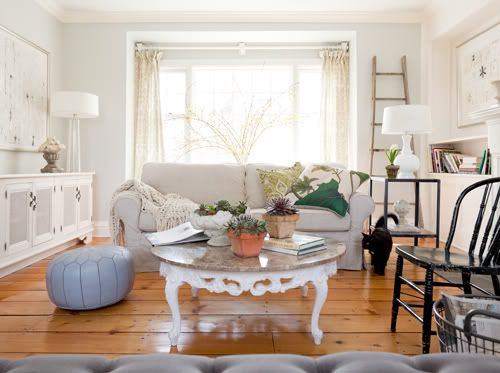 If this house looks familiar to you, it's in the current issue of Rue magazine though they gave me a bunch of extra shots to blog about (thanks, Rue!) because they ran out of space to cover the entire house. I'm so happy that they sent this farmhouse for me to publish on decor8 because I think it's lovely and I really like all of the details inside from the tufted gray chaise to the Madeline Weinrib rug beneath the dining room table, the golden XO stencil detail on the wooden door layered behind the headboard, the adorable dog jumping in to many of the photos (what a little super model!), the painted minty-green legs on the table, the cocktail styling on the credenza complete with a bottle of Bombay Sapphire (a good stylist always uses one bottle of the blue stuff in a shot!) and the basket full of towels in the bathroom — I love the details and the stylist, Meagan Camp, did such a beautiful job in making this home feel cozy and casual.
About the home: This 160-year farmhouse has only had four families living in it – including the current Camp family — since it was built. The previous residents raised six children and, "were host to grand parties that have since become local legend," says owner Lisa Camp. Lisa found the home in 1999 but sadly the home was near collapse as it had been inhabited, not by people for several years, but by raccoons, snakes and termites. Still, Lisa had vision and recognized it's potential, especially since, "It reminded me of a house that I grew up in," she explains. Since her husband, Rod, then living in California, left the house-hunting up to her, she chose the run down farmhouse and got to work. For eight months, the Camps and their three children had to live in the guesthouse on the property during construction but in the end, as you can see above in the gorgeous photos, it was worth the short term inconveniences.
What a lovely home! Do you spot any decorating details that you'd like to try at home?
(images: emily gilbert)
I love cozy corners and cherish possessions in a home — they are the best parts! I love to see the corners where the home owner reads to her children, where dad relaxes with his favorite novel, where the kids enjoy the company of their best friends… Or simply those moments when the home is silent and there is nothing to be heard except for the purring of Miss Kitty on your lap… Of course, families come in all shapes in sizes, perhaps for you it's simply your one room apartment with your hamster or your five bedroom house with your partner and three dogs… Or maybe you are still at home with your parents or living in a dorm. The point is, an inspiring home, or "space",  is one filled with love, warmth, meaningful touches, personalized nooks and an inspiring family (or person) at its core – someone who really cares about their home life – those who live with them and who love being part of a family.
The lovely Tina Fussell from the Traveling Mama blog, a lady whom I known know online for several years, has an inspiring family life and an apartment that captures all of these things — she sent in photos of many lovely nooks in her Danish apartment and I thought I'd share them as they have a special feeling of warmth of coziness that I really love.
Tina recently relocated from Morocco to Copenhagen to live in a typical Danish modern apartment that is 1,200 square feet with a large living room in the center with all other rooms off of the living area. She shares this space with her husband and three children, which is amazing because the work involved in maintaining a city apartment with five people must be quite challenging! Imagine?
Art by Studio Violet
A traditional Moroccan wedding quilt used in a modern home — so pretty and fresh!
What I like about Tina's home is that her decorating style is a reflection of all the places where they have lived throughout the years and that almost everything has a story since moving frequently to distant lands has forced her to edit when packing for the next destination since she cannot take everything with her. She is forced to carry only what they cannot part with — but this has been a good thing for Tina and her family because now each item in their lovingly curated home has meaning and value. It's something to consider isn't it – to really keep those things that have meaning…
"I wouldn't call our home a designer home, it's my hope to encourage others that a beautiful home can be achieved on a very tight budget and limited resources," Tina says and I could agree more – one can do a lot with little money, a good eye and a lot of love for decorating and of course, their family life and the dedication they have to making it a nice place to be for themselves and other family members.
I Love You Blogs And Coffee print from Made By Girl.
Tina thank you for this glimpse into your world, I've enjoyed it so much and I'm sure decor8 readers do as well.
Psst: Tina takes lovely photos, as you can see above, and also here in her etsy shop.
(images: tina fussell)