Today in Home Much For This Room? we're heading up to Fayetteville, New York to hang out with Tara Hogan of INK + WIT to see her brand new kitchen and the adjacent dining area. Tara is a successful freelance graphic designer who has impeccable taste and her well edited, beautiful space really highlights this fact. Tara also authors a new blog where she muses about her inspirations and where she keeps her loyal customers updated as to what she's doing currently at INK + WIT. Tara and her husband just moved into their home a little over two years ago, it's 102-years-old and has some great features, including a wood burning stove in their dining area that has been there for around 70 years! Let's take a look around…
About this space Tara says, "We have been fixing this place up non stop. There was awful laminate in the kitchen and no style. The walls in the kitchen are still not done, hence a yellow glow you see which still needs new white paint but I feel the images show off the good additions we have made so far like the quartz countertop, fridge and restoration of things like molding, lights, and white paint."
Kitchen renovation breakdown: 1. Countertop: LG Via Tera, quartz, color: Geneva, from LOWES, $60 sq ft. 2. Stools: Giulietta Counter Stool, DWR, $155 each. 3. Mixer: KitchenAid, Artisan Stand Mixer, red, Williams Sonoma, $300. 4. Fridge: GE Stainless Steel, Best Buy, $1,215. 5. Ceramic wall tiles: Counterparts 3″ x 6″ Bright White Flat Ceramic Tile, LOWES, $0.22 cents per tile.
Kitchen Reno Total: $4,130.00
Dining room breakdown: dining area: 1. Pendant light: George Nelson saucer bubble lamp, HIVE, $269. 2. Table: EDEFORS Dining table, IKEA, $439. 3. Chairs: unknown and free from my aunt.
4. Large serving dish: HULTET, IKEA, $7. 5. White ceramic bowl: TJMaxx, $5. 6. Poster: the Shins In Manchester, silkscreened, 18×24 (frame with mat : commercial art supply, $35), The Poster Caberet, designer: The Small Stakes. 7. Poster: Flock, Wayne Pate, Good Shape Design, $35. 8. Planters: BLADET, IKEA, small – $5, large – $8.
9. Vase: FÄRM, IKEA, $2. 10. Print: Camilla Engman, $40 (set of 5 misc prints). 11. Largest planter, MYNTA, IKEA, $29. 12. Framed print: Julia Rothman, $35. 13. White filing cabinet: HELMER, IKEA, $40. 14. White bin: KNODD, IKEA, $15.
Dining Room Total: $965.00
Thank you so much for sharing your newly renovated kitchen and dining room space today, Tara! Beautiful work. If you would like to see more of Tara's home and learn about her work and inspirations, you can read this chat that I had with her last August. Enjoy!
(images: tara hogan)
I'm honored to take you into the home of a lady that I admire in every way, shape and form… someone that not only has followed her heart so freely but who generously invites thousands of her fans to follow dreams of their own through her inspirational book and blog, as well as the classes she teaches where she inspires others to paint from their authentic place, to paint from the heart. This lady is artist and author Kelly Rae Roberts and she's altogether lovely. Her home radiates her personality so perfectly — one who knows her cannot help but see her spirit dancing through every room of this colorful, positive space. For those of you just learning about Kelly, please take a moment to explore her world and if you're out there feeling a bit lost, stuck in a creative rut or in need of finding a path in life, Kelly has a new book that I've listed at the bottom of this post that just may get you started as you take flight.
I was thrilled when she contacted me today to share her new home in Seattle, Washington with decor8 readers. In the photos and words that follow, you will be transported to Kelly's happy place as everything she touches feels very alive and soulful. I've asked her to complete a few sentences about her home, my words are boldface and hers are italicized. I hope you'll follow along… Let's go visit Kelly together!
My first name is Kelly Rae but I've always loved the first name Storie Rose but, oh well.
My home has 3 bedrooms and was built in the late 1800's (before they started keeping records in 1900 so we're not sure on the exact year).
The architectural style of my home is farmhouse.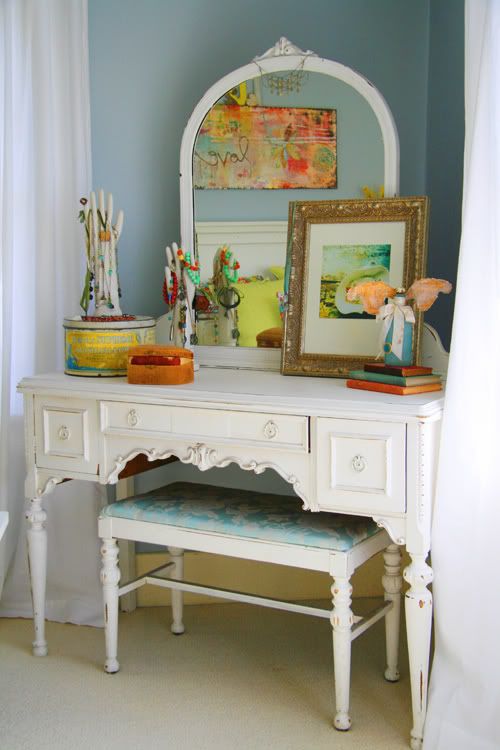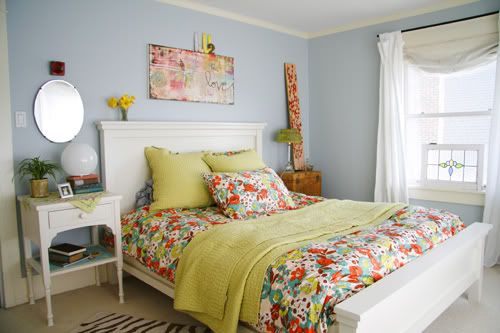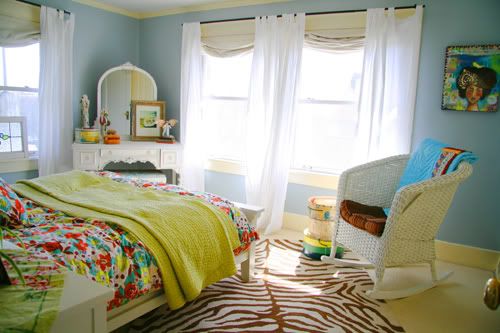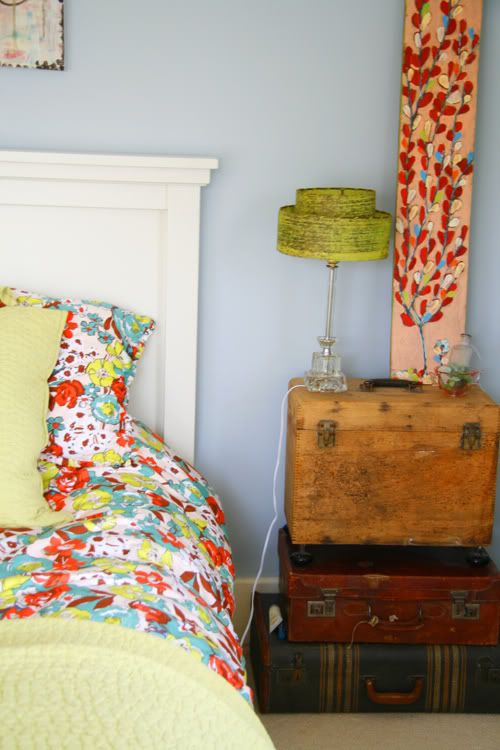 I would describe my personal style in three words: colorful, vintage, and creative.
My office/studio design was inspired by blues with greens with browns (so calming).
I am an artist for a living but wish I was doing more painting (where does the time go?).
I live in Seattle but would love to live in New Zealand or maybe Italy.
In my house I love to lounge on our green couch, paint in my studio, make tea in our kitchen, and CHILL OUT on the weekends and during my free time.
My real passion is painting, and writing, and decorating.
My favorite cleaning tips are: spend 15 minutes a day picking up, share house duties with your partner (50/50), and listen to music while doing your 15 minutes a day.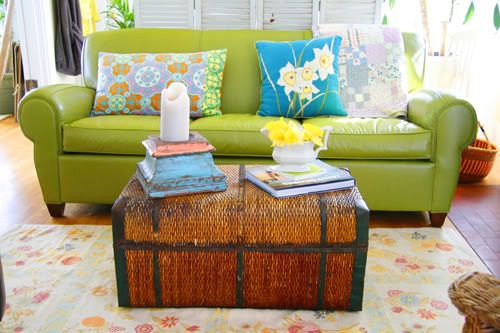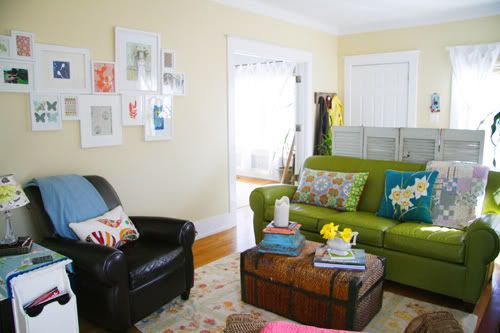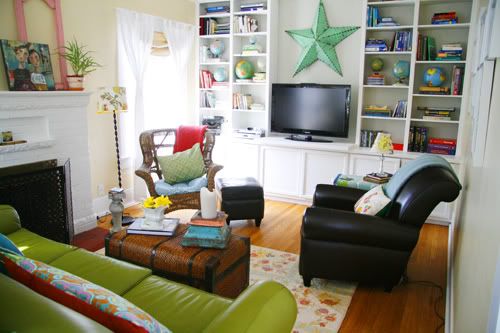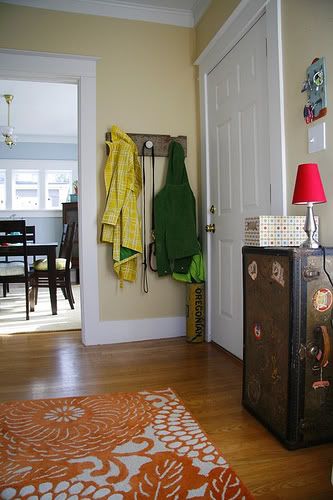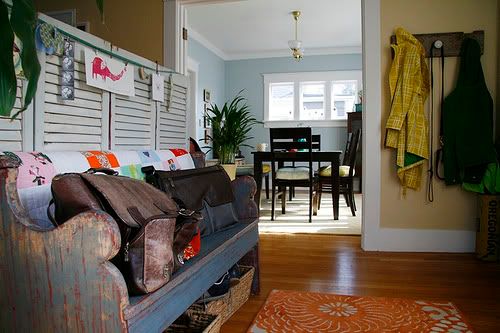 My favorite objects in my home are the original art and our photo/memory boxes.
In this house I live with my husband and our sweet hemophiliac dog, Bella.
My favorite place to hang out in my home is in the bedroom because it's sunny and cozy and it's where i can read in bed (so relaxing).
This house is different from other places I've lived because it's bigger. We've always been in tiny one bedroom apartments so a three bedroom home feels incredibly deluxe.
My decorating philosophy is the same as my painting philosophy: there are no rules. no mistakes. just you and your creative spirit coming out to play.
I stay organized by not letting things pile up, mail or otherwise.
If you visit my house, these are my only rules: Relax. Make a mess. Get in the hot tub.
I plan to live here for a long, long time.
My tips on renovating on a budget: one room at a time , only buy things that you are absolutely in love with, and always take risks, be bold. You won't be sorry.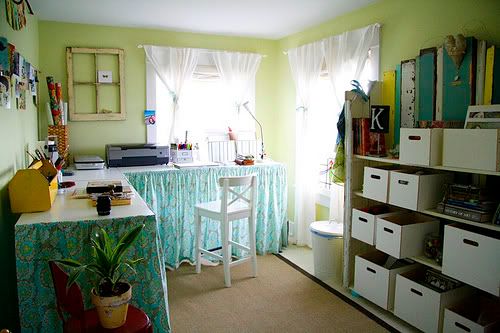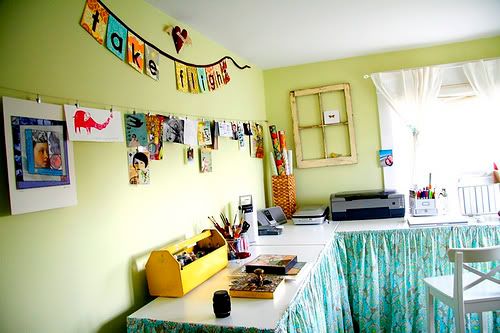 You can view more gorgeous photos of Kelly's new home right here.
Find Kelly online: Her book Taking Flight, Stationery/Magnets, Flickr, Etsy, Blog, Website.
Thank you Kelly for writing to me and sharing with us your gorgeous living space. Congratulations!
(images from kelly rae roberts)

Would you like to see some lovely photos from a friend who lives in the San Francisco Bay Area? Her name is Anh-Minh Le and she found me through decor8 back in '06 — she commented a few times and then we started to exchange emails and before we knew it, we became e-friends. The always supportive, genuine, and very talented Anh-Minh is an office manager by day and a freelance writer by night with hopes of someday becoming a full-time writer. After looking at her home, lets home she decides to write about art and design because she certainly has an eye for beauty!
Gorgeous view from the dining area.
Anh-Minh compares her home to a "giant treehouse" since it overlooks many beautiful redwoods as you can see in the above photo. Her and her husband, Jon, have lived in their home for eight months and she cannot imagine living anywhere else though she confesses that a year ago, "I would have jumped at the chance to live in London or Tokyo". Since I know Anh-Minh is one stylish lady who has traveled the globe, I felt confident when I asked her if she'd like to share corners of her home on decor8 because I knew she'd have a gorgeous space and from what you can see here, I'm glad I asked! Today I thought it would be fun to ask her to complete the following statements so you can learn more about the lady behind the abode. My thoughts are boldface and hers are italicized so you won't get confused…
Entry — I love this bench and the painting, don't you?
Entry- Another part of the entryway.
Living Room
In my house I love to… take naps in the sun-drenched living room, watch movies on the super-sized projector screen, sit and enjoy coffee with friends at the kitchen table, and contemplate new decorating projects on the weekends and during my free time. This summer – our first in this house – I'm also looking forward to spending many hours hanging out on the deck.
My real passion is… traveling. We have souvenirs scattered throughout the house; like the embroidered textile draped on the back of our sofa (from Mexico).
My favorite objects in my home… most definitely the chaise lounge in our living room, the painting in our entryway and the Jill Bliss mural in the craft room (does that count as an object, even if it takes up an entire wall?).
Home Office
Guest Bedroom
Master Bedroom
Laundry Area
Craft Room complete with a mural by Jill Bliss!
Kitchen
My favorite place to hang out in my home is… the living room.
This house is different from other places I've lived because… of the setting. All nature, all the time.
My decorating philosophy is… make it personal. I love looking around the house and seeing things that have some significance to me – that remind me of a special time, person or place.
I stay organized by… keeping my label maker close at hand.
If you visit my house, my only rules are… relax, have a good time, and come back real soon.
I plan to live in this house… forever.
Thank you for visiting us today on decor8, Anh-Minh — your home is filled with pattern and life and I'm so happy that you stopped by to share it with all of us here. xo
(images from anh-minh le)
If color and personality are what you love to see in a home, then you'll really enjoy Nina van de Goor who lives in the Netherlands because both the way she lives and the art she creates leaps with joy. I had the pleasure of meeting Nina in person last year in Amsterdam and really enjoyed chatting with her. It's always such a treat to connect with those I meet online a bit more personally – like in the flesh! In addition to her creative and unique ceramics, Nina recently started working on some screen prints and would like to offer decor8 readers a 15% discount on the new screen prints found in her shop on Etsy. Upon purchasing please put "decor8 discount" in the comments to seller box and Nina will send you a revised invoice in reply. Here are some inspirational photos showing Nina's home and workspace along with lots of her handmade goodies for you to enjoy!
For more inspiration from Nina, view her Flickr photos here. Thank you for sending me all of these wonderful photos Nina and for the very special discount which, by the way, is valid for one week until April 2, 2009.
(images from nina van de goor)