I was thinking recently about ways in which I can show more gratitude. Then it hit me that as an author, it would be nice to do a personal snapshot on decor8 highlighting homeowners found in my latest book. I read lots of beautiful books that fellow authors have written but I rarely learn much about the people behind the gorgeous rooms shown throughout.  My blog is a great place to begin sharing their stories so I'll begin with a mini series called Snapshots of Home that will begin with this post!
This mini series will appear weekly (or as they are submitted to me) highlighting the beautiful homeowners behind my latest book, Decorate Workshop. I've sent each homeowner a list of questions and asked each to snap photos from their home of things that make them happy. The first in my series is Iris Rietbergen, a talented Dutch interiors stylist, web shop owner and blogger and here is her snapshot of home.
Hi Iris! First of all, can you tell us what you do for a living?
Iris: I'm working as a freelance stylist. I help people to create their own personal home. This could an entire home from start to finish or to help decorate a specific room. I also love to do photo styling. Especially in personal homes, because they give a lot of inspiration true their own style. I always find them (personalized spaces) the most inspiring in magazines. And since the beginning of October 2012, I've started my own little web shop, Visje bij de thee, with a selection of inspiring items that will help you to create your own home sweet home. It's really great to search for special items! I would also like to do some more renovation projects in the future. I've renovated 4 houses myself (well of course with a builder) but it would be great to do this for other people as well.
Where do you live?
Iris: I live in Amsterdam in a house from approx. 1900, it's 105 m2, everything is on one (ground) floor and there is also a large basement for storage. The house has a lot of height and old features. I live with my husband and two children, Merel who is 5 years old and Jip who is three years old and our dog, Guus.
What is your favorite thing about Amsterdam?
Iris: That you can take your bicycle and explore the whole city. In Amsterdam you have such lovely neighborhoods, each of them have their own character. With their own little shops, cafes, restaurants and parks. And it's quite a safe city. I feel really privileged to live my life here with my family.

What are 5 of your favorite shops in Amsterdam?
Iris: The Weldaad, Sukha Amsterdam, BonBonBoutique, IJM (they are open once a month on the weekend) and Sky Fashion. I must add that there is one shop that is from Dutch designer Piet Hein Eek, based in Eindhoven, that is my favorite favorite shop ever! I'm a big fan of his designs, but I also like the ceramics by his wife Jeanine Eek Keizer very much. The shop and workplace is in an old light factory from Philips. A visit feels like being in a candy shop!
Now let's talk about books!
Is this your first time in a book?
Iris: Yes, this is the first time that my home is featured in a book – Decorate Workshop!
What did you enjoy when Debi and I worked in your home?
Iris: First of all you are both such sweet people! Very relaxed, although I know you had a tough deadline! And I like it when people bring good energy (like you both did). I knew a little bit of the work of Debi before she arrived because of the interior books she did with stylist Emily Chalmers. So it was an honor to meet her in person, this can also be said about you too, Holly. I really enjoy your ideas of sharing and all the lovely things that involve the wide range of interiors instead of keeping everything to yourself. And you bring it with a smile. Interiors are a bit like the cherry on a cake in the daily life. So… I especially enjoyed your company and humor, and the sack full of 'power' seeds from Debi, ha ha (munchies Debi brought that we were eating…)!
What do you love about interiors books in general?
Iris: That they give inspiration. I like to see all the different houses/interiors that show the own creative style of the residents.
What do you think of Decorate Workshop after you saw it?
Iris: What I really like about the book is that it takes you step by step through different homes and rooms but also gives you smart tips and tricks and how you can decorate your home in many different ways. The book also helps you to find your own style and to help create your own space. What fits with you as a person. I especially like the part about layering pattern. I find that the most inspiring part because a lot of people find that difficult, but actually it's the most fun!

What is one of your favorite photos of your home that Debi took?
Iris: The photos of my kitchen with the dining table (page 108/109) – the dining table is shown above. It's the heart of my house… Where we cook, eat, play and enjoy a good coffee, tea or glass of wine.
What are some of your favorite blogs and magazines?
Iris: Funny enough they are mostly magazines and blogs about FOOD! I have a soft spot for good food (I like to cook), all kind of fabrics, cutlery and tableware. For instance, Donna Hay magazine, What Katie Ate, Carline van Oel, and Studio MHL.
What attracts you to blogs the most?
Iris: When you can see their own style in the different items/features they collect for their blog. The love for pattern, colors, design mixed with vintage, etc. I'm quite a visual person.
What is your passion and what inspires you?
Iris: I've always loved to create little homes since I was child, that I call a nest. I think it is so important to live in a surrounding that reflects who you are. It should be warm and safe place to grow (in as a person). I'm not someone who follows trends simply because they are a trend but I do believe that an interior will always grow, becoming more and more a reflection of you, because you are always learning as a person. That's the pretty thing of life! I like to show that also with the products in my shop. They are not very trendy but they are mostly handmade products that have their own unique value.
And what about inspiration…
Iris: For inspiration I just open my eyes and look at the world… I love the architecture from different cities to a humble little barn in the French countryside. In Amsterdam, a lot of people live here from different cultures so they bring their own colors, patterns and food. I see it as privilege to be part of such a diverse city. Though, more specific, I love colors, fabrics and patterns… I find those things all around me — On a little vintage cup and saucer, paint on a wall in a cafe, fashion, or in nature. I'm grateful that I live in a country where we have four beautiful seasons. If you really look hard there is so much to enjoy.
What are some favorite things in your home currently?
Iris: I'm a bit of "in love" with my vintage bowls with little flowers (shown in the photo above). I'm also very fond of the color, like I call it, red cabbage/deep eggplant. It is such a beautiful "accent' color in a bowl, a cup or a chair. Love to mix it with pale blue/grey and a touch of ochre… And I'm enjoying my dinner table with a large wooden bench, pale grey, from Piet Hein Eek. I've had them now for 5 years and I'm enjoying them more every day, really! Also a plaid blanket from Scholten en Baijings. It was a present from my husband and it was on my wish list for a long time, I just love the bright funky colors!

What are some dream items you'd love to own?
Iris: I would love to own one day the fixed lounger of Floris Hovers in grey. Some more tableware from Jeanine Eek Keizer. There is a very special story behind this by the way. Jeanine collects all different old tableware, cup and saucer, plates etc. They are not matching (complete) anymore and a lot of people are not interested in them. She will give them a special color bath and they become matching again true their new colors. It is such a great idea and really pretty!
When it comes to colors, what palette are you drawn to for decorating currently?
I always like a neutral basis, but then I love my colors like deep eggplant, ochre, deep green, pale grey and some pink. I have a crush for the colors of IJM by stylist Frank Visser. He is such an inspiration.
So nice to share a little bit about you today on decor8, Iris! And thank you so much for being a part of my 2nd book! xo, Holly
(images: Iris Rietbergen and Debi Treloar)
I was so excited when I woke up this morning to finally see the long awaited feature that FvonF, a German interiors blog based in Berlin, had planned for my friend, Sandra Juto, and her husband Johan Pergenius! Here is a quick peek into their Berlin apartment, located in Friedrichshain, but the FvonF blog has many more photos plus a lovely interview.
I put FvonF in touch with Sandra and Johan not long after they moved to Berlin from Sweden, so it was good to see that FvonF fell in love with Sandra and Johan too. It makes me happy to see more of Sandra's apartment online – I've often wondered what her kitchen looks like – now I know. Her pretty apartment is so inspiring to me – I love the old German 'altbauwohnung" details seen in so many of the turn of the century buildings that we have here. The herringbone wooden floors, high ceilings, plasterwork on the ceiling, it's all so inspiring to me. I love the natural light and the painted wooden floors in Sandra's office. Don't forget to notice how she arranged her Polaroids on the wall…
I LOVED the part of their interview where they went into a bit of the emotional process involved in finding their apartment. I'll quote Sandra and Johan directly from FvonF . Sandra explained, "The online photos of the apartment looked so terrible (in an intriguing way) that we had to come see it to compare it to the other, more polished, places we had looked at. When we stepped inside we looked at each other and we couldn't ignore the fact that we both had fallen in love with the place. The condition of the apartment was more or less a disaster. The previous tenant lived here for 40 years before she died and seemed to like chain-smoking more than cleaning." And I couldn't help but laugh at how Johan described the first viewing, "When we showed up for the viewing, the real estate agent said we were brave to come see it. He was sitting in his car outside because he was so sure that no one would come." What a riot! And what a good example of how one has to believe in something for themselves – who cares what others think – even when it comes to home selection. YOU have to love it.
View the entire interview here.
(images: Philipp Langenheim)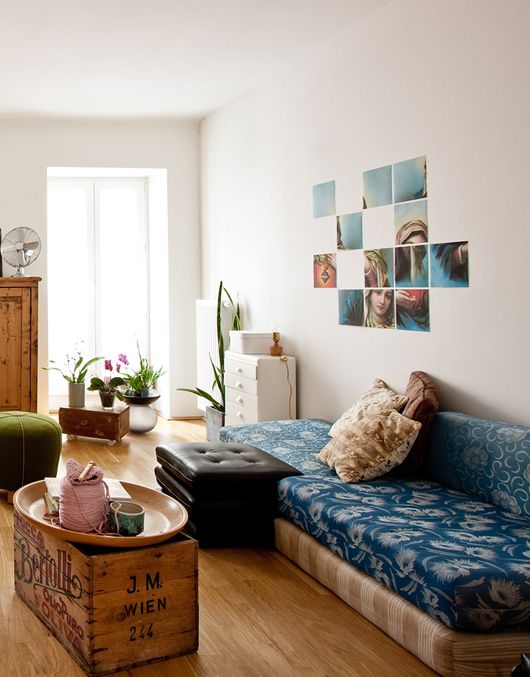 Would you like a little home tour from Vienna today along with some insights into the homeowner's decisions and feelings about decorating? I came across a lovely home recently over on Flickr in my Interior Styling group (nearly 4,000 members so please join if you'd like) and had to reach out to both the photographer and home owner to ask about a possible tour on decor8. I am thrilled to say that both were willing and ready… Sooooo let's get started with a little home tour action today, shall we? We shall indeed!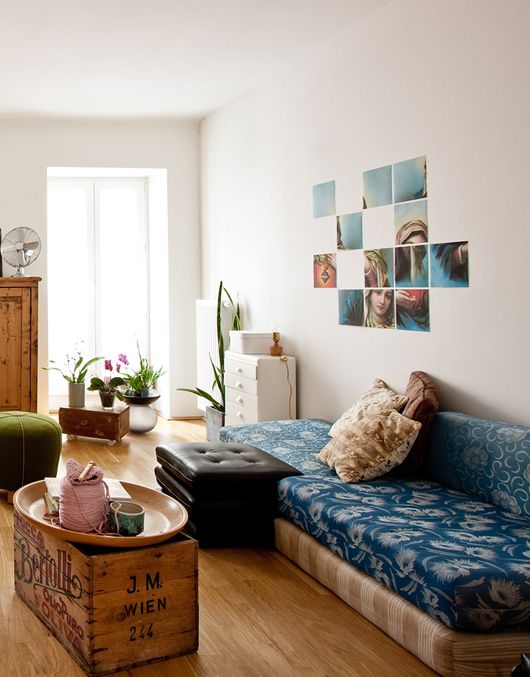 This apartment belongs to Verena Stummer, an Art Director at Screenagers and owner of the small cooking brand, "Schön und gut", in Vienna, Austria. It's so quirky and well organized but above that, I like how it really seems to reflect the style of Verena. It shows that she is inspired by flowers, color, vintage finds and food – the exact things that she told me inspires her in general. It's nice to see that she lives around what she loves and what drives her and is fuel to her creative soul.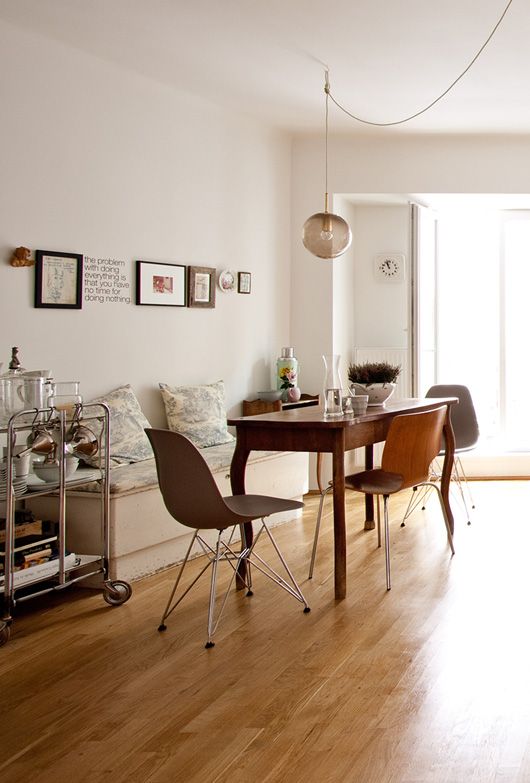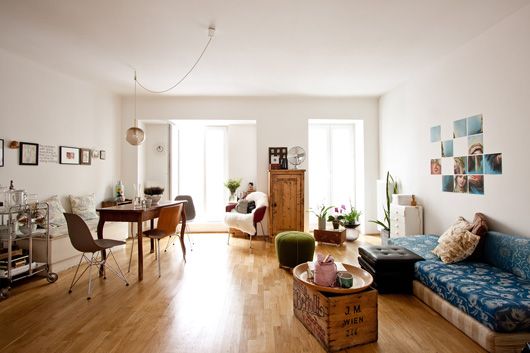 I thought it would be nice to chat with Verena to get a better sense of her space so I've included just a wee interview below. I'd love for you to read it as it won't take much of your time today but she makes some really neat points that may stick with you like happy glue on the heart. :)
decor8: Where do you begin first when decorating or redecorating a room?
Verena: I have a picture of the room to be in my mind, and try to get as close to it as possible. But sometimes it turns out that it actually works better in another way. Which is ok, I love surprises and I let coincidences have a great part in what I'm doing.
decor8: What do you love the most about your home?
Verena: That it reflects me. I love that guests often tell me "All of this is so you!". I also like to keep my furniture and decoration modular and mobile. The fact that I can change the layout of a room by easily moving things is something of a great quality. And that, as you can see, without making it look "nomadic".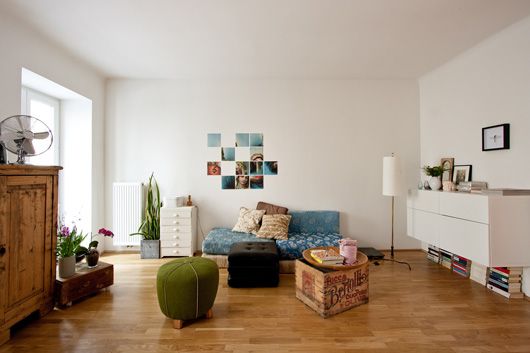 decor8: What do you want to change?
Verena: My flat would be the PERFECT place if it was a bit sunnier, since it being in the raised ground floor makes it a bit shadowy.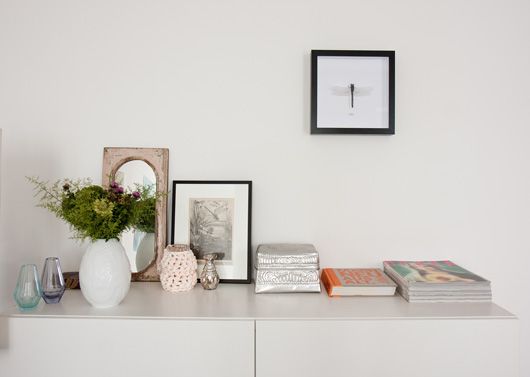 decor8: Tell us about the inspiration behind your current decorating scheme…
Verena: Well, I collected many items throughout my life in Vienna and I love to arrange them so they reflect me and my mood. There is no big "scheme" I guess. But I DO love vintage things that have a history.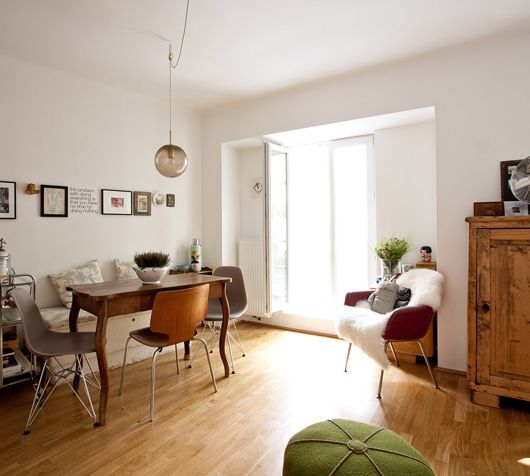 decor8: What do you think makes a house a home?
Verena: I know it's been said often before, but as soon as a house represents yourself by the way you live in it and is filled with your objects it becomes a home. I love it to to glaze over my home and remember all the stories behind the objects.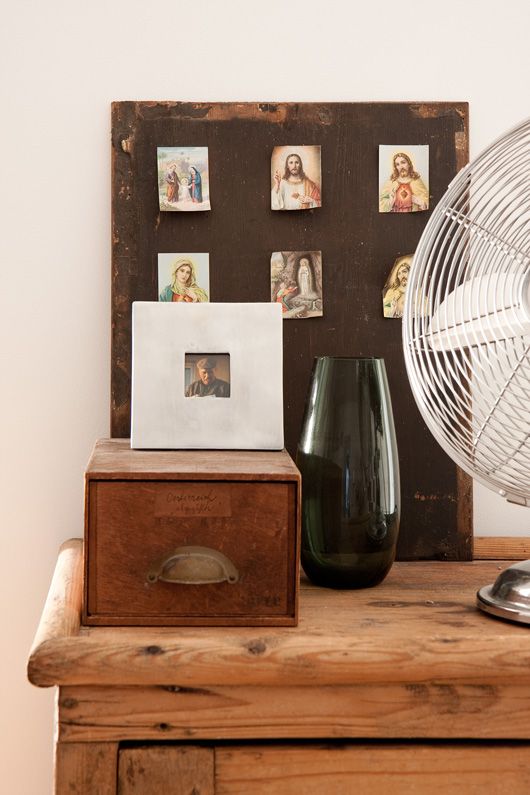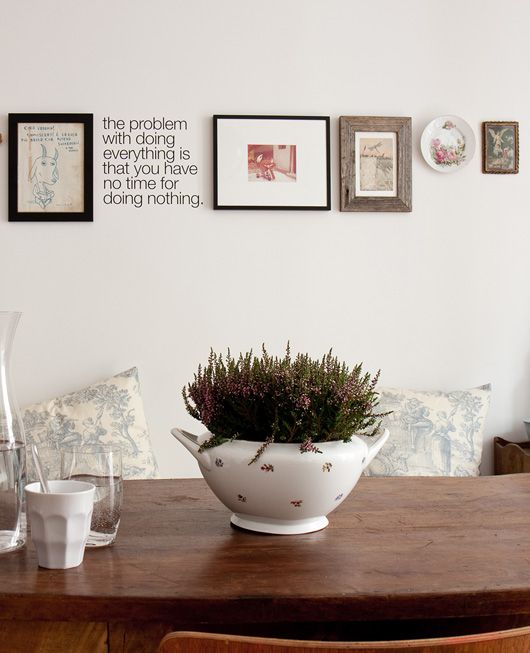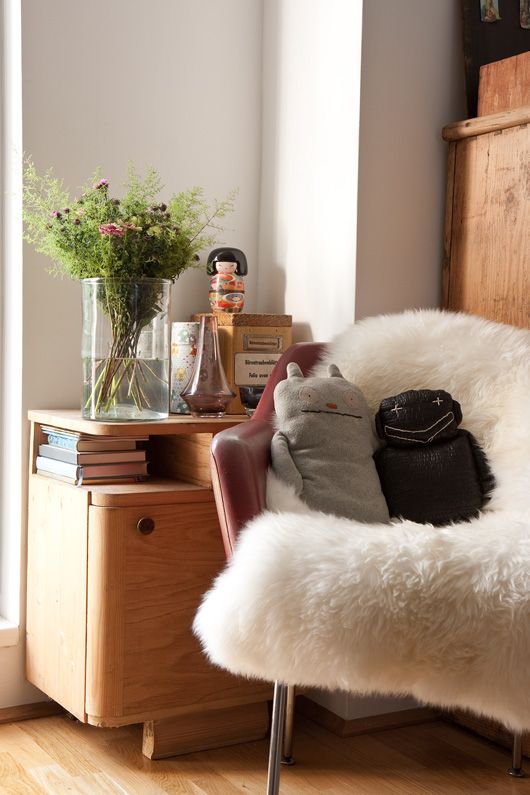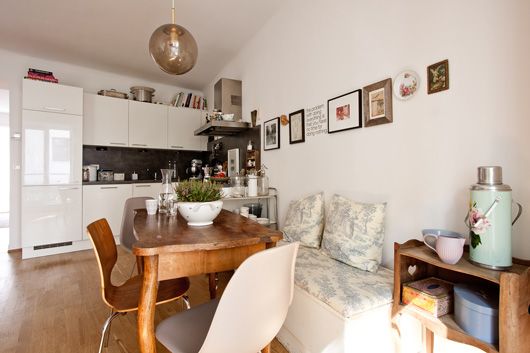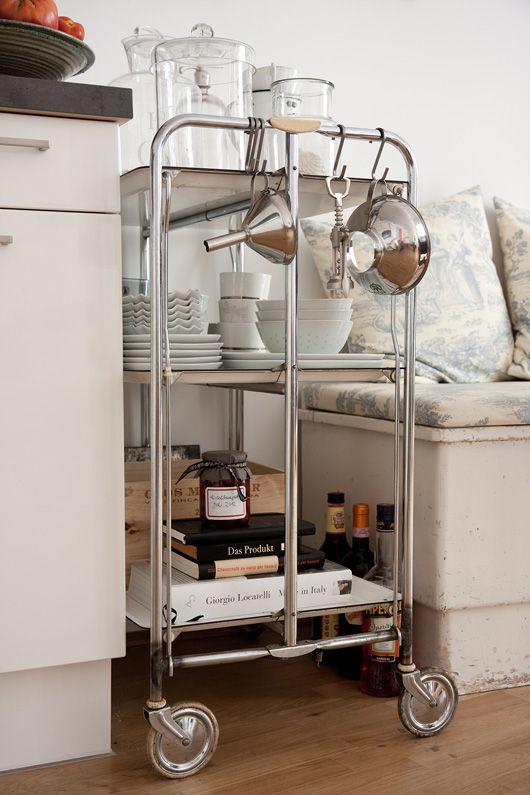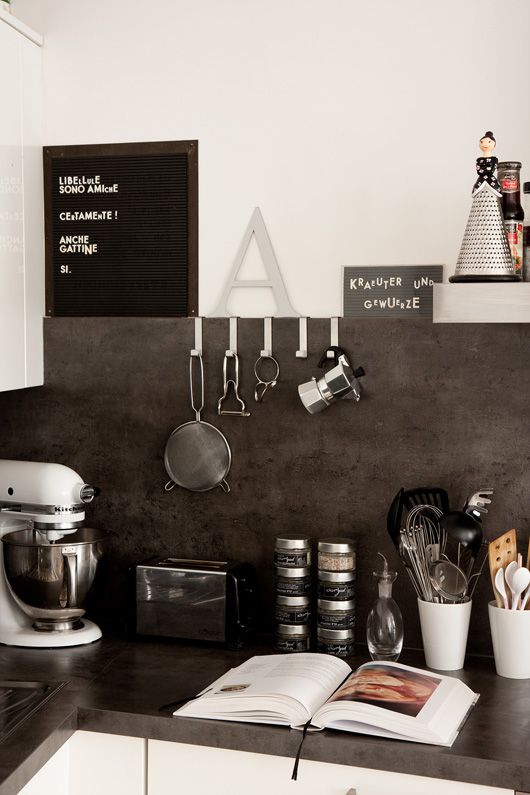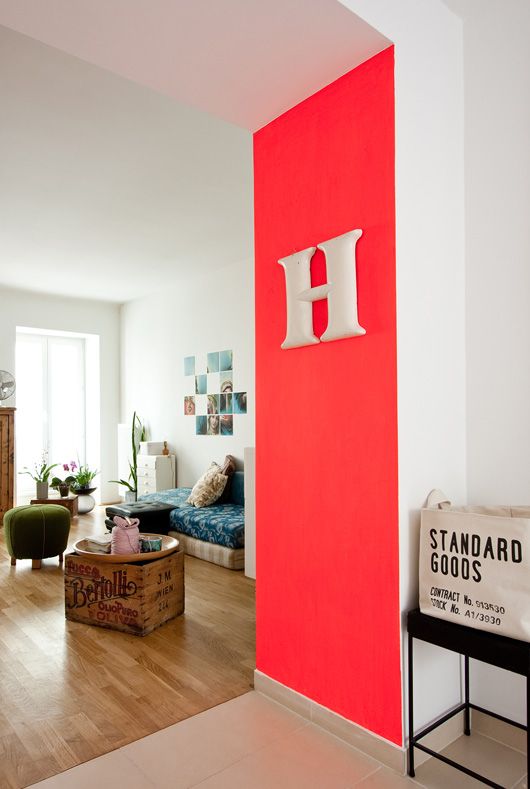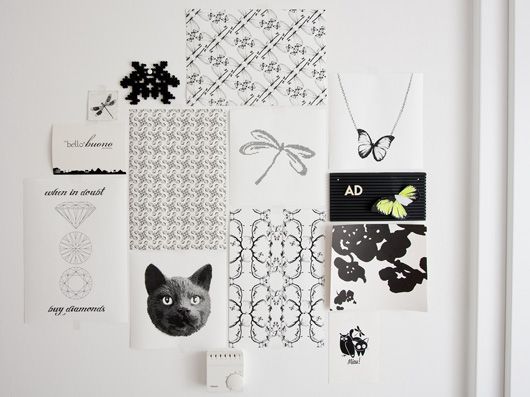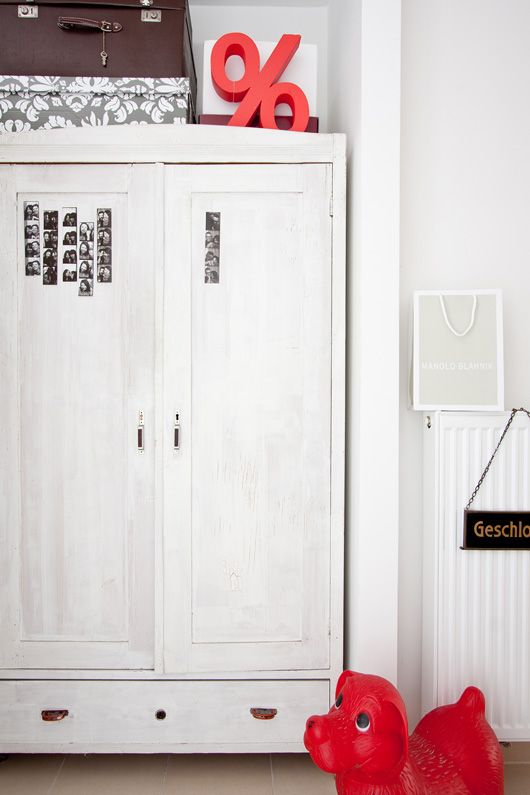 All of these gorgeous photos were shot by photographer Gregor Hofbauer – visit his site to learn more about him and his work. Thank you Verena for visiting us today on decor8 and for sharing your apartment with us!
(photography: Gregor Hofbauer)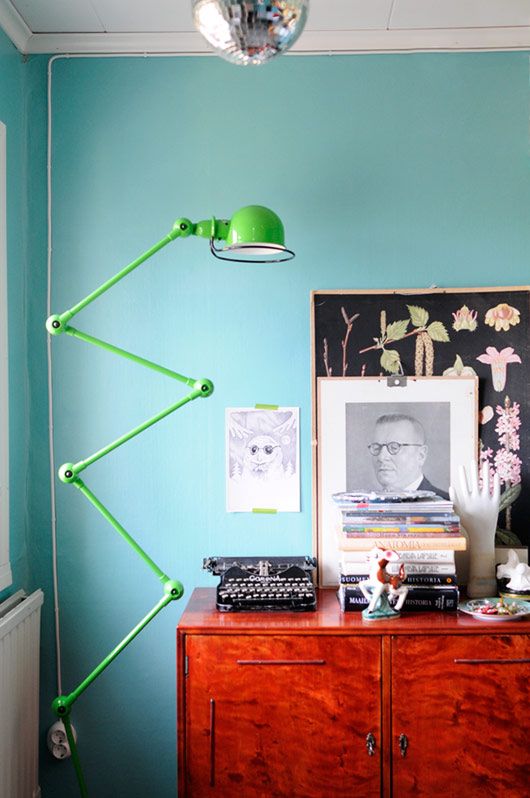 I have a colorful and fun home to share with you today from Jutta Rikola who is a freelance illustrator, graphic designer and blogger living in Oulu, Finland. Jutta recently had a baby boy and has been homebound for the past year to care for him but is now getting back to work part-time, you can see her portfolio here and check out her blog, Kootut Murut, to see what her style is like.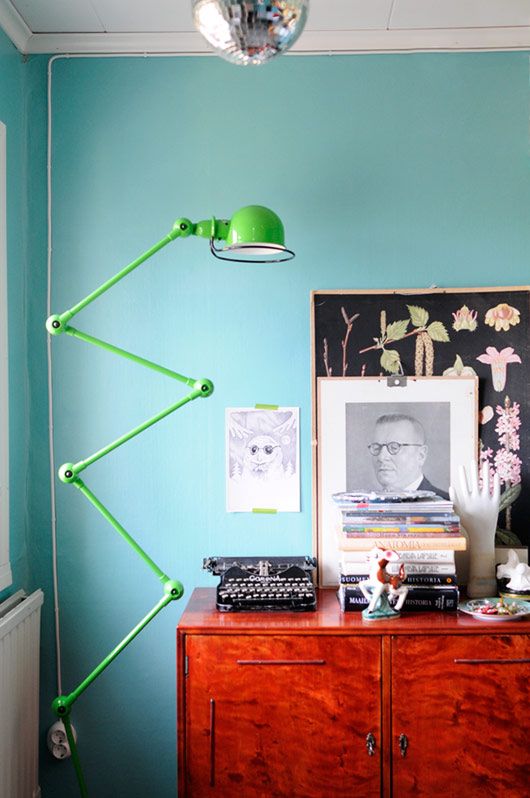 Raised in Oulu where she has been most of her life, Jutta has also been in the US and England for brief stints including a year in London which she said definitely influenced her taste in interior design and adds, "I love old English architecture and the way they use color." Inspired by blogs and magazines, books, friends' homes, thrift stores, and her own home, Jutta says that, "There is inspiration everywhere and I find it hard to concentrate on just one thing. Especially with the baby, time has become a very limited resource, so I've been practicing toning it down." I can relate to her comment, as I'm sure most of you can to because you really must scale back from time to time or else you can feel a bit overwhelmed by all that is out there. As I looked at her home, I thought it would lend a more personal note to this post if I asked her a few questions about her decorating ideas and style, so here is what Jutta had to say to each of my questions below. I wonder how many of her answers you can relate to?
decor8: Where do you begin first when decorating or redecorating a room?
Jutta: With the space itself. What are its benefits and limitations? What will it be used for? Also, because I love to use colors and ornate patterns, taking the surrounding rooms into considerations is important. I make sure whatever I'm planning to use matches the surrounding spaces too so there will be a nice flow.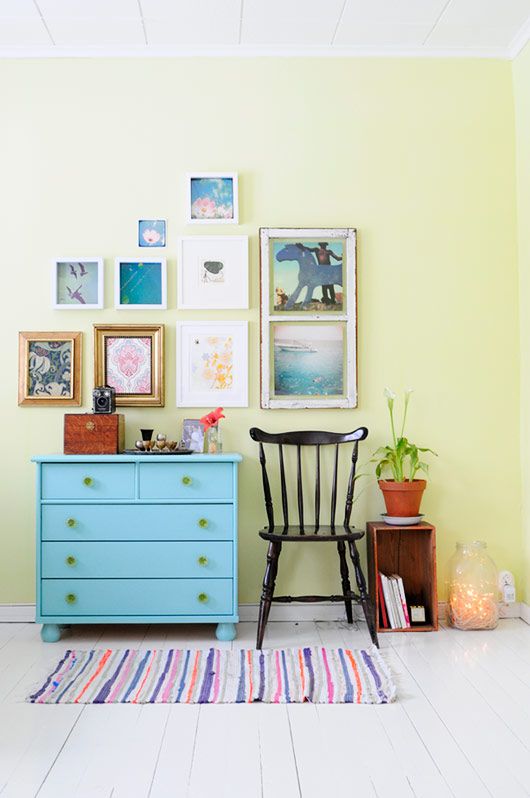 decor8: What do you love the most about your home?
Jutta: The original features. Wooden floors, 50's door handles, bumpy walls. Out latest renovation project kitchen, because it was such a struggle to get it done. We wanted to use traditional methods and recycled materials as much as possible. It was hard work, but the outcome is better than I even dared to hope for.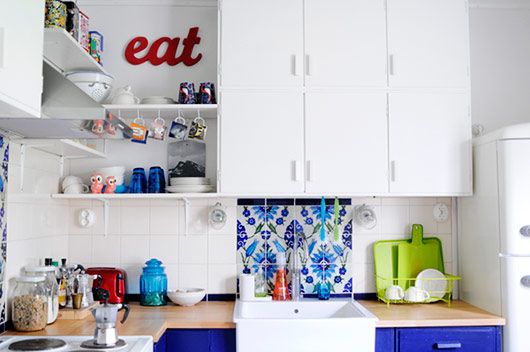 decor8: What do you want to change about your space?
Jutta: I wish there was more of it! I'd love to have a proper place to work. In 10 years time my dream is we've built a garage with an artist's studio, with light flooding in from huge north-facing windows.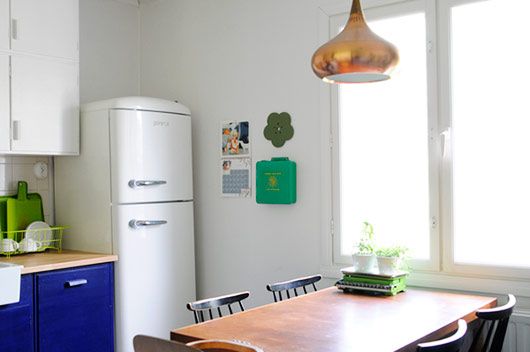 decor8: Tell us about the inspiration behind your current decorating scheme…
Jutta: I think it was Yvonne from Yvestown who said her house tells her what to do. I feel the same. I listen to the house and it tells me what works for it and what doesn't. I think that it's important to respect the history of the house. Built in the 1940's and 1950's when they were rebuilding the country after war, these houses used to be modest. So no matter how much I'd like myself some decorative bling bling, I have to keep in line with the house's character. But of course a little kitsch is always welcome. Other than that it's a compromise between my and my husband's taste. Not too sweet, not too industrial.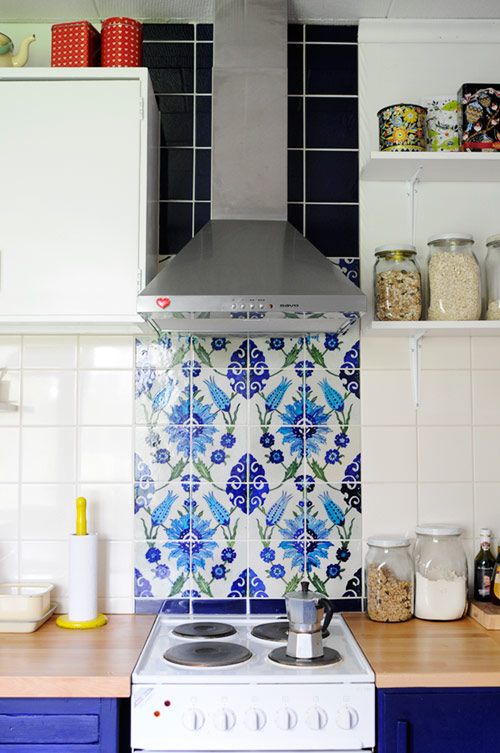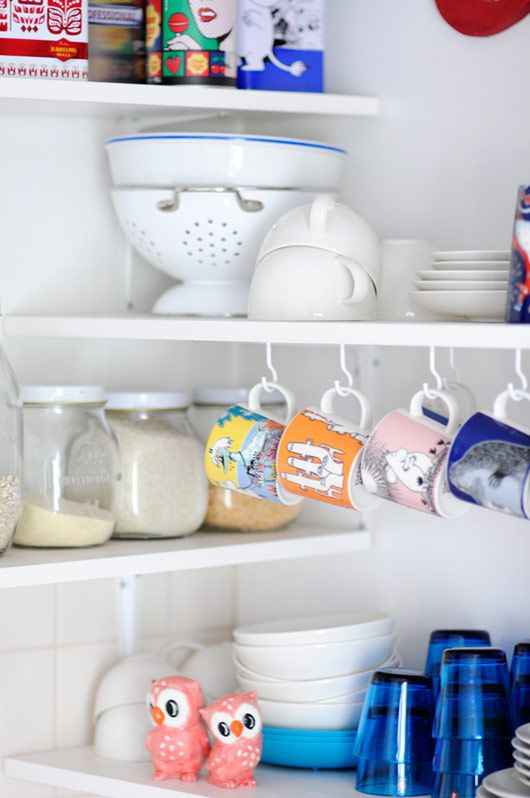 decor8: What do you think makes a house a home?
Jutta: Tough one. I've lived years in houses that never felt like home and only months in one that immediately did. It's just a feeling that you get. When we were house-hunting for this house for example, I knew this was our home the moment we stepped in and saw the porch. Now that I think about it, what's in common with all the places that right away felt like home is that they were all built in the 40's or 50's. Maybe that's where my inner home is. Ha ha if that makes any sense. After years of renovating though our house is becoming more and more us. It's transforming into the vision I had in the beginning.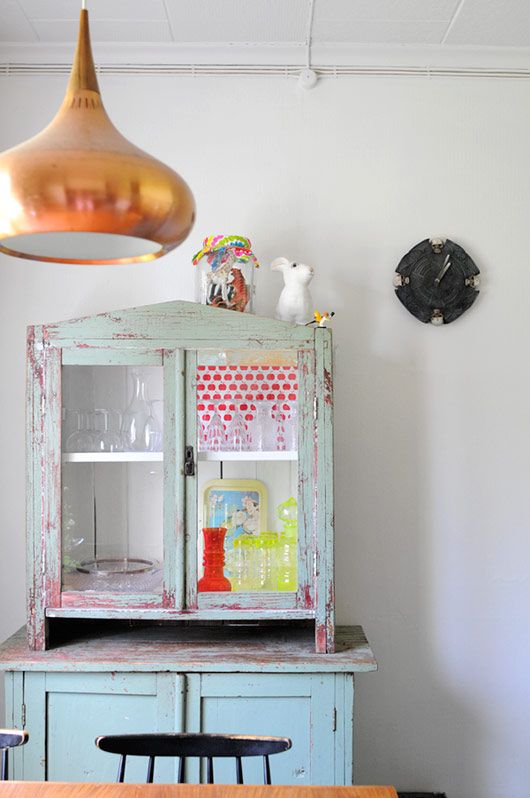 What a fun peek into your home Jutta, thank you for visiting us today on decor8 and sharing your ideas and advice with all of us!
(images: jutta rikola)