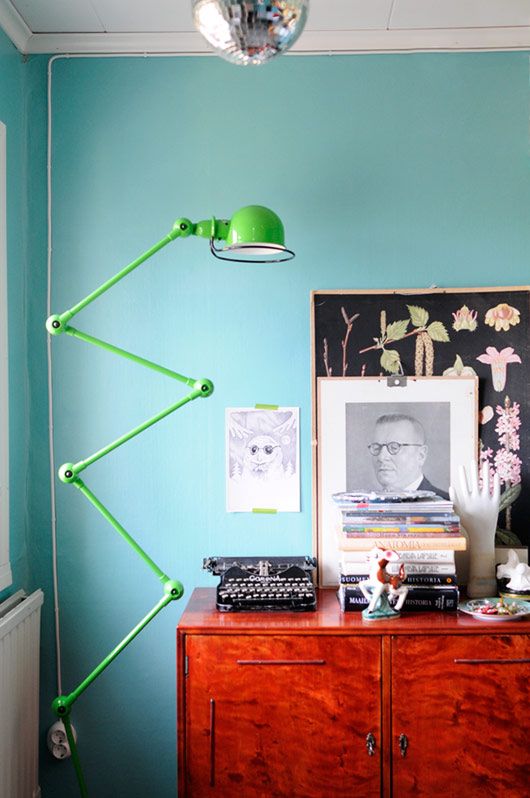 I have a colorful and fun home to share with you today from Jutta Rikola who is a freelance illustrator, graphic designer and blogger living in Oulu, Finland. Jutta recently had a baby boy and has been homebound for the past year to care for him but is now getting back to work part-time, you can see her portfolio here and check out her blog, Kootut Murut, to see what her style is like.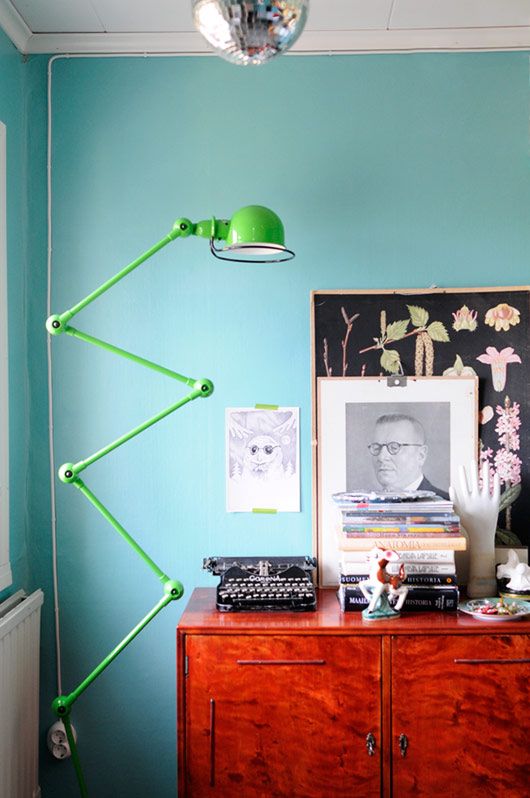 Raised in Oulu where she has been most of her life, Jutta has also been in the US and England for brief stints including a year in London which she said definitely influenced her taste in interior design and adds, "I love old English architecture and the way they use color." Inspired by blogs and magazines, books, friends' homes, thrift stores, and her own home, Jutta says that, "There is inspiration everywhere and I find it hard to concentrate on just one thing. Especially with the baby, time has become a very limited resource, so I've been practicing toning it down." I can relate to her comment, as I'm sure most of you can to because you really must scale back from time to time or else you can feel a bit overwhelmed by all that is out there. As I looked at her home, I thought it would lend a more personal note to this post if I asked her a few questions about her decorating ideas and style, so here is what Jutta had to say to each of my questions below. I wonder how many of her answers you can relate to?
decor8: Where do you begin first when decorating or redecorating a room?
Jutta: With the space itself. What are its benefits and limitations? What will it be used for? Also, because I love to use colors and ornate patterns, taking the surrounding rooms into considerations is important. I make sure whatever I'm planning to use matches the surrounding spaces too so there will be a nice flow.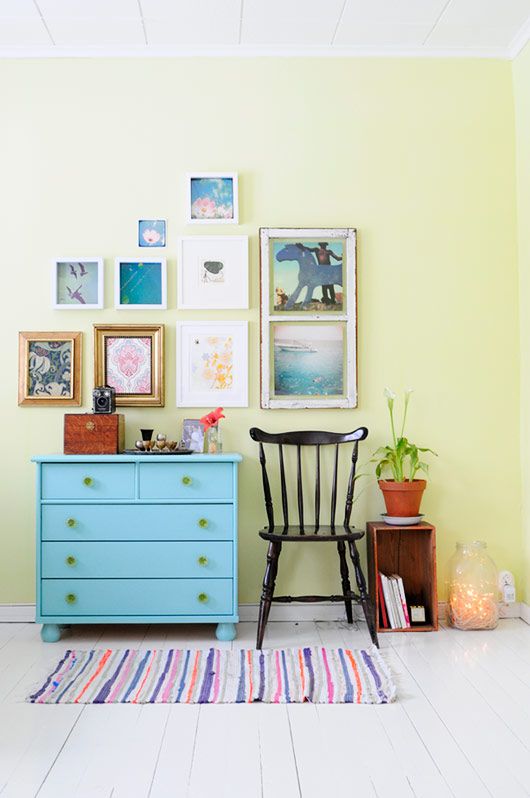 decor8: What do you love the most about your home?
Jutta: The original features. Wooden floors, 50's door handles, bumpy walls. Out latest renovation project kitchen, because it was such a struggle to get it done. We wanted to use traditional methods and recycled materials as much as possible. It was hard work, but the outcome is better than I even dared to hope for.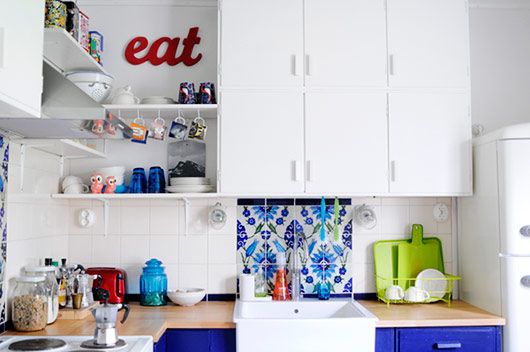 decor8: What do you want to change about your space?
Jutta: I wish there was more of it! I'd love to have a proper place to work. In 10 years time my dream is we've built a garage with an artist's studio, with light flooding in from huge north-facing windows.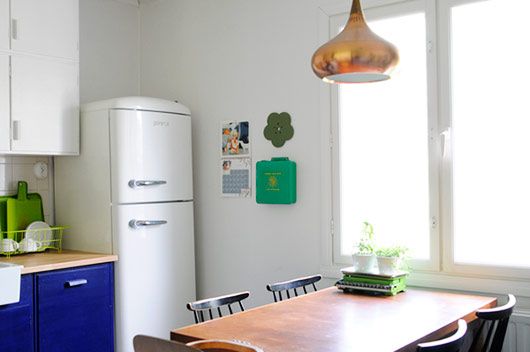 decor8: Tell us about the inspiration behind your current decorating scheme…
Jutta: I think it was Yvonne from Yvestown who said her house tells her what to do. I feel the same. I listen to the house and it tells me what works for it and what doesn't. I think that it's important to respect the history of the house. Built in the 1940's and 1950's when they were rebuilding the country after war, these houses used to be modest. So no matter how much I'd like myself some decorative bling bling, I have to keep in line with the house's character. But of course a little kitsch is always welcome. Other than that it's a compromise between my and my husband's taste. Not too sweet, not too industrial.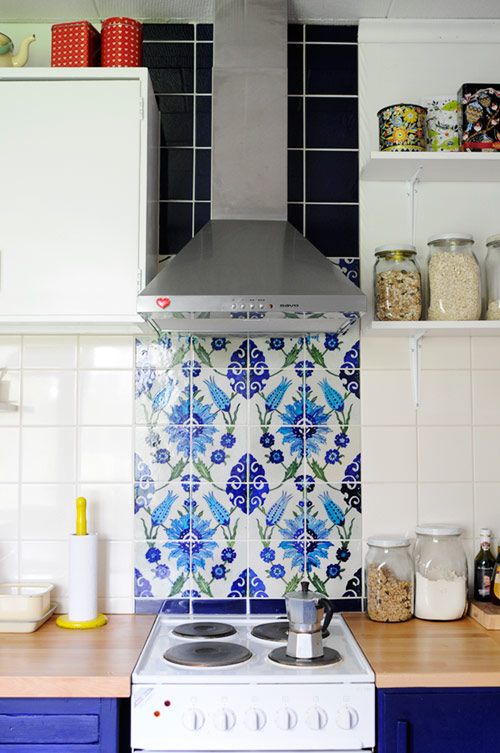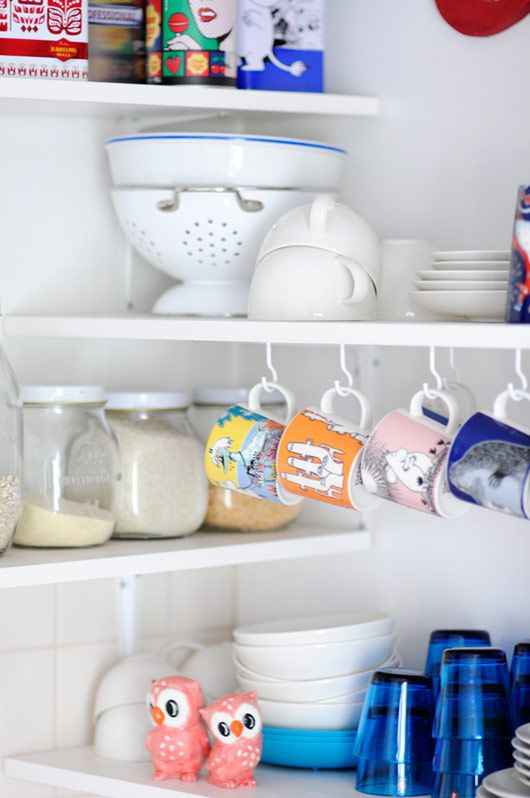 decor8: What do you think makes a house a home?
Jutta: Tough one. I've lived years in houses that never felt like home and only months in one that immediately did. It's just a feeling that you get. When we were house-hunting for this house for example, I knew this was our home the moment we stepped in and saw the porch. Now that I think about it, what's in common with all the places that right away felt like home is that they were all built in the 40's or 50's. Maybe that's where my inner home is. Ha ha if that makes any sense. After years of renovating though our house is becoming more and more us. It's transforming into the vision I had in the beginning.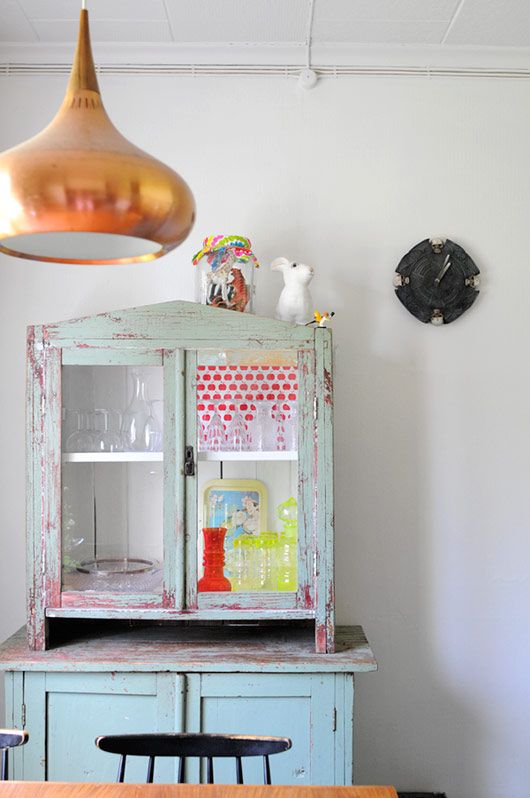 What a fun peek into your home Jutta, thank you for visiting us today on decor8 and sharing your ideas and advice with all of us!
(images: jutta rikola)
I love a good studio tour and this one in New Zealand doesn't disappoint! It was submitted by Colleen who runs her own design firm called Dear Colleen who specializes in hand lettering, fashion and homeware design. It hasn't been shown yet online so I wanted to give you a first peek!
Colleen's studio sits on the second floor of an old shared building for artists and creatives. The building is nearly 100 years old and has amazing features like large metal framed window and wooden floors. Colleen is based in Dunedin which is in the south island of New Zealand. Here is her studio from start to finish in a video shot by Scott Savage.
About her space Colleen says, "I did the studio up in a week with a lot of help from my boyfriend and a budget of around $300. I bought filing cabinets from op shops and gave some of them a new lease of life by having them powder coated in a bright green. The wood desk was dirty and abandoned in the room so I sanded it, added casters that I had saved from another piece and added new handles." Being on such a small budget forced Colleen to get creative!
"I painted large wall graphics to add interest to the space, which took time but pretty much cost me nothing. All the furniture in my studio is second hand or salvaged. I love rescuing pieces that are destined for the dump and giving them a second chance." Well done, Colleen!
(photos: Emily Hlavac Green.)
I came across the darling home of Justine Glanfield last year – she is the founder of Cotton & Milk in England – and have been saving it for months in a file to eventually share on decor8. When I found photos of the home on the MILK website today I knew to couldn't wait any longer so please see their site for a complete home tour featuring her wonderful 5 story home. My favorite glimpses are below.
How charming to see something that almost could be a linen tablecloth doubling as a curtain? Adore this…
That balcony looks so inviting and by the way, opening a door or a window in a room that you are photographing is a trick used in interior styling that I practice more and more in my own styling work. It makes a space feel more inviting and gives a casual touch to the photo, too. What do you think? Imagine the door closed and tell me if it would be the same photo….
I like the many different surfaces and walls in this home – painted, brick, different types of wood, stains, it's lovely!
A gorgeous olive green vintage leather tufted sofa! A mouthful to say and an eyeful to behold.
Love the idea of using a former fireplace as a bookcase.
Based in Brussels, this English designer lives there with her son and partner and has such a gorgeously personal decorating style that seems so considered and yet full of detail while remaining simple and understated. What a beautiful, delicate balance to acheive! Her dining room and son Oscar's bedroom are my favorite spots and I adore everything that I see. So sweet and harmonious!
(images: milk/Muriel Frances/Louise Desrosiers)
Hello friends! How are you today? I'm so happy to be back home from NYC because I've missed blogging daily and feel so energized and motivated to write and connect with you once again. I thought I'd begin with a lovely post created exclusively for decor8. Ready?
I love a good tour – especially of a creative workspace since so many of us dream of having a nook (or entire studio) where we can do the things that we love in an environment that supports us in every way. This is the studio of photographer Jeremy Harwell who recently built a new studio for his photography and he wanted to share it with all of you today. I think it's a gorgeous space and I hope that it inspires you!
About Jeremy, "He started his own freelance business in 1992 working as a photojournalist for several newspapers, covering news events as well as professional sports. He recently spent 8 years at Ralph Lauren, where he was the Creative Director for the New York stores as well as shooting fashion and interiors. In 2003 Jeremy and family moved to Georgia to live the simple life and start a studio in Senoia… Jeremy has won numerous awards including Wedding and Portrait Photographers International Accolades of Excellence. He has also been published in Bride and Modern Brides magazine." I love reading about his journey and how long he has worked in his field – his blog shows so many gorgeous examples of his work, I encourage you to check it out for loads of eye candy inspiration!
What do you love about his photography studio? I love that it is both masculine and a bit feminine, I think the interior is well thought out as he deals with a lot of brides so having that feminine touch is essential in the decor. I adore the soda, that pale salmon is gorgeous and works so nicely with the brown and green tones. I also love his big silver LG monitors, they look great but also quite classy for a monitor. What do you think?
(images: Jeremy Harwell)