I love cozy corners and cherish possessions in a home — they are the best parts! I love to see the corners where the home owner reads to her children, where dad relaxes with his favorite novel, where the kids enjoy the company of their best friends… Or simply those moments when the home is silent and there is nothing to be heard except for the purring of Miss Kitty on your lap… Of course, families come in all shapes in sizes, perhaps for you it's simply your one room apartment with your hamster or your five bedroom house with your partner and three dogs… Or maybe you are still at home with your parents or living in a dorm. The point is, an inspiring home, or "space",  is one filled with love, warmth, meaningful touches, personalized nooks and an inspiring family (or person) at its core – someone who really cares about their home life – those who live with them and who love being part of a family.
The lovely Tina Fussell from the Traveling Mama blog, a lady whom I known know online for several years, has an inspiring family life and an apartment that captures all of these things — she sent in photos of many lovely nooks in her Danish apartment and I thought I'd share them as they have a special feeling of warmth of coziness that I really love.
Tina recently relocated from Morocco to Copenhagen to live in a typical Danish modern apartment that is 1,200 square feet with a large living room in the center with all other rooms off of the living area. She shares this space with her husband and three children, which is amazing because the work involved in maintaining a city apartment with five people must be quite challenging! Imagine?
Art by Studio Violet
A traditional Moroccan wedding quilt used in a modern home — so pretty and fresh!
What I like about Tina's home is that her decorating style is a reflection of all the places where they have lived throughout the years and that almost everything has a story since moving frequently to distant lands has forced her to edit when packing for the next destination since she cannot take everything with her. She is forced to carry only what they cannot part with — but this has been a good thing for Tina and her family because now each item in their lovingly curated home has meaning and value. It's something to consider isn't it – to really keep those things that have meaning…
"I wouldn't call our home a designer home, it's my hope to encourage others that a beautiful home can be achieved on a very tight budget and limited resources," Tina says and I could agree more – one can do a lot with little money, a good eye and a lot of love for decorating and of course, their family life and the dedication they have to making it a nice place to be for themselves and other family members.
I Love You Blogs And Coffee print from Made By Girl.
Tina thank you for this glimpse into your world, I've enjoyed it so much and I'm sure decor8 readers do as well.
Psst: Tina takes lovely photos, as you can see above, and also here in her etsy shop.
(images: tina fussell)
I thought I'd introduce you to my new online friend, Anita Schytte, who is the Tine K Home sales and brand manager in Denmark. She lives in the port town of Korsør which is not far from Odense so she's close to the sea and lots of lush, green forests. Anita also write articles about interior decorating for Danish financial newspaper Borsen in their Friday magazine about glamorous villas, castles and manor houses. She also speaks Danish, English, Hungarian and German! It really is true about Europeans, most over here do speak several languages fluently. Yes, it's intimidating as I'm still learning German!
Anita is such a sweetheart, I'm sure if I met her I'd love her. I'm sure you've had that experience with different people that you've met online – you just click! I really like Anita and after she sent in some photos of her home I thought showing a glimpse of it would be such a treat for those who love a clean, simple home that is well edited and fresh. It's a delightfully Danish home I think. But I'll let you decide…

I love her white Tine K Home lamp.
(click on above image to enlarge)
I like the sofas, chairs, pillows and lighting in her living room, don't you? They're all from Danish brand Tine K Home and I find them just so lovely! I want two of those chairs for my own living room and the lamps too! I have to put in an order soon, I have a bit of a procrastination problem at the moment I think!
(click on above image to enlarge)
I love the shelving in her kitchen to the right and those huge windows. What a nice spot for cooking. If you look over to the left you can see her living room so you can see that it's very accessible to the living space.
Okay that dog is too sweet, right? Look at that cutie on the Fatboy with the bone motif on the side. My goodness, what a show stealer that little dog is.
Gorgeous Tine K Home glasses also work nicely as tea light candle holders.
I love that table to the right of her sofa in green. I have this mild obsession for Thai furniture at the moment painted in fun colors like turquoise but I also love certain pieces in lacquered white or striking black. I've actually been into it since I saw a few pieces in Tine's house last year when I was visiting her to style her home. She had a lovely low bookcase that I couldn't take my eyes off of in white and to this day, I've been unable to find anything like it.
(click on above image to enlarge)
This bathroom is so modern and lovely, it reminds me of bathroom styles in Germany that are very common. Clean, modern, high end gorgeous bathrooms Love the skylight and that deep tub. Imagine taking a bath there by candlelight in the evening as you sip champagne and look at the stars? Oh yes.
Here's another angle of the gorgeous master bathroom. I love the shower stall – it's perfect. I dream of having a shower stall completely free of of tile – just a stone shower. That would suit me very well – I love how natural and simple it is.
I thought I'd ask Anita a few quick questions about her home to wrap up because seeing photos isn't always enough for me, I like to know a little bit more about the person who occupies the space – their passions, favorites, inspirations… So let's learn a little about Anita.
What do you love about living in Denmark? Both of my parents came from Hungary back in the 50's and found their new home in Denmark. It is close to their homeland and I'm close to all other European countries which are just around the corner. I have always felt home no matter where I am, and I could quite easily move, except that my family and all my beloved friends would not move along… so the best part of living here is my relationships with so many dear people! I also live next to the sea and the forest and enjoy the northern light from all windows in my house.
What do you love about your home? The size – I love the space and all the possibilities! I get to live out my crazy decorating ideas (I'm an interiors freak!) day and night and my house is constantly evolving.
What makes a house a home? Collections of personal things – constantly changing things around and welcoming new possibilities within the borders of money of course! Also to have your kids tell you never, never even think of moving anywhere else – then you have the right place, that is what makes a house a home so I think I stay where I am.
What do you like to do the most at home? On Sundays I'm constantly walking along the kitchen table – all day long – making and serving everything from roasts to baked goods. All day I'm cooking, baking, blending, mixing and lining all of the ingredients up in beautiful bowls. After having cleaned and redecorated my house that is – I cannot relax and enjoy a Sunday meal  until housework and decorating is finished!
What inspires the way that you decorate? I have a long time passion for design, preferably Northern style such as Arne Jacobsen and Poul Kjærholm but I mix many designers and periods with eclectic accessories in my home. One day I'm interested in pink acrylic and another, loads of natural materials – or soft dark velvets. Then perhaps I'm interested in Tricia Guild and lots of color… I could go on and on because I have no particular references as I consider myself to be quite open. Right now I am dreaming of Dutch style and chalky matte paint on walls (I wish I had an old manor house to paint!).
What are your favorite Danish interiors blogs? Danes have no tradition of blogging – like the way the rest of Europe does.
What is one dream item for your home on your wish list? I would love to have an old big greish cabinet in my dining room to contain my plates, dishes and all of my favorite glassware.
What is your favorite thing in your home and why? I love the design of my Thomas Pedersen Sting Ray chair. That will never leave the house – but also the lamps of Danish designer Birgit Østergaard that look like pillows (you can see them in the kitchen). Also my XL TineKHome lamp is an absolute favorite and the table made of old Balinese teak wood (from a hut) to the because it looks like a tremendous piece of driftwood and I love to pile all my interior design books on top  of it.
(images: Anita Schytte)
Good morning readers and happy Monday! I have a morning flight to catch in a moment, but I wanted to jump online and share a space with you in southern Germany owned and decorated by blogger and married mother of two boys, Nadine from Herz Allerliebst. She is inspired by the brightness and easiness of homes in Northern Europe but also love ethnic touches from places like Asia and Northern Africa and a good mix of old and new. She loves a simple, clean style with mostly white and a hint of color along with bold black so the look doesn't appear too sweet. Some of the best designers working today swear by adding black (or a dark gray) whenever you notice your palette has become a bit too soft – it definitely works.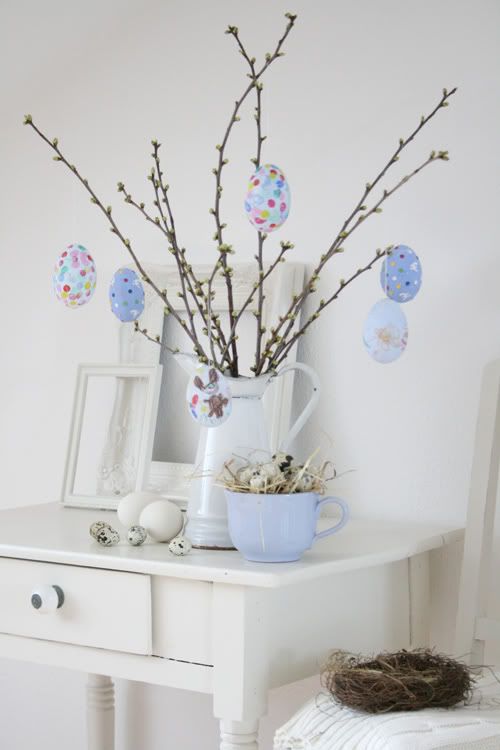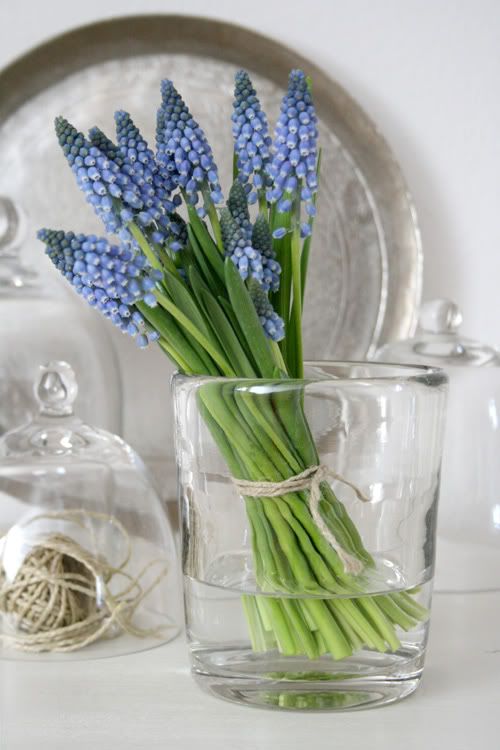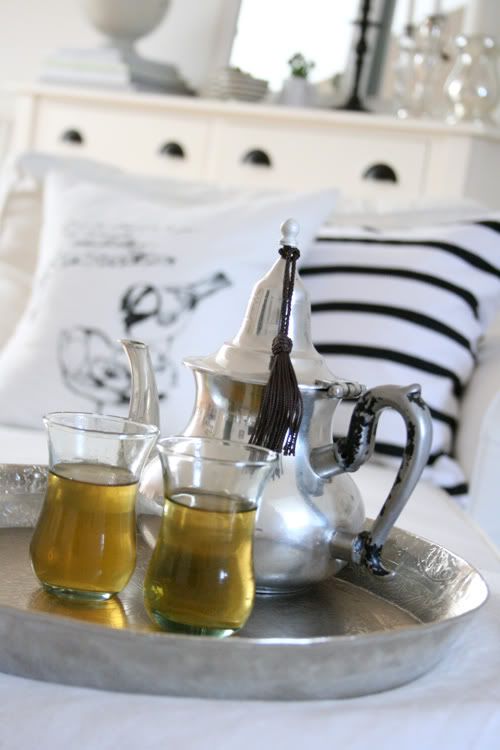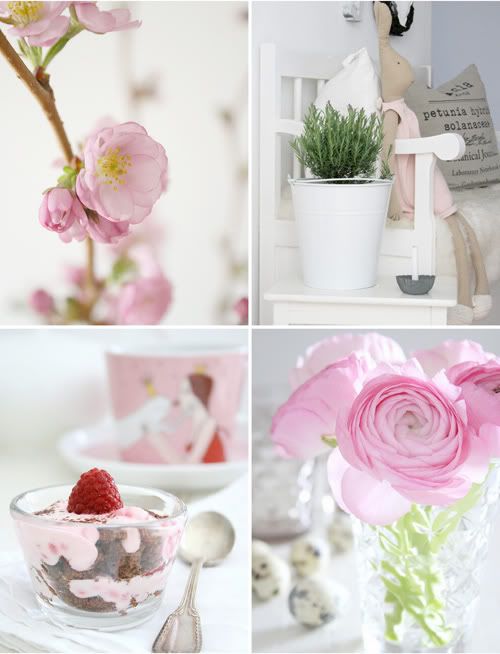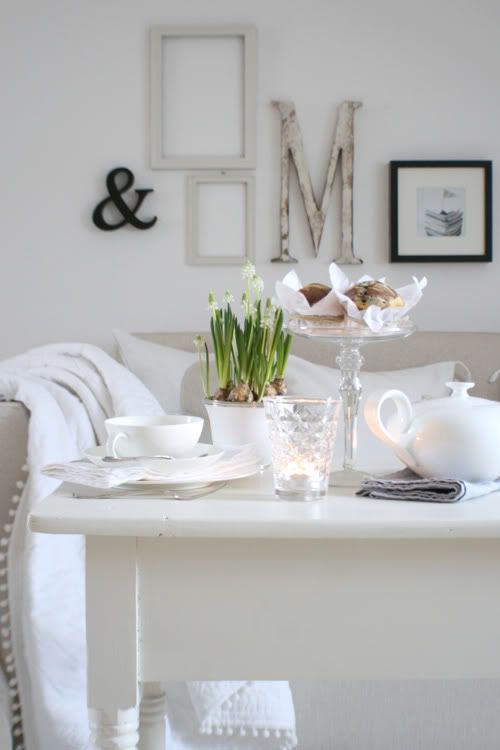 It's important that we decorate our home with heart and when it comes to the homes of others, while we have opinions, it's not our place to judge them as being "good" or "bad" in my opinion — unless they are asking for advice of course and then it's always kind to use tact and motivate them to decorate from the heart a little more. But this "decorating from the heart", what does that really mean, anyway? To me it means to avoid the ever popular "all or nothing" mentality — try to avoid feeling a rush to get everything finished the moment you embark on a decorating project. Decorating should be an organic process, it takes time, just as falling in love with a person takes time. You have to learn how you'll use each room, see where you tend to gravitate to the most, what you use the space for (it can change according to the season), etc. Allowing our home to grow along with us and our unique personality and needs is so important. Decorating with heart means that you want to infuse your space with your life and passions and not simply copy what you've seen elsewhere or buy everything from a single catalog or store. It's curating, collecting, cherishing, editing, upcycling, recycling, and most of all — being kind to yourself and have confidence in your decisions because if you are overly critical about your choices you can quickly lose the joy that should go into decorating.
Nadine loves to decorate and is inspired by other blogs, magazines and books on the subject, "There are so many wonderful ideas which inspire me but I'm also inspired by my boys (they like painting and tinkering and I like decorating our home with their work), nature (each season has its special items and it is wonderful for me to fill our home with nature) and my mum (we are both a bit crazy about decoration)," says Nadine. I asked her a question though that I always love to ask home owners, what makes a house a home, and she told me, "When you can feel that the people living there put their thoughts and heart into it and this has nothing to do with style or money. It is important to feel comfortable with your style." Ah yes, feeling comfortable with your style, in other words decorating takes confidence. That is a great reminder, Nadine!
What does decorating with heart mean to YOU?
To see more of Nadine's home, visit her blog and enjoy!
(images: herz allerliebst)