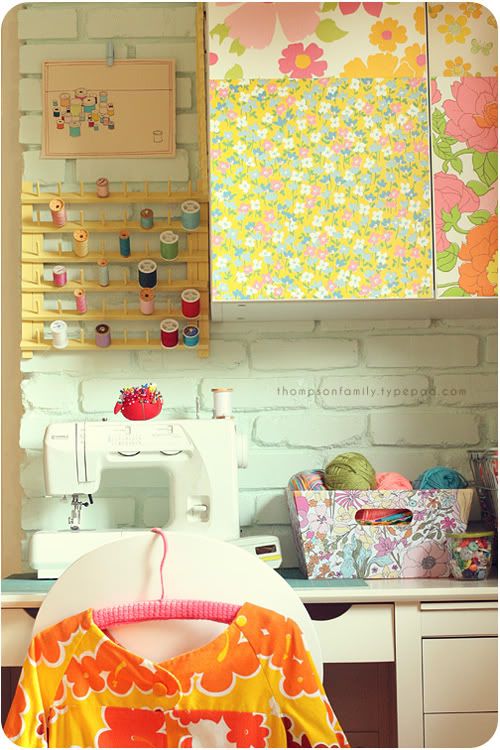 Would you like to see an inspirational crafty nook? Danielle from the Thompson Family Life blog wrote in last week to share with decor8 readers a glimpse into her lovely crafting and sewing space. Danielle's inspiration comes from many sources — retro colors, bazaar style, Scandinavian modern lines, granny chic and vintage kitsch — all things that she loves and somehow managed to combine to make the sweetest nook ever. Wouldn't you love to spend your day crafting in a corner like this?
Here is her resource list in case you spot something that you'd like to have. Cabinets: IKEA covered in vintage wallpaper, Desk: Target from a few years ago. Bottom drawer covered in vintage wallpaper. Chair: Liberty of London from Target. Floral Baskets: Liberty of London from Target. Wire basket: vintage. Tin Camper: vintage, Spool rack: Michael's, primed & spray-painted yellow. Spool original art from: Michele Maule. Barbie Case: vintage. Child's sewing machine: vintage. Paper lanterns: eBay. Butterfly Wall Art: Vintage, with outer frame spray-painted yellow. Young girl original art: Vintage.
So pretty! To see more photos and to be inspired by Danielle everyday, please visit her on her pretty blog!
(images: danielle thompson)
If you love a good mix of Scandinavian and Japanese style with a Canadian twist, you're going to love the many spaces of Mjolk. Last week I shared a special blog called Kitka that some of you went bonkers over (if you missed that post you can refer to it here) and so today I thought I'd give you a glimpse into the people who author that blog, John Baker and Juli Daoust. This couple lives and works in Toronto, Canada and in addition to their blog they own Scandinavian/Japanese lifestyle store Mjolk. Baker and Daoust also happen to have an 800 sq ft apartment above their shop and a 1,000 sq ft summer home on Georgian Bay. Today they've prepared some photos of these spaces to share with us in addition to a mini interview that I had with them. Ready to be inspired?
Mjolk shown above. Store tour available here, photographed by Emma McIntyre.
When did you launch Mjolk and why? We launched December of 2009 because we were frustrated shopping for items for the home. It seemed that it was all about big box stores and boutiques that were not on the same wavelength as us. The closest we got to what we wanted was in the vintage shops, but at the end of the day, you need useful and beautiful new everyday objects as well. We just wanted to fill that need while giving people like us a whole new and interesting experience.
You have a city apartment and a summer house. Wow. Tell us more. We are living our dream, having our home above the shop. It's really urban being on a major street so we forget about things such as trees and flowers, which is sad. One day we hope to renovate and incorporate a sort of courtyard so we can have some nature around us at all times. The summer house is located on Georgian Bay, home of the best swimming in cottage country, gorgeous sunsets and the feeling that you might just be on the ocean.
Above: Their apartment located over Mjolk.
What attracts you to Scandinavian and Japanese style? It's just a natural attraction for us. We appreciate simple everyday objects, natural materials, and a focus on craftsmanship.
How would you define your style? We strive for simplicity — think Swedish apartment, light, airy, white and black.
What are 5 of your favorite things in your city apartment? The main living room is spacious and has a big bright bay window; the white floor makeover; it's not too big to handle; short commute to work; and it's potential.
Above: Their cottage on Georgian Bay.
What are some features in your summer cottage that you enjoy the most? Since the renovation, it feels so big, bright, fresh and open; the view, thanks to Juli's parent's initial vision of switching out the closed in porch with wall to wall windows; that we had free range to do whatever we wanted and we did so almost exclusively ourselves; experimenting with plywood; the future.
What are some key decor tip if someone wants to duplicate your look? You can never have enough white paint! White walls give a beautiful backdrop to our furniture, while white floors/ceiling really brighten a space. Also, don't be afraid of using unconventional materials (plywood has become our best decorating friend, especially since we don't know how to drywall). Always bring something home from your travels—big or small, they serve as little reminders once the day to day humdrum sets in. Definitely combine a little old with a little new. Vintage or antique pieces have a history, add warmth, and add uniqueness plus they are oh so fun to hunt for!
Thank you John & Juli for these very special glimpses into your life and home!
(images: john baker & juli daoust)
I just spent a few inspiring hours with my friend and whenever I see her, I always feel like coming home and writing because she inspires me so much! I love being with friends who give me a lots of creative energy! So let's see… how about a little home tour for you today? Well, it's mostly a glimpse of just a few rooms but this home is so nice that I've been looking forward to sharing it with you for several days now. It's located in Düsseldorf, Germany and I found it because one of the owners, graphic designer Andrea Schreiber, is a flickr contact of mine. She and her family, two teenage daughters and her husband along with Lotte their dog, reside here — she is originally from Bremen and landed in Düsseldorf for her studies and ended up staying there. I really love the architecture and though they just moved in and have a bit more decorating to do I think she's well on her way to having a lovely home. See what you think… First let's look at some of her graphic designs and then, her home.
If you like what you see, there are more photos here. Andrea likes to crochet in her spare time so some of the pieces that you see in her living room are by her own hand like the colorful crochet pouf above that I think is just the sweetest, don't you?
Thank you so much Andrea for sharing glimpses of your home with us!
(images: andrea schreiber)
Ready to be inspired? I'm excited to present another shared workspace between two fantastic designers who happen to live and work in Hannover, Germany. Yesterday I presented the atelier of Sidsel and Line in Denmark and to continue in the spirit of shared paths we'll visit Snug studio which happens to be in my neighborhood so I visit this space regularly. Snug studio is part showroom, part office and part workspace and is a collaboration between Interior Designer Kerstin Reilemann from Domestic Candy and Architect Berit Luedecke that recently opened in December 2009. (You may remember Kerstin, I shared her home in my column over at Cookie magazine last year.)
This lovely space is open daily and will soon be open 24/7 as they will launch a web shop here on March 1st (bookmark this link!). Don't worry, I'll post a reminder on decor8 when the time comes so you can pick out some goodies for yourself. If you cannot wait until March 1, some of these products are sold under the Domestic Candy label over in Kerstin's DaWanda shop online.
Kerstin and Berit decided to launch Snug together because their design sensibilities are very similar, they like to experiment with turning old things into new ones in addition to creating their own designs — and both enjoy clean, modern lines with a nod to their German heritage. Only their products, mostly handmade from wood, have a bit of a twist – they've incorporated elements of traditional and modern Dutch and Swedish design along with traditional German items. I enjoy seeing their unique translation of what German, Dutch and Swedish design looks like combined, at least through their eyes — it's a fresh and beautiful interpretation.
From ceramic candle holders inspired by traditional cake molds, pendant lights created from vintage porcelain coffee filters, and a wooden bench made using recycled chair backs with new, modern seating surfaces, Snug is a design studio with a fresh approach. Their shop is a place to buy something beautiful or to simply visit for a little inspiration, walking away with new ideas of your own. I'm so happy to have Berit and Kerstin and their beautiful Snug studio in Hannover!
(images: snug studio, hannover)