Would you like to see a lovely Norwegian home today? I was so excited when fellow design blogger, Siw Haveland of Design Shimmer in Norway, wrote in to ask if she could share 12 corners of her home with decor8 readers today. Of course! Of course!
My favorite corner – this is so charming! Everything about it speaks to me…
I'm always keen on sharing inspirational, cozy spaces that ooze with charm and creativity — so let's see what Siw's gorgeous home looks like. This was shot by Oslo-based photographer Sandra Aslaksen and some of these images recently appeared in Norwegian design magazine, Bonytt but other than that, they're pretty new to the web so we're all pretty lucky to have this pretty place to check out today. Thank you Siw for sharing your home with us…
Her floors look a lot like mine, I have these amazing chevron-patterned wooden floor myself (called technically, herringbone floors). I like the fresh green accents, unexpected and great in a mostly neutral space.
What a clear, modern entryway. This is such a great welcoming space, don't you think? The twinkle lights were the perfect addition. I love how everything Siw does is super affordable and creative. With very little, she does so much!
I adore this dressing table, the gorgeous high heels lined up on the floor, the white wooden floors, the mirror, the lamp… okay, ALL OF IT. It's one of those spaces that makes me feel like it's just the best thing in the world to be a girly girl.
Her tactile, feminine bed covers have to be the most beautiful ones that I've ever seen in my life. I'm not even exaggerating when I say that. I have a crochet coverlet, a vintage one, in white but it's no where are detailed and amazing as Siw's cover. I also love that big creamy beige throw on top. It's such an inviting spread. The rug is perfect as well, I have 3 of them in my home — I love warm, cozy rugs. I also like her closet-as-headboard. Very different and this works perfectly if you have lots of pretty clothes like she does in many different colors and patterns.
I like her use of linens and the wooden "DS" for the name of her blog, Design Shimmer, on her inspiration board. I also have a board in the same size that I've leaned against the wall in my new workspace too, I have to show you it when I finish my workspace. I'm getting there! Soon!
And here is the pretty homeowner and her great glasses. I just love her look, she matches her home I think – don't you?
If you didn't catch this arrangement of jewelry above her dressing table a few images above, then you can see a closer view… this is a simple wire hanger transformed into a place to display her necklaces. Now this is absolutely budget-friendly!
Siw is not scared to mix high and low – in this example an IKEA cabinet with a mid century classic chair and a Kartell Bourgie lamp.
And here's a view of the entire room where that lovely Kartell lamp is on the IKEA cabinet. It seems she used three of those lockers to form a credenza of sorts – what a clever idea!
Here's a view of her very, very white kitchen. Wow!
Do you spot anything above that you are particularly drawn to? Anything you'd like to try at home?
I'm always looking to share inspirational homes on decor8, so if you have one — send some photos to me (decor8blog at yahoo dot com) and I'll check them out for sure! :)
(images: sandra aslaksen)
I wrote to lovely Sophia from the So Binique blog because I spotted her very white living room there and thought it would be nice to share corners of it on decor8 for some inspiration! I like to begin a new weekend feeling positive and motivated and nothing quite does it like seeing a beautiful home, eating a good meal, having social time with friends, a nature walk… and since we are sharing this virtual space together and I cannot cook for you — then I have chosen to show a beautiful room with lots of white to clear your mind and give you a fresh slate to work from for the weekend! :) Trust me, you are better off — my cooking skills leave much to be desired. :)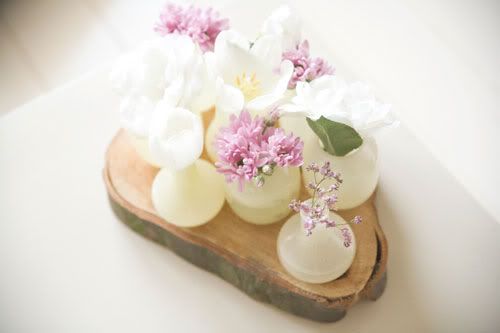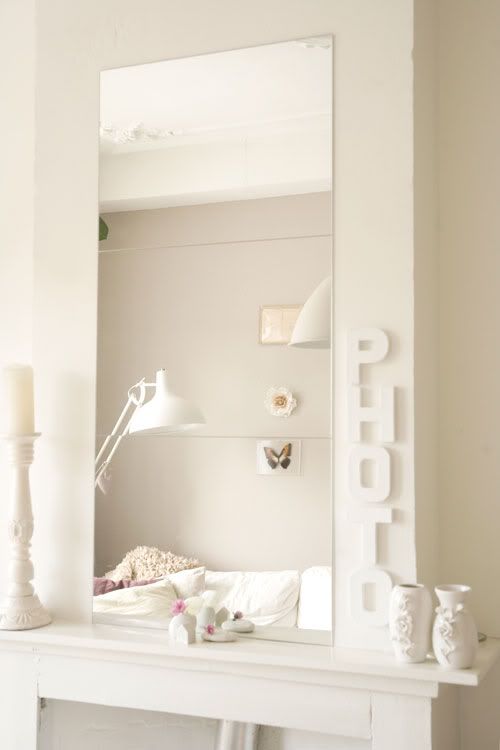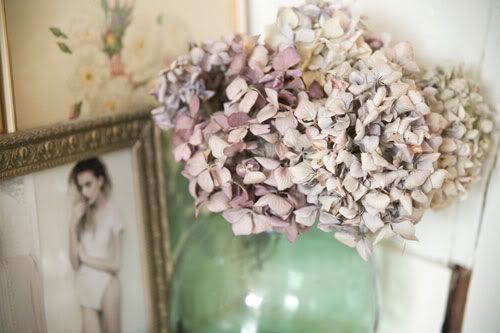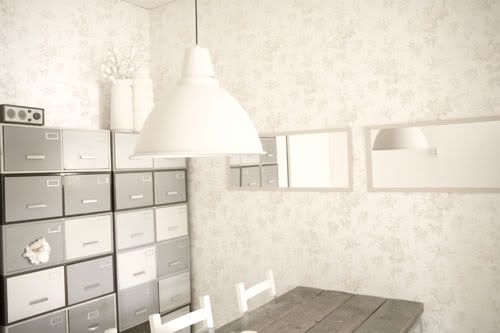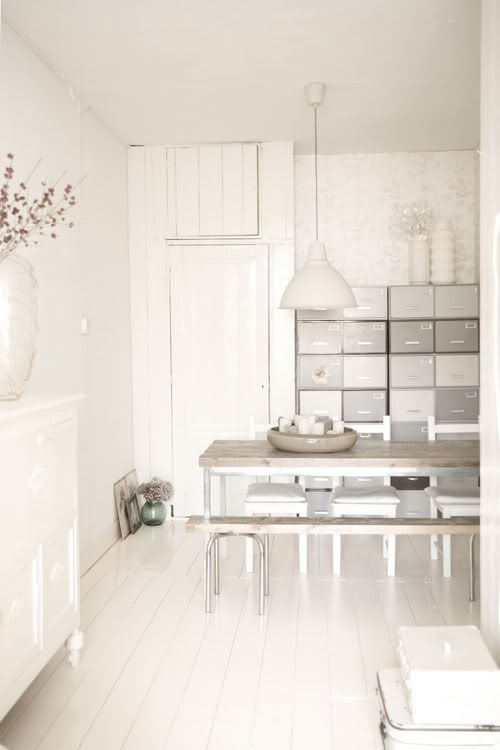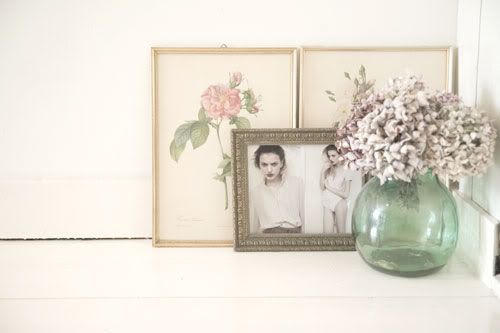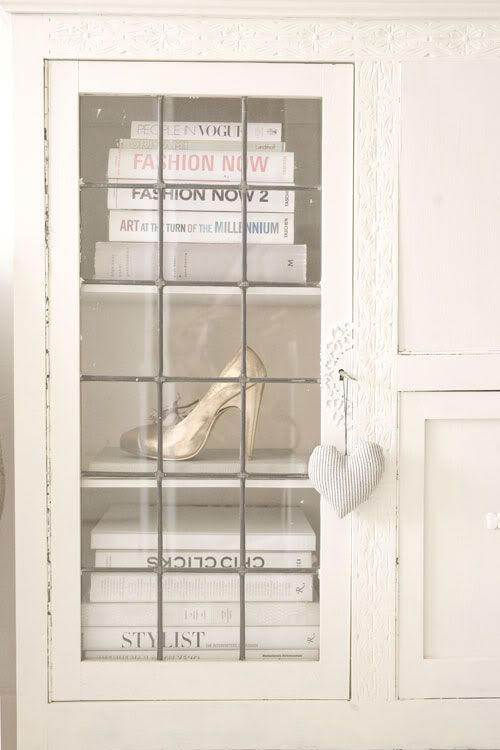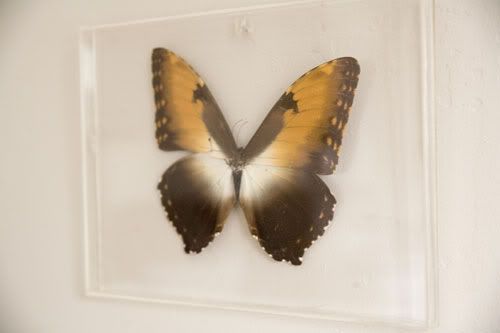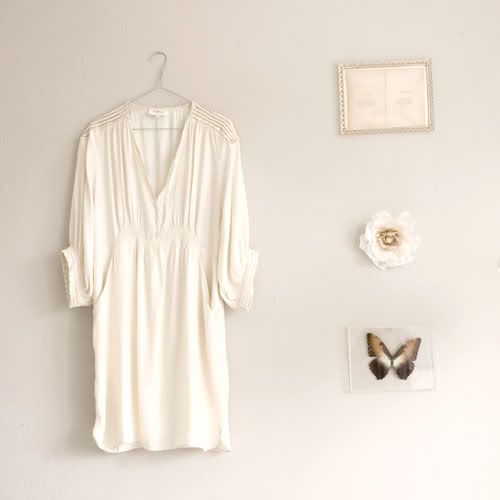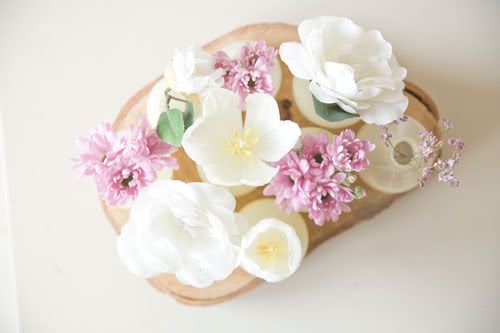 See any lovely ideas that you can use at home? Thank you Sophia for sharing your living room details with us today. :)
(images: So Binique)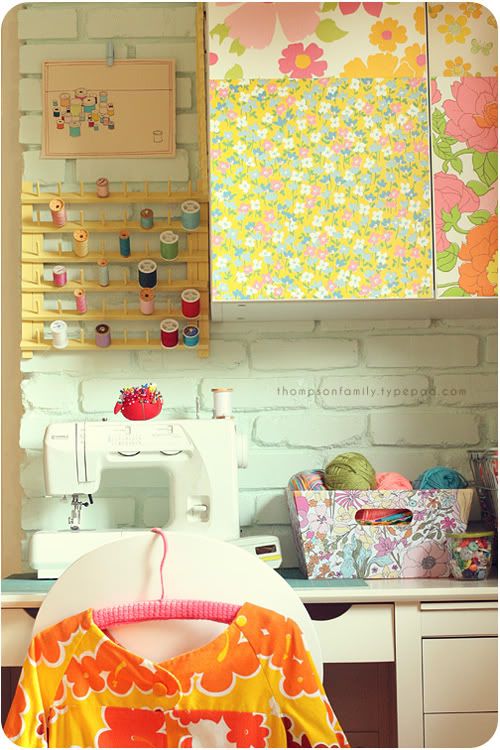 Would you like to see an inspirational crafty nook? Danielle from the Thompson Family Life blog wrote in last week to share with decor8 readers a glimpse into her lovely crafting and sewing space. Danielle's inspiration comes from many sources — retro colors, bazaar style, Scandinavian modern lines, granny chic and vintage kitsch — all things that she loves and somehow managed to combine to make the sweetest nook ever. Wouldn't you love to spend your day crafting in a corner like this?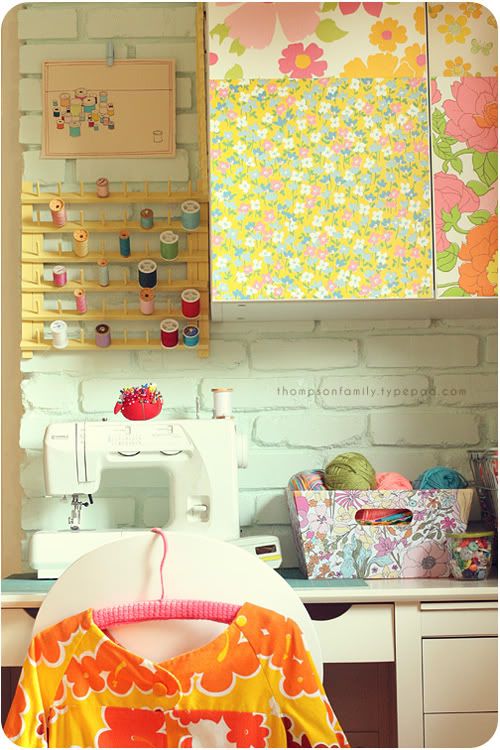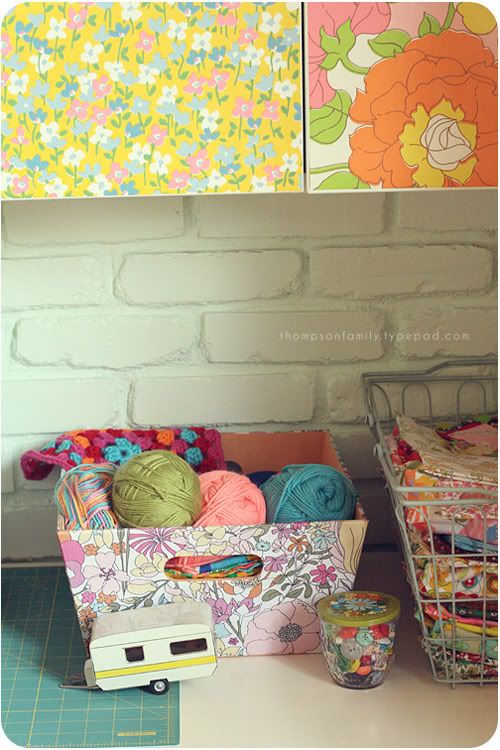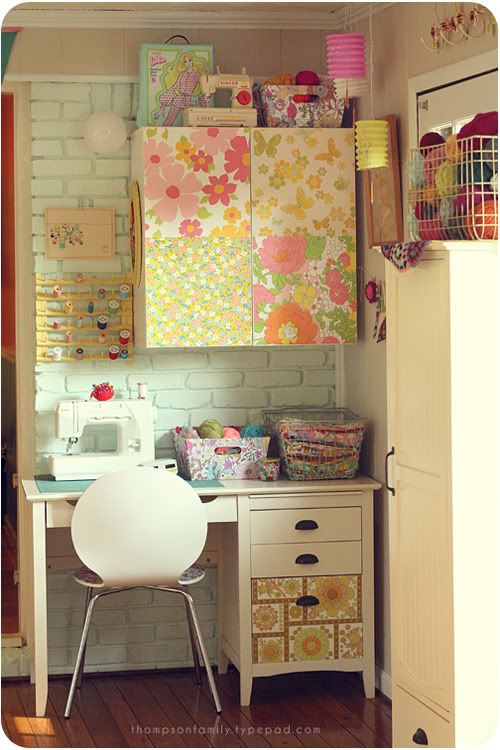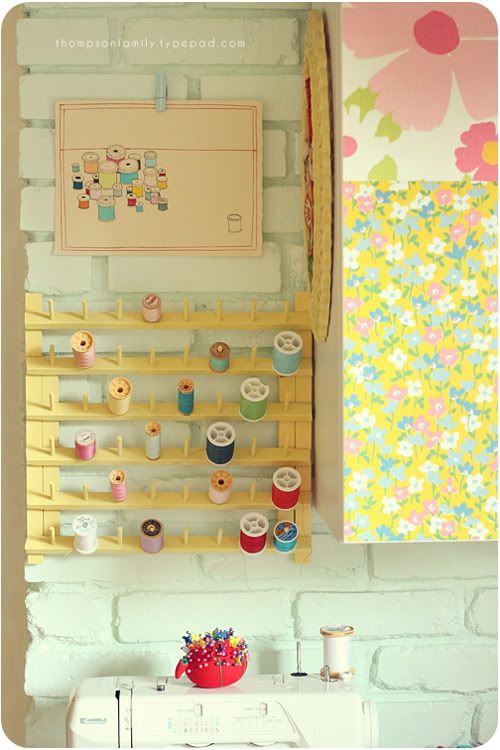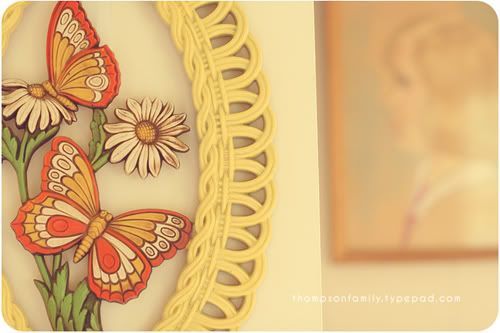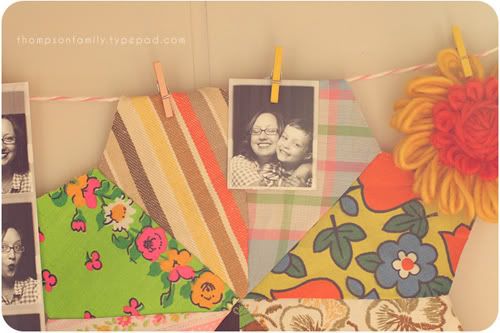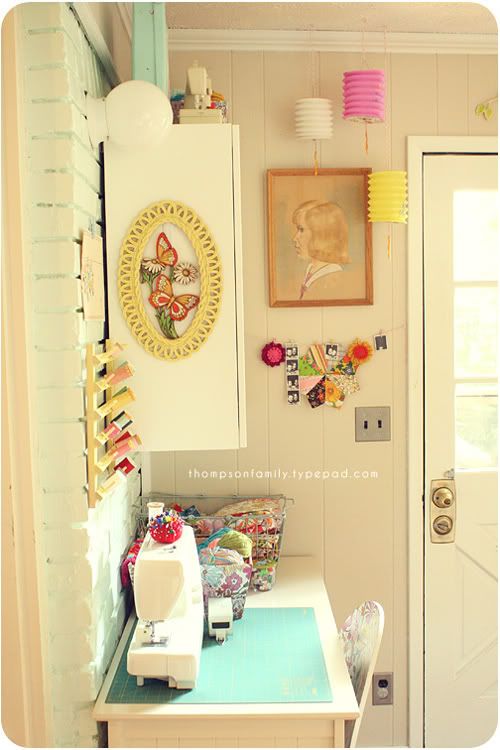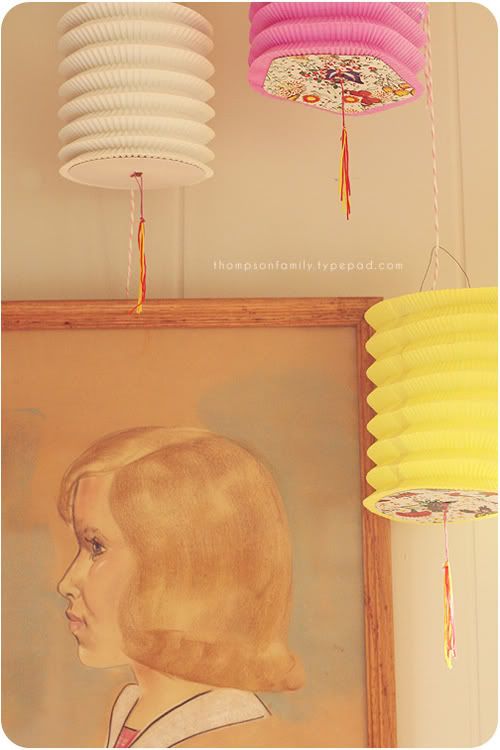 Here is her resource list in case you spot something that you'd like to have. Cabinets: IKEA covered in vintage wallpaper, Desk: Target from a few years ago. Bottom drawer covered in vintage wallpaper. Chair: Liberty of London from Target. Floral Baskets: Liberty of London from Target. Wire basket: vintage. Tin Camper: vintage, Spool rack: Michael's, primed & spray-painted yellow. Spool original art from: Michele Maule. Barbie Case: vintage. Child's sewing machine: vintage. Paper lanterns: eBay. Butterfly Wall Art: Vintage, with outer frame spray-painted yellow. Young girl original art: Vintage.
So pretty! To see more photos and to be inspired by Danielle everyday, please visit her on her pretty blog!
(images: danielle thompson)
If you love a good mix of Scandinavian and Japanese style with a Canadian twist, you're going to love the many spaces of Mjolk. Last week I shared a special blog called Kitka that some of you went bonkers over (if you missed that post you can refer to it here) and so today I thought I'd give you a glimpse into the people who author that blog, John Baker and Juli Daoust. This couple lives and works in Toronto, Canada and in addition to their blog they own Scandinavian/Japanese lifestyle store Mjolk. Baker and Daoust also happen to have an 800 sq ft apartment above their shop and a 1,000 sq ft summer home on Georgian Bay. Today they've prepared some photos of these spaces to share with us in addition to a mini interview that I had with them. Ready to be inspired?
Mjolk shown above. Store tour available here, photographed by Emma McIntyre.
When did you launch Mjolk and why? We launched December of 2009 because we were frustrated shopping for items for the home. It seemed that it was all about big box stores and boutiques that were not on the same wavelength as us. The closest we got to what we wanted was in the vintage shops, but at the end of the day, you need useful and beautiful new everyday objects as well. We just wanted to fill that need while giving people like us a whole new and interesting experience.
You have a city apartment and a summer house. Wow. Tell us more. We are living our dream, having our home above the shop. It's really urban being on a major street so we forget about things such as trees and flowers, which is sad. One day we hope to renovate and incorporate a sort of courtyard so we can have some nature around us at all times. The summer house is located on Georgian Bay, home of the best swimming in cottage country, gorgeous sunsets and the feeling that you might just be on the ocean.
Above: Their apartment located over Mjolk.
What attracts you to Scandinavian and Japanese style? It's just a natural attraction for us. We appreciate simple everyday objects, natural materials, and a focus on craftsmanship.
How would you define your style? We strive for simplicity — think Swedish apartment, light, airy, white and black.
What are 5 of your favorite things in your city apartment? The main living room is spacious and has a big bright bay window; the white floor makeover; it's not too big to handle; short commute to work; and it's potential.
Above: Their cottage on Georgian Bay.
What are some features in your summer cottage that you enjoy the most? Since the renovation, it feels so big, bright, fresh and open; the view, thanks to Juli's parent's initial vision of switching out the closed in porch with wall to wall windows; that we had free range to do whatever we wanted and we did so almost exclusively ourselves; experimenting with plywood; the future.
What are some key decor tip if someone wants to duplicate your look? You can never have enough white paint! White walls give a beautiful backdrop to our furniture, while white floors/ceiling really brighten a space. Also, don't be afraid of using unconventional materials (plywood has become our best decorating friend, especially since we don't know how to drywall). Always bring something home from your travels—big or small, they serve as little reminders once the day to day humdrum sets in. Definitely combine a little old with a little new. Vintage or antique pieces have a history, add warmth, and add uniqueness plus they are oh so fun to hunt for!
Thank you John & Juli for these very special glimpses into your life and home!
(images: john baker & juli daoust)