I've been thinking a lot lately about inspiration and creativity and how to regain it. I've thought about the importance of refueling and recharging so we have something left to give. Not only to ourselves but to others. Especially to others. I've also been thinking about how we typically go about it. We surf the internet, pin on Pinterest, buy stuff, zone out on fluff television. But are those things really going to help or add any value to our life? Hmmm. What do you think?
Growing up in the south, I heard lots of advice from friends, family and neighbors over the years. I remember being told often as a child, "Give, and you will receive. Your gift will return to you in full. The amount you give will determine the amount you get back". This is not just a biblical teaching but also happens to be a common belief in Buddhism and many other cultures have shared similar advice. No matter how religion seems to divide people these days, such very basic teachings often unite and are handed down from generation to generation. They hold so much truth and weight. I was thinking about this the other day, the idea of giving, because I haven't felt that inspired in a few months. I had a really hard pregnancy the first 18-20 weeks which left me bed-ridden and sick all summer. It's hard to feel anything when your body isn't responding to food, a good film, a sunny day… I felt nailed to the bed. This really hurt my creativity. The world seemed to be passing me by as I stared at the bedroom ceiling and in a way, it was.
Which gets back to the thought on practicing a giving spirit. I'm currently teaching my online class about blogging, styling and photography, which began on November 1st. We have hundreds of students and a very vibrant, lovely classroom filled with eager students who work hard and want to blog their best. They want to inspire themselves and others just as much as the next blogger. I wondered, when I started teaching at the beginning of the month if I was biting off more than I could chew. I have so much going on in my life, I was feeling rather selfish. Like I just wanted to conserve my energy and withdraw and not bother teaching until next Spring. As emails kept rolling in asking me, "When is your next class, I've been waiting for you to announce the dates", and "Holly you have to teach again, I need my Holly fix!", my first thought was to take care of ME first and postpone until after the baby arrives. I didn't want to give. I wanted to save my energy and even go out and find friends and family members who could give me some of their energy and encouragement.
But I didn't.
I thought about each email that came in and though I felt exhausted, I pushed myself to just do it. You may say, "Of course you did it, you earn a living this way", but honestly, that's not entirely the motivation. I teach a few classes a year and can schedule them anytime I want. So whether I did this class in November or April wouldn't matter financially. It's the same money. What mattered was my intention.
I intended to stop feeling sorry for myself and to go teach.
That's where the giving and receiving took place. This Friday ends the class and I feel like a completely different person than I did this time last month. My personality is back, my energy is back and I am ready to take on the world. I want to learn more about Photoshop, Lightroom and photography in general thanks to my students and co-teachers. They all became like medicine to me. They didn't realize it, but by encouraging them by hosting the class and motivating myself to give, they in turn encouraged me and my cup became full once again. Reading through their comments in the forum, interacting with them through the materials, etc. put aside my feeling of being so self-absorbed and turned my direction to others. Giving. Receiving.
I know that lots of people suffer during periods when no creativity or joy seems to be found. Let me reassure you that there is hope during times when you have hit a creative rut and feel there's nothing left in your heart to give.
Give what little you have. Give anyway.
Because what you give may seem so small to you but to the next person, it can be so great. And through this interaction alone, things change. Clouds part. Sunshine and light stream back in and before you know it, you are glowing, radiant.
And then you can decorate, work better than ever, whip up a beautiful meal, arrange a stunning bouquet and enjoy your life, your home, your job, your kids all over again. The veil lifts.
So when you feel like giving up, don't.
Instead of giving up, just give.
Find someone who needs you and give.
How have you dealt with periods when you felt like your creativity was at an all time low? I'd love to know your tips!
(image: holly becker)
I've been thinking a lot lately about serenity, peace, simplicity and uncomplicated, mindful living. As much as I crave those things in my own life, I can never seem to get to that "place" because I am constantly seeking new territories and adventures; it's very hard for me to sit still. My mind is constantly onto the next thing. Can you relate?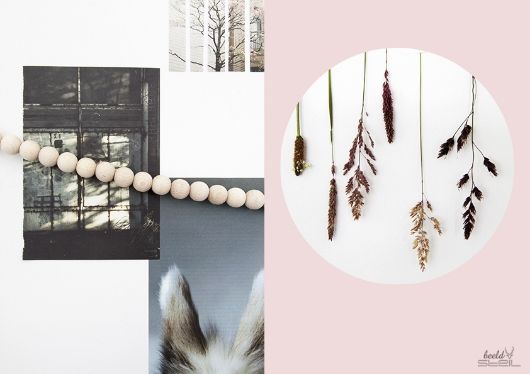 via beeldsteil
I am fueled by others, fueled by my own mind and constantly fueled by imagery online. Yet, through all of the colors, sounds, shapes and the drive I have to do more, I still go back to serenity, peace, simplicity and uncomplicated living. And I still love blogs that give me this feeling of being mentally clutter-free.  So I've been thinking lately – how can I get these things that I desire so much, despite how big my life is? How can someone who can't sit still have space enough to think, breath, reflect and enjoy the moment? My friend is a mindful living coach and has consistently been trying to help me to learn how to really get into the moment. I've tried so many times to listen to her wisdom, apply her practicies and breath in… breath out… Yet I am an unstoppable force. What can be done?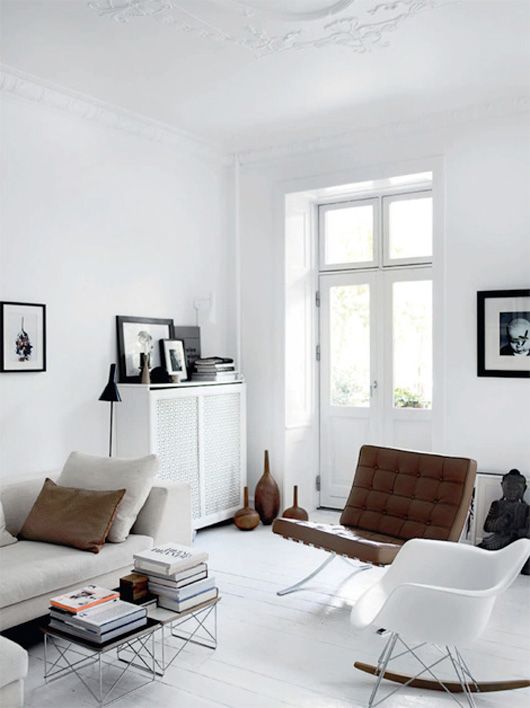 via woon blog
Recently my husband said something that made me think. He said, "What happens when an unstoppable force meets an immovable object?", the classic irresistible force paradox. I thought about it and my conclusion was that one had to give up, or destroy, the other. I see this in society a lot lately. One person has an immovable opinion and the other, an unstoppable opinion – in other words – both feel strongly about their beliefs and neither will stop until they overtake the other or covert them totally.
So I asked my husband, "Ok, so what should happen when an unstoppable force meets an immovable object?". His answer was completely opposite of mine. I wondered if it was because I am American and as a culture, we tend to be right or wrong, left or right, black or white. I notice in Europe there is a lot more gray, and not just in the weather! His answer was much less threatening. It made sense. It actually warmed my heart and made me feel quite eager to explore this topic, this classic paradox, even further. He said,
"It's simple: when an unstoppable force meets an immovable object, they surrender." He also said that you need to know when you need to be unstoppable and when you need to be immovable, within reason.
What a beautiful statement. Isn't it? So I then applied it to me and my need for serenity, peace, simplicity and uncomplicated living when I am, by nature, such an unstoppable force. I simply need to surrender. I simply need to cease resistance and just go with the flow. I need to respect the need I have to run fast yet feel at peace and live slow. But how?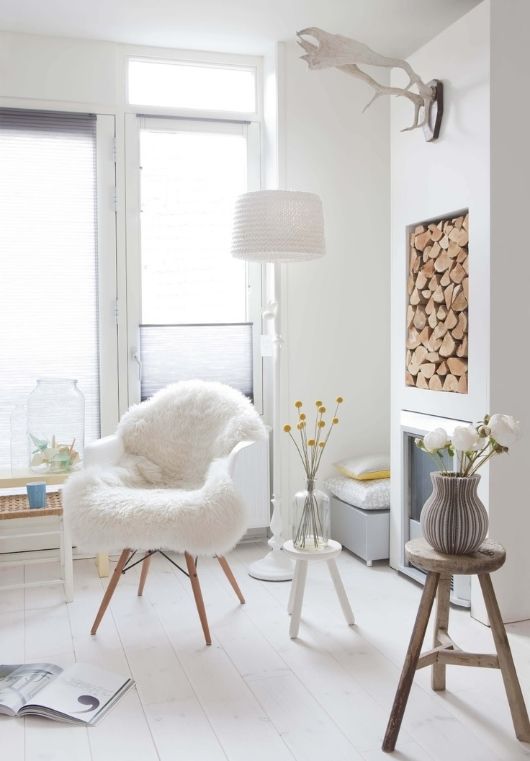 via jeltje fotografie
I thought more about this for days and days and I then I thought to take out my recent book, Decorate Workshop, and I went through my own words line by line. I don't know how many authors out there read their own books months after they've been published, but I do. I am a big believer in, "Practicing what you preach", so this was my way of doing just that. As I read, I started to think more about my home, my personal style, my systems of organization (and lack of), my "clutter" problems around the house and after some time my own book made me realize that this was exactly how I could have the simple life I crave while still being me.
I need to redecorate.
I need to view my home in a fresh, new, uncomplicated way. I need to scale back, sell things, move things around, and get rid of things that I simply don't use because I may use them "someday". I need to reconsider my color palette. I need to think about the floor plan, the flow, the focal points. As I started to think more about my home and how I live in it, I started to see why I'm often stressed at home. I have, for my personality anyway, too much visual clutter. Too many "stories" going on around me with my objects. I am easily distracted anyway so I certainly don't need help with my wandering mind. Do I really need magazines that are 8 years old? Do I really need design books that I don't even feel a connection to? Do I need to keep all of the sewing books that I own because I never use them anyway? As for my clothing and shoes, that's a completely different area of concern altogether. Do I still need size 7/8 jeans because I'm not a size 8 anymore and once I am again, will I really want THOSE jeans anyway because aren't "mom jeans" with zippers at the ankles terribly outdated anyway?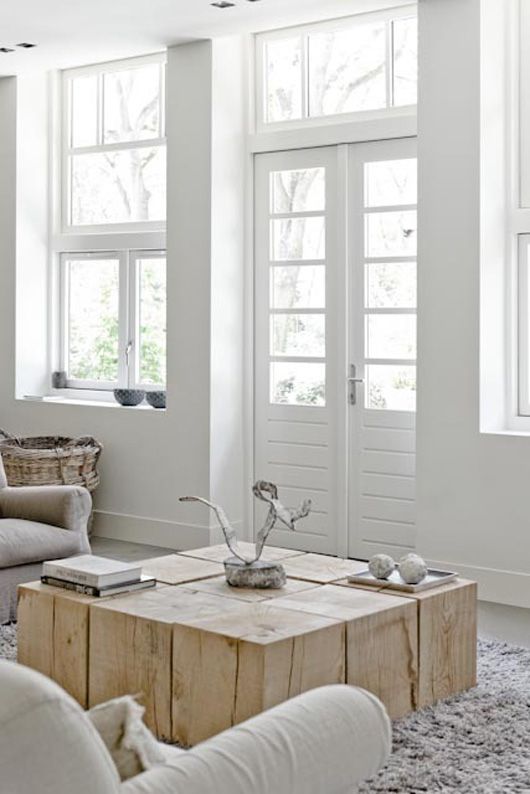 via behance
And so I've been thinking about SO much over the past few weeks and I wanted to share these thoughts with you. I'm going to work on my home this summer, scale back on stuff I don't need, I'm even thinking to throw a sale in my home (by invitation only) to sell the many gorgeous things that I have that I no longer need. This is the one part of my life that I can simplify – my home/work environment. I'm confident that once I do, then I'll feel more balance and peace. Your home is so integral to professional and personal growth. I wish more people believed in this fact.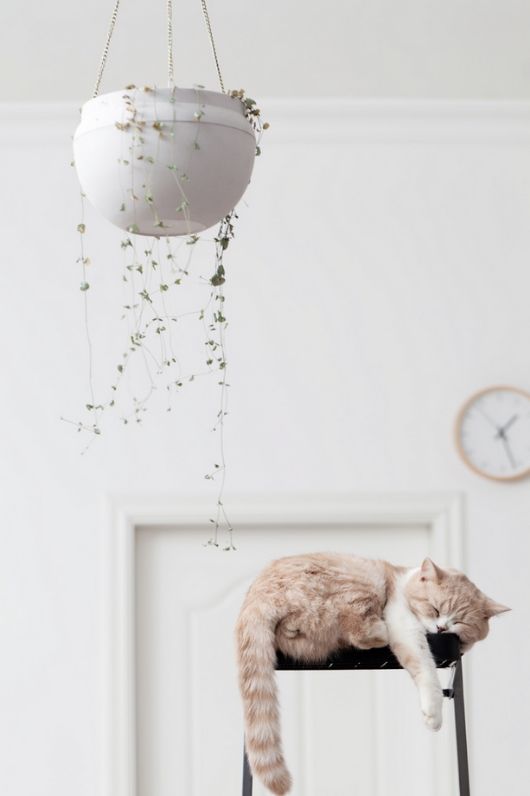 via: aya goa
Do you have any thoughts to add on this topic? I'd love for you to chime in! I find your comments so encouraging. And please, visit all of the links below the lovely photography above – they are all people and sites whom I admire deeply and find much inspiration from.
Have a lovely weekend! – Holly xo
I've been thinking a lot about redecorating lately. Pinterest doesn't help and neither do my bloggy friends (Ahem ladies Steffi, Bri, Victoria). With so much inspiration around me, the dominos are leaning in my direction and I'm about to fall into the whole redecorating trend too. In fact, it started this morning when I ordered this minty green desk lamp. Now I'm thinking to host a big yard sale in early May so if I do, I'll let you know so you can come help remove things so I can add things again. Ya know, a decorating support buddy system.
My home (sitting area shown above, shot by my husband for Decorate Workshop) is in my own book now, and has appeared in magazines and around the web, which gives me that added boost to redecorate again so I can show some new ideas. I love to inspire people and I LOVE to decorate so why not. Plus, I want to paint and wallpaper and buy a new rug and experiment with a new palette and and and AND. Always and.
When I think about changing up everything, I can't help but think back to my childhood and teen years as I ran from home store to garden shop to flea market with my mom picking out things for our home, yard, garden and patio. I remember being in my twenties decorating my apartments in Boston. I constantly moved around trying out new apartments, new roommates, new arrangements of things… I loved the thrill of moving and setting up all over again. It was somehow a kooky hobby of mine. I think I lived in 10 different apartments in 10 years. Each new place held promise of a new decor. A clean slate. And now, several years later, here I am with my husband in northern Germany with a full schedule and very little time to decorate and "play" in my home. I guess when you get older you kinda realize you're a little nuts to move so frequently because it's expensive and a little draining after awhile… though since I got married, I've lived in 5 different addresses so I guess I'm still unsettled. I live in this super gorgeous rental apartment and  I still dream of moving to another one and starting all over again.
But today something happened that scared me a little. I wonder what you will think.
This morning my husband woke me up with a one year plan. He always does this to me… 'heavy talk' first thing in the morning. By this time next year he wants to buy a home or a big city apartment with space for work studios. I sat in my bed thinking, "Honey, can I first shower and get a cup of coffee?". Seriously. A one year plan with my eyes half shut. Yippee.
Then I thought in the shower, OMG. Now that I have saved up and thought about this moment for years I'm anxious. "Do I WANT to buy a home?".
What if I move and find that I just can't stay in the same house for the rest of my life? I worry about this. I moved around a lot as a child and as a young woman – and the pattern seems to work for me. It's not like the real estate market is the same in Germany as it is in America – house flipping and people moving in and out just doesn't work the same here. Plus, my husband would never buy a home only to move out – he'd want that home to be ours for life.
OK so the decorating queen here needs you to help me out this time. Do you guys understand when I talk about settling into a home and the feelings of OMG that accompany that? How many of you are homeowners? Or do you rent? I wonder if you think about moving as much as I do? Does anyone have the redecorating bug right now?
Loads of love to you today – hope to hear from you in my comments section, I'd love to connect.
(image: top Thorsten Becker, bottom Holly Becker)
It's time for a hashtag party – care to join? It's called #bloghug but first, why I'm bothering to do this? I was thinking a lot lately about the connections we make online and the connectors who lead the pack in this effort (maybe one of them is you) and how some have told me that they feel like their hard work isn't a) getting them anywhere b) receiving much feedback OR that c) they aren't really feeling so excited lately about blogging. I thought #bloghug could help spread a little internet cheer.
While you are out there pinning and dragging and dropping and clicking and scrolling please take a moment and think about where all of this content comes from and give a blogger a little high five if you can. I can't imagine the world going back in time to when blogs didn't exist BUT it is sooo super easy to take for granted those who blog and inspire us all day, isn't it? I am so proud of our blogger community overall, aren't you? To all of you out there who are connecting others through your blog, your website, etc. I value you. We value you! You have value – a lot of it! So, I ask you…
Have you hugged a blogger today?
Seriously, have you? Not in real life… I'm talking about a virtual hug, a virtual high five. Maybe this week you can comment on their blog, "like" their Facebook page, send them a friendly tweet – simply to say YOU ROCK.
How to be part of #bloghug
1) Write a blog post about your favorite bloggers or blogger and tweet it to me (@decor8) with hashtag #bloghug so I can pin it.
2) Make a video and post it on your blog and tweet the link to me (@decor8) with hashtag #bloghug so I can pin that, too!
3) Get creative! Have someone snap your photo of you reading a favorite blog on your iPad (just not your own LOL!), or holding a sign that says "I Love Blogs #bloghug" or something that just shows a little love. You can use Instagram for this too – just tweet the photo to me (@decor8) with hashtag #bloghug with a link to your instagram.com page so I can pin it!
Deadline: February 15.
Here are some previous hashtag parties I've hosted with themes: #stripemania & #discomania to give you some ideas.
I can't wait to see what you guys come up with!
Remember: #bloghug
Here is the #bloghug board on Pinterest where I'll pin your stuff!
(image: holly becker)