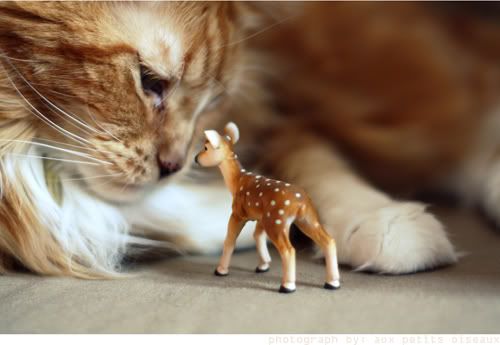 This week's question for Talk It Out comes from two lovely ladies and it's a great question that I think many of you may be interested in contributing to today…
How do you engage your readers?
Two lovely fellow bloggers, Alex from Strawberry Lemonade and Chantelle from Fat Mum Slim, are curious as to how to engage readers.
"How can I get readers involved in the comment section… Do bloggers do anything to encourage dialogue or discussion (in their posts or via social networking)? Or are they content simply knowing people are reading (and therefore they do not put much thought into writing posts that will encourage participation."
I'll add my two cents in the comments section with all of you… Please join me there. :)
(photograph: aux petits oiseaux)
Would you like to participate in a little conversation with me today, because I would love your personal opinion on this topic since I never thought much about it until recently when reader Rose Deniz left a rather intriguing question on my more personal blog, Haus Maus. I will answer her question below but would love your thoughts on this too if you'd like to share.
"Do you feel like sometimes even your alone time is not really 100% alone because you talk about it on your blog? Sometimes I feel like I am not truly by myself unless I do something quiet and unspoken. Just curious if this affects how you view your alone time at all, while enjoying it you might be thinking about it being material for a blog post. It's not really a criticism, just a curiosity because these days life is so transparent with blogging, although I think you do a great job about talking about the personal without revealing everything." - Rose Deniz, Turkey.
Rose, thank you for this great question. When I first started blogging, I was constantly searching for blog content. Yes! I was obsessed with finding something new and fresh, something that may not have been seen or heard about before. Then, as the number of blogs grew, I quickly realized that there were thousands of other roving reporters out there and that I needed to find balance. So, instead of constantly looking for the next topic or product to blog about, I decided to not function solely as a content provider and to actually add my own personality, life and interests to my blog while still highlighting the work of those who inspire me. So instead of hunting down stories, I tried to think of ways to make my own life better so that I could lead by example. I want people to respect me as a person, and to know me as a real person, so this meant being 100% myself. My friends in real life who read my blog tell me that it is just like having me in their office whenever they read it, it feels and reads just like me. And this is the highest complement one could ever give me. I want my blog to reflect my authentic voice and passion. That way, if you ever meet me someday, you won't be disappointed! :)
But you want to know how I'm able to have a life outside of blogging and if I do certain things merely to blog about them. Yes and no. Yes, in that I have a life outside of my blog. There are many things that I am involved in that I do not share publicly on my site, whether it be a cause I'm passionate about, a charity or project I'm involved in that does not relate to decorating, etc. I don't share everything on my blog or through other social networking channels because it's vital to me to keep part of my life between my family, close friends and I. Whenever I feel like blogging about something I did during my personal time, and if it involved a friend or family member, I always ask them for their permission to use their name on my site and if they are comfortable with me sharing it or sharing a photo or two from the event. For instance, I wouldn't attend a friends' wedding and then blog about it showing all of the photos that I took without first asking for permission from the couple. But then again, I doubt I'd blog that anyway because I want some things in my life to be between me and those closest to me. I view my readers as friends, yes, but I also know that there are some out there who are not my friends and who may not at all care about my personal health and welfare and I'm cautious to not expose every detail about my life since those people lurk and it is them who I don't feel should have access to certain parts of my life. Not my loyal readers though, and if I were in a room with any of my readers I would share even more freely, but being on the web I have to be somewhat careful.
And no, I don't do things in my life solely because I want to have something to blog about but I do think it's okay when people do that because we all need motivation and blogging can be a real motivating source. But, I've been known to do this at times when I felt like I needed some motivation to do something. I'd blog that I planned to do this or that and then, because I told thousands of people I felt accountable to do it. Like clean out my china cabinet, which I plan to spend this Saturday on since I finally have room in my schedule to do it. Yeah I know, I told you guys I'd do this two weeks ago. Sigh. I love this about having a public space to write, there is accountability and it feels good. We all need to feel accountable, knowing people are waiting to see something we've promised to deliver is a huge push to actually do it.
To wrap up, is your life all about blog content? And is that okay, if it is? Or do you sometimes feel stressed out? For instance, do you do things just so you can blog it? I think in many ways this is healthy but I can imagine some scenarios where it may not be. What are your thoughts? Does having a blog help you to own up to your life? Does blogging make you feel stressed sometimes because you think you're not as good as those blogs you follow who seem to have incredible homes/jobs/ etc.? Do you sometimes exaggerate the truth on your blog in order to impress readers? Where do you draw the line on your blog when it comes to sharing your personal life?
(image: holly becker for decor8)
Country Living has this thing they do each year where they shine the spotlight on a handful of inspirational women who have turned their passion into profits. This year, they've selected 6 and posted them some time ago now but I stumbled upon it again today and thought about how important it is to tell those who have inspired us that they have in fact done so. Many of us do this through blogging, I write about those who have touched my life on a daily basis and honoring in this small way means a lot to me. I thought that for a moment we could all pause for a moment and reflect on those who are currently on our radar, who are inspiring us to live the best life possible, and who either directly or indirectly helped us to rise up and meet a challenge, personal or otherwise.
Are you ready? Would you like to participate? You can either shout them out on your blog and leave the link to your post below in the comments section or comment below with those who inspire you – you may or may not include links to their site/blog – that's up to you. This is not a popularity contest or meant to be anything like it, but I would like to know who you find to be helpful, caring, sincere, talented and all those good things — who you think really leads in the sense that they inspire you personally to do great things. My leading ladies number into the thousands, but I will participate in the comments section below with a few I've chosen to honor.
So tell me, who are your leading ladies?
(image: country living magazine)