Some of Sweden's most prominent designers have made products for your home for Save The Children, and one of my favorite designers, Lisa Bengtsson, has a new collection of wallpaper, textiles and posters created especially for their design shop. The sweet doggy patterns that you see below are from the Tillsammans collection (which means Together in Swedish) and shows dachshunds from around the world.
As mentioned, these products are in cooperation with Save the Children and show six illustrations depicting dachshunds from around the world with hats and hairstyles to symbolize different nationalities. The illustrations are exclusively designed for Save the Children and are available only in their design shop. I like to know that when I buy something beautiful for my home that I am supporting such a worthwhile cause — to protect and save little ones against violence and sexual assault and to invest in their future by ensuring that they receive a proper education in Sweden and in other parts of the world.
I love seeing good design being used to promote and support something so important and to own something that I know supported children in need makes the item, for me at least, so much more valuable and gives me a genuine emotional connection to it. Design with heart. With soul. With intention that goes beyond personal gain.
I believe that our possessions should have positive associations (or else what's the point in owning them?) and any design item created for such a worthy cause would definitely make it even more cherished and special in my home. Do you agree?
Thank you Helena from Room and Serve for writing to me about this today!
(images: lisa bengtsson/save the children)
I was thinking yesterday about all of the candles that I own because I was organizing a cabinet where I keep my mini candle store (ha ha) and felt a bit ashamed of how many I have still unopened… And funny thing is, I was deciding what was missing from my stash so that I could restock. Sigh. The life of a candle addict. Funny thing is that I have mild allergies to fragrance so I'm careful when it comes to stronger scents, like lilac and jasmine, since they make me very sick. Did you know that until I was 25-years-old I suffered from chronic allergies to perfume, hair spray, candles, anything and everything seemed to trigger intense headaches and flu-like symptoms? Oh yes. I didn't wear perfume until I was 25! Then, one day, the allergies just vanished. Poof! I have no clue how or why that is even possible, but they did and that is when I went a little nuts buying everything scented that I could pack into my cabinets from cleaning supplies to shampoo. Sure, cigarette smoke still makes me sick, as does newspaper ink, certain paints, strong perfume, etc. but I'm pretty much a perfume and candle-aholic now though the scents need to be fresh, natural and certainly not heavy. I thought I'd share some candles that aren't obnoxiously strong that I love, 6 to be exact, that add a slight fragrance without overpowering me or my guests. I photographed my current 3 favorites at home today and listed the other 3 below as I need to replenish my supply so I couldn't take a picture of those.
1. Le Labo vintage candle (love the packaging!) that was a gift to me from Liberty actually and I love it. The scent is Santal 26 and is an, "aristocratic scent, at once gentle, smokey and leathery, that will fill your space and give it true personality." All I can say is that I'm already on my second Le Labo candle and I can't get enough. Great for couples, as it's a bit masculine and slightly feminine which I also love.
2. Bailey's Mown Grass candle. I love Mark & Sally Bailey's gorgeous creations for the home, this candle being one of them. My husband bought it at Liberty and as you can see, he's been using it in his office each night. It smells delightful, and it's at all over-the-top as some grassy scents can be. It's light and breezy, almost as if you woke up in your stone cottage, opened your windows, and took a deep breath as the gentle Spring air caressed your nose with the scent of green. In the states you can buy it online at Terrain.
3. Diptyque Feuille De Lavande (Lavender leaf) is so perfect for this time of year but I mostly burn it in the Autumn, early winter. I love the way it makes my home smell – so clean, but also how it makes me feel – so calm! It's worth every penny.
Not shown: 4. Jo Malone: Grapefruit (love this), 5. DayNa Decker Bardou (the wick crackles when you burn it so it sounds like a fireplace!), and 6. Candied Fruit Candle by L'Occitane. Yes, that one is very sweet and über fruity but in a big room it's quite delightful, especially when the sun is shining and the windows are open. I don't suggest burning it with the windows closed, it's a bit overwhelming!
What are your favorite scented candles? Now I'm wondering, do you even use candles? Are you allergic to fragrance? Were you once allergic and miraculously healed without reason like me?
(images: holly becker for decor8)
This weekend is my big Spring cleaning weekend and it's funny but I can't wait to get started! I'm ready to donate a bunch of clothes and buy some plants for my balcony and get my home ready for the season. Also, my goal for Spring is to get a better system in place when it comes to organization. Today I was in touch with Manostiles, a Danish company that designs home items, and found their boxes to be quite lovely and perfect for storage. The key to good organization is to have specific places for everything and if you are using boxes like these, to have a good labeling system so you know what is inside of them. I have a few boxes similar to what you see below that are covered in Indian prints and I think Leslie and some others online have similar boxes too — I've seen them around the web in mostly people's home offices, so they seem to be a storage solution that many enjoy. I guess it's hard to resist pretty boxes with things tucked inside!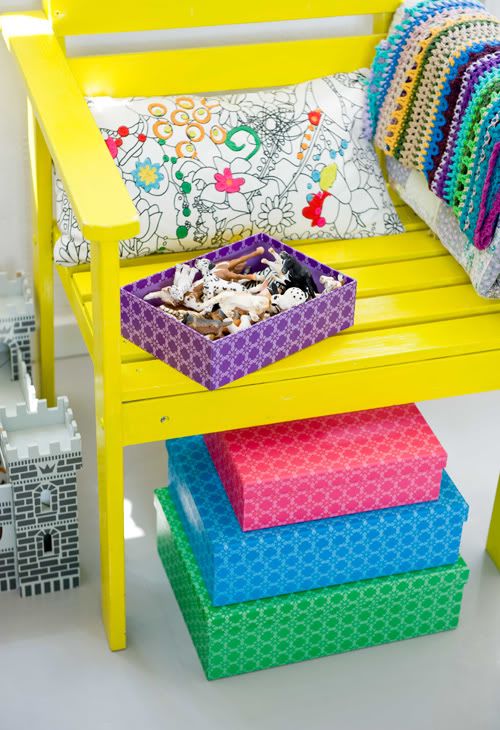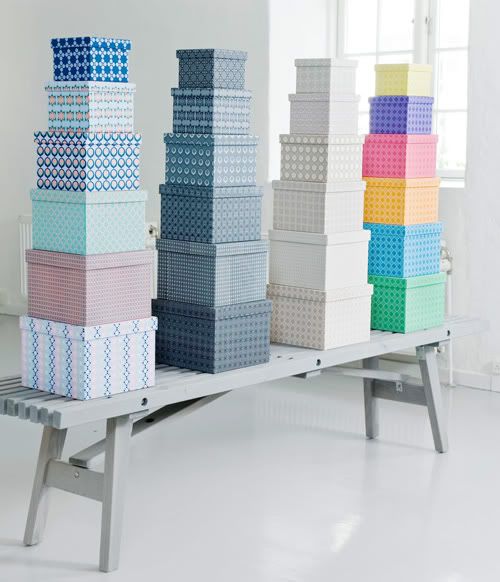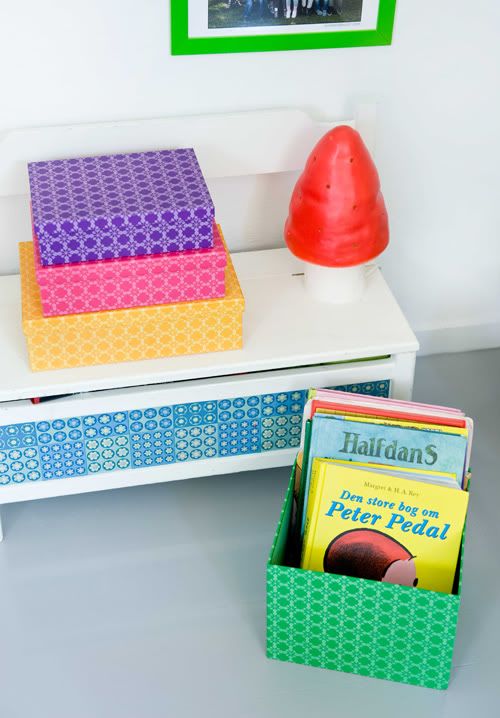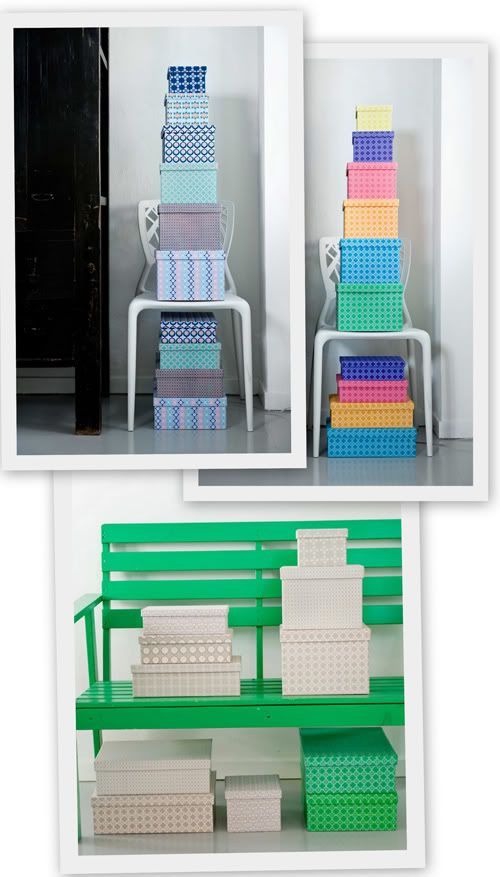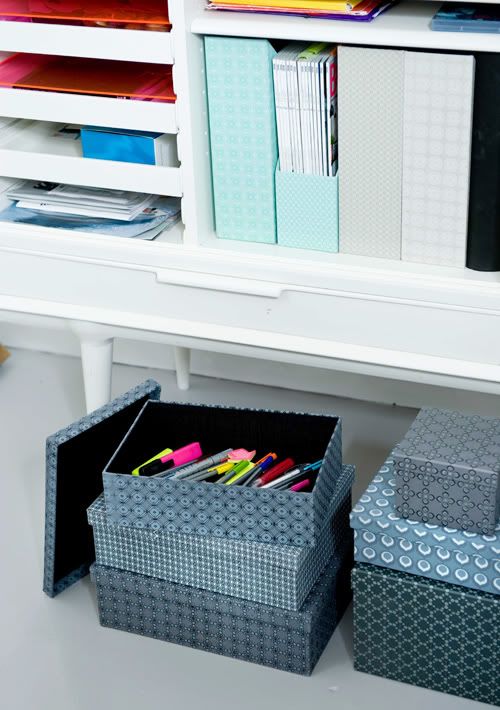 If you would like to order these great boxes, you can purchase them online at Cahetu, they ship worldwide and I imagine rates would be okay since these boxes are very lightweight and many can fit inside of other ones… Manostiles will begin selling them on their website in April if you want to order directly from them.
I personally love the magazine holders and the clear shoe storage boxes that could store anything really. I particularly like seeing the clear ones stacked in a work room or above, as shown by a bed doubling as a bedside table which is clever and budget-friendly. But back to those magazine files, I can never get enough of gorgeous magazines and since I refer back to them so frequently, having them tucked away in pretty holders nearby my desk is practical and inspiring. I love to be surrounded by things that spark my creativity!
(images: manostiles)
West Elm contacted me last week with their latest offerings for spring (wowie zowie, so pretty!) but I've been a bit behind this month since I'm also teaching a huge class online so I'm reviewing this a bit late (eep!). I know that it's been hopping around blogland already but I feel inspired by it so I'm posting anyway since I'm a huge David Stark fan, I know who isn't, and the David Stark Collection for West Elm is gorgeous!
David was inspired by the Mediterranean light and the clear blue sea along with his own roots as a painter — so he decided to combine raw canvas and gesso to create baskets and bottles wrapped in artist's canvas and porcelain soup cans that can be used as vases. I love his dinnerware splashed with gorgeous blue tones with that painterly vibe to them — it's a treat to see this! Blue and white is such a great palette for warmer weather, I always feel so invigorated when I view various blues that resemble ocean water, they can range from moody blues to exhilarating blues. Paired with white along with modern lines and lots of natural texture and the look can suddenly become quite nautical chic with a more high end Greek resort vibe.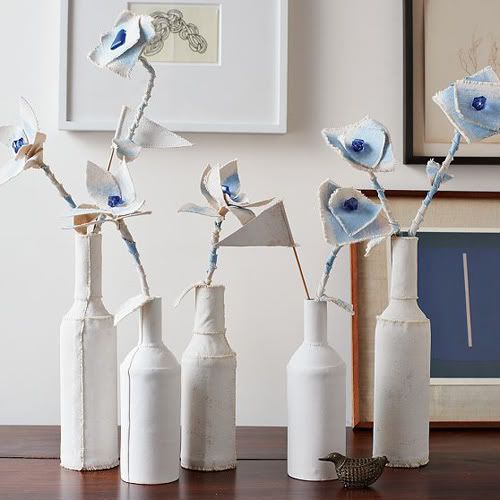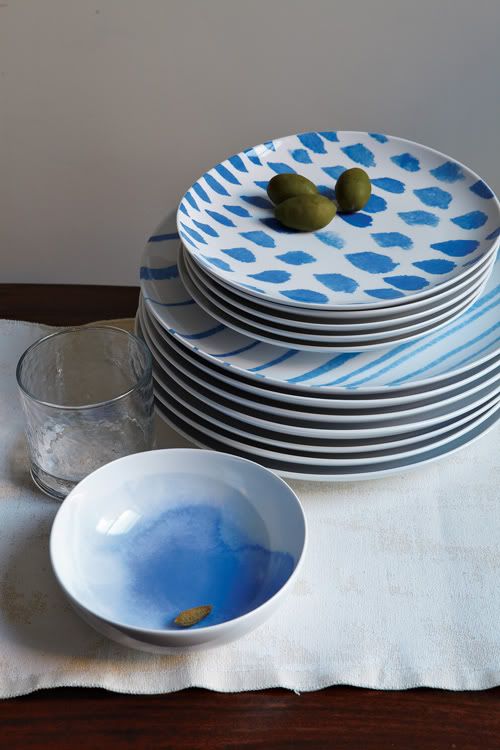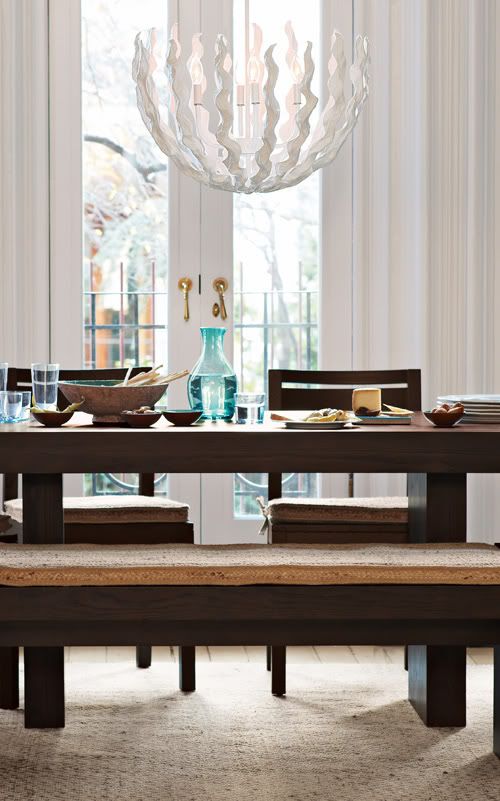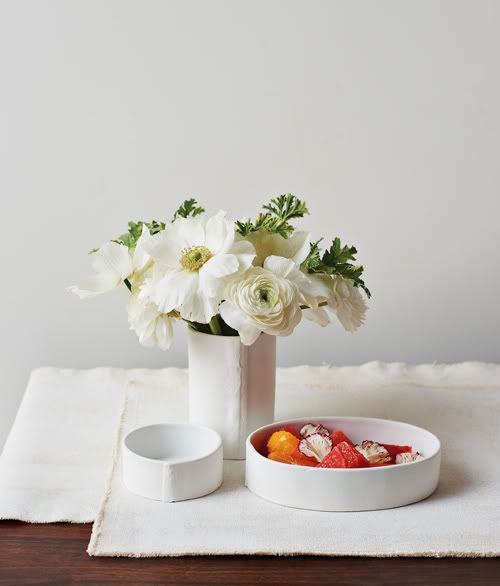 I also like seeing Tennessee-based husband and wife design duo Bill Pritchard and Jane Gray from Stray Dog Designs with a collection at WE as well because I've followed their work since 2006 and love what they are doing with papier-mâché and I think that in the right setting their pendant light is divine and a statement piece. I don't want to gush but by golly gee I love seeing what's coming out of WE lately… how inspiring. And the styling and photography – spot on!
(images: west elm)