A couple of readers asked if I'd point them to some of my favorite things over at West Elm so I'm going to play a game of virtual shopping guide! Fun! In this post I've taken 12 of my current favorites from West Elm to share with not only those readers but with the rest of you who may also be looking for a few news things to spruce your roost. Enjoy!
1. Diamond tufted headboard, 2. Nailhead upholstered headboard, 3. Blake sofa, 4. Tripod table in white, 5. Martini side table in white or silver and 6. the Wrap dining chairs (love all colors!).
7. The Pratt desk in all white (also available in two tone) has to be my current favorite West Elm piece. 8. I also like the Pebble Stripe rug. In fact, the whole room is nice… especially that coffee table. 8. The Sphere lamps are great, too. 10. Could this Chunky tassel throw get any yummier? 11. This simple Cloche is nice to display something that you cherish. 12. And finally, the Organic Shaped dinnerware. Everyone needs at least one white set of dinnerware because white shows off food the best (I am throwing out my blue dinnerware, it makes most food look so unappetizing!) and with white, you can lay the table anyway you'd like — dress it up, go casual, change your colors, experiment with a variety of themes — anything and everything goes with white dinnerware.
BOSTON: West Elm has partnered with PATCH NYC and Etsy to invite some of Boston's most talented artisans and crafters in to our store for a special pop-up hand made art market event on October 14th.  If you can attend, go, go, go! It sounds fun. You can RSVP here. I'll be there in spirit. xo
(images: west elm)
How about a few pretty things to feather your nest this season? I've got my eye on these beauties from Cox & Cox. See anything that you like?
A. Lacy tape (love this so much, especially on brown kraft paper), B. Lemon Drizzle Cake candle, C. Memo board, D. Magazine holders (I recently read paisleys are the latest "trend" pattern), E. Twinkle light heart and F. Pretty matches to light your fire.
(images: cox & cox)
Would you love to see some beautiful new products today from Sweden? Why, of course you would! The very kind Helena from Room and Serve wrote in to tell me about the new collection from Mimou. You can find bed linens, wallpaper, hand-crafted furniture and hand printed pillows.
Mimou worked with Swedish illustrator Amelie Hegardt who is known for her bleeding ink silhouettes and watercolors as well as her delicate, timeless and evocative style. Her work has been translated into beautiful things for the home while also reflecting the classic Mimou style that the brand is known for.
I love the bright colors against the white background and how fresh and illustrative these prints are — the sketchy watercolors are really in right now and look great! The black and white combos look striking and very inviting and warm. The grays and browns are sensual and relaxing. What a stylish and very forward collection!
(images: mimou)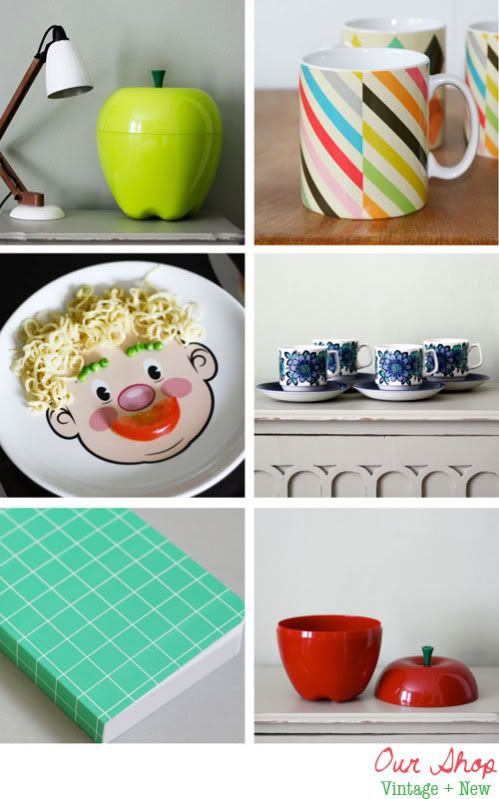 I always love to read what is in the decor8 submissions bag, there are so many good ones coming in lately! Gemma wrote in recently about Our Shop, which is one half graphic design studio (WorkShop is London graphic design collaborative shared by Pui Lee and Gemma Stanton) and Our Shop, a new and growing online store with old + new things for the home and your life in general. I love the stripey mugs – cheers to having your coffee in a zingy cup!
From Gemma, "Our shop is our labour of love and initially we thought it would be our own products only, however after visiting lots of lovely craft fairs and shows we were so inspired that we wanted it to be a platform that we can use to showcase other designers products as well as our own. Plus we can fund our own designs from the proceeds of the shop so it's all starting to grow organically. Our Shop sells lovely homewares, greetings cards, stationery and other yummy treats. Our main ethos is not to take ourselves to seriously and we hope this is reflected in our product selection. We love bright and cheerful colours and hopefully we can bring a smile to peoples faces. We'd love to be known as a great place to come to shop for gifts for friends and family. The one stop shop we call it as you can buy a pressie and a card."
Thank you Gemma for sharing your new shop with us!
(images: our shop)