Would you love to see some beautiful new products today from Sweden? Why, of course you would! The very kind Helena from Room and Serve wrote in to tell me about the new collection from Mimou. You can find bed linens, wallpaper, hand-crafted furniture and hand printed pillows.
Mimou worked with Swedish illustrator Amelie Hegardt who is known for her bleeding ink silhouettes and watercolors as well as her delicate, timeless and evocative style. Her work has been translated into beautiful things for the home while also reflecting the classic Mimou style that the brand is known for.
I love the bright colors against the white background and how fresh and illustrative these prints are — the sketchy watercolors are really in right now and look great! The black and white combos look striking and very inviting and warm. The grays and browns are sensual and relaxing. What a stylish and very forward collection!
(images: mimou)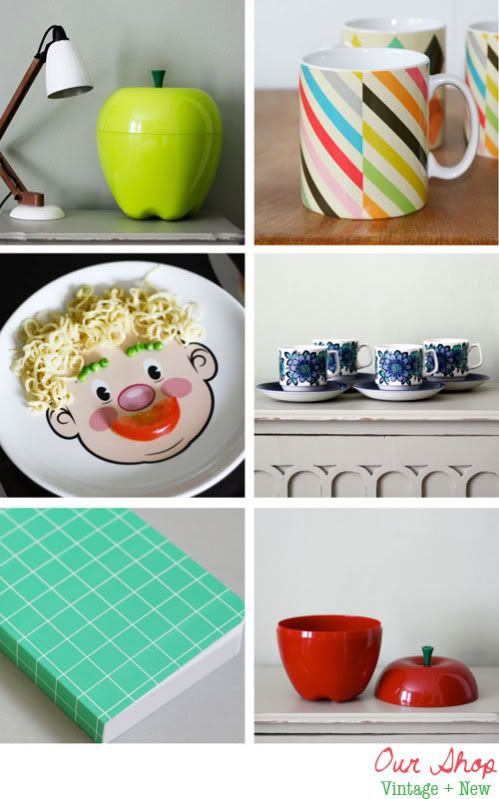 I always love to read what is in the decor8 submissions bag, there are so many good ones coming in lately! Gemma wrote in recently about Our Shop, which is one half graphic design studio (WorkShop is London graphic design collaborative shared by Pui Lee and Gemma Stanton) and Our Shop, a new and growing online store with old + new things for the home and your life in general. I love the stripey mugs – cheers to having your coffee in a zingy cup!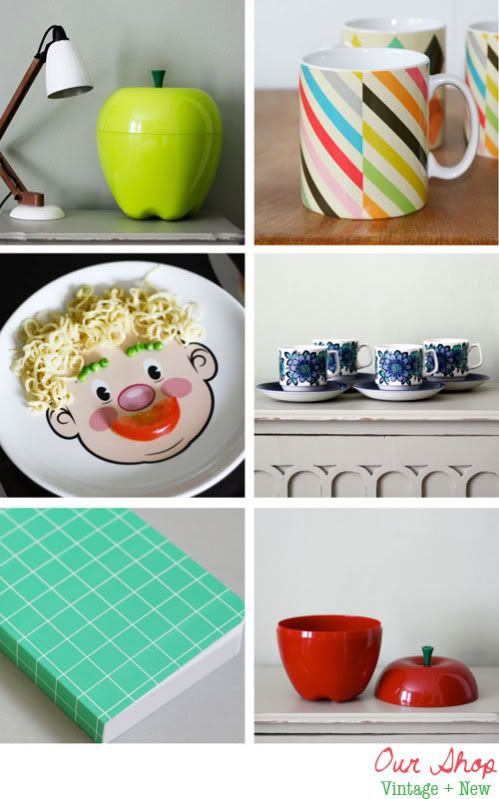 From Gemma, "Our shop is our labour of love and initially we thought it would be our own products only, however after visiting lots of lovely craft fairs and shows we were so inspired that we wanted it to be a platform that we can use to showcase other designers products as well as our own. Plus we can fund our own designs from the proceeds of the shop so it's all starting to grow organically. Our Shop sells lovely homewares, greetings cards, stationery and other yummy treats. Our main ethos is not to take ourselves to seriously and we hope this is reflected in our product selection. We love bright and cheerful colours and hopefully we can bring a smile to peoples faces. We'd love to be known as a great place to come to shop for gifts for friends and family. The one stop shop we call it as you can buy a pressie and a card."
Thank you Gemma for sharing your new shop with us!
(images: our shop)
So! I was in Anthropologie playing happy tourist in Los Angeles recently and realized that I should snap some photos of some of the rad displays. Like a good little girl, I asked the lady who stands guard next to the front door with her Madonna mic on her head. She gave me the go ahead with a very military-like nod and I went around the store snap, snap, snappin' as much as I could while dodging evil stares from the sales crew, who may not known that I had asked permission first. And so, these are my sneaky spy action snaps blurry and not at all pro-level but hey, it is what it is.  So many good ideas in these photos, I had to capture the awesomeness that is Anthropologie. Their visual teams blow my mind.
I loved this installation with all of the books on the wall. It was such a grand entrance to the store!
This installation was also fantastic, thousands of what appeared to be papers on string cascading from a beam on the ceiling.
This was a surreal moment, seeing Flea Market Style by Emily Chalmers on the shelf, which was photographed by Debi Treloar whom I was there in L.A. with since she is shooting the book that I'm working on. It was just a moment for me, I guess. I felt really proud of myself and sometimes we need time out to feel good about ourselves and to reflect on our joys, don't we? I also took this photo because I love the reimagined paintings of Leslie Oschmann and was so excited to see a few, for the first time, in the flesh.
I could have taken home this entire shelf. Swoon!
Love all of the salvaged wood we're seeing on walls, furniture, kitchen cabinets, even on bathtubs lately! It's so inspiring and I also adore seeing it as living wallpaper like this in Anthropologie.
Enjoying this woodsy theme…
I wanted to buy these organically-shaped porcelain vessels shown on the top shelf. I flipped them over to see who made them but I've forgotten so if you know, do tell. I couldn't fit them in my luggage and was scared to spend so much money only to have them fall to bits in my suitcase, so I passed… but it was really hard to walk away.
Smart idea to organize a bookcase with drawers! Also like the simple, framed butterfly as art.
Isn't Anthropologie an inspiring place?
(images: holly becker for decor8)