I recently discovered The Everygirl, have you heard of it? Founded in America by two ladies who met through blogging, The Everygirl is an online resource dedicated to helping shape the creative, career-driven woman to experience a life better lived with features that teach you how to incorporate creativity into your day, provide career motivation and inspire you to become the woman you want to be.
Alaina Kaczmarski, who has a background in magazine journalism and psychology and Danielle Moss, who spent her twenties working as a nanny and executive assistant but with a degree in sociology, knew that together they could create some magic and The Everygirl is where they seem to be doing it. One part of the site that I love is the Careers section. I'll highlight just a few of the dozens from their site. Wow, what a gorgeous gathering of inspirational ladies.
I loved the features on textile designer Caitlin Wilson. Isn't her work space gorgeous? Great color scheme. You can find Caitlin's fabrics online here. YUMMY!
And of course I loved learning more about super duper stylist Emily Henderson. She has my book in her home too – I always get so excited when people I admire have one of my books on display in their home. I feel like a little kid every time! Here's a link to Emily's blog – a must read!
I met AphroChic, also known as Jeanine Hays, on my book tour in 2011 and adored her – she's such a lovely lady so it was especially nice seeing her profiled here and my book on her bookcase. :)
The great feature about Megan Gonzalez of Mae Mae Paperie was also an inspiration to me.
I also loved learning more about a favorite paper designer, Anna Bond of Rifle Paper Co.
Another part of the site that I find super valuable and unique is their job postings page. At first, I thought this was only for jobs that The Everygirl was hiring for to work with them but nope, it's a job board for all sorts of creative companies. I like that a lot!
I heart The Everygirl, great site!
(images: everygirl)
Good morning friends! What's going on in your part of the world? It's a bit chilly here and overcast but I'm ready to face a new week because there is lots to work on. Did you know that I'm hosting a workshop at my home studio next month? It is sold out, which I am so thankful for, but after scheduling it I quickly realized that I need to do a second event in the new year because we had to turn away so many wonderful ladies… I feel sad about that. I know how much we all crave friendship, inspiration and creative business ideas and for me to host this type of even in my private home is a joy but next time, I'm thinking to either get a larger space so I can fit more ladies (like our NYC workshop that I did with Leslie Shewring) or continue to limit them to 15 students and host more of them.
It's a bit tricky though because I don't have a lot of time to host lots of these events at home. I put so much time and energy into hosting them. There's of course the class itself and preparing what you will teach, but then there are goody bags, catering, decorating, correspondence, working with sponsors, making things, cleaning your home so that it's just perfect and making everything shine, shine, shine! It's way more work than hosting at offsite locations – hosting workshops in your private home is a pretty big deal but I see a lot more in my future so I'm definitely going to host more. I'm thinking of how to approach future workshops… Maybe just a good mix of small, medium and large and have some at home, others offsite. I have been teaching for years but mostly in conference rooms, hotel event spaces, large retail stores and cafes but until now, I've only taught very small groups at home. Having 15 ladies is a big jump for me – and I can't WAIT to welcome them in December. I love connecting with creatives live in addition to online so I need to keep moving forward with teaching for 2013. I love it – it makes me so happy. :)
Today I'm going through all of our sponsor goody bag loot. It's exciting to start laying things out and seeing how they all work together to fit our theme: creative inspiration for 2013. Sponsors working with Steffi and I so far include:
* Ferm Living
* Chronicle Books
* Bertine
* RICE
* Bloomingville via Mein Cupcake
* Rosa Cosa
* Kusmi Tea
* Feine Billetterie
* Wednesday Paper Works
NOW I'm looking for a tote bag sponsor – I found lots on Etsy but small companies are often so reluctant to provide products in exchange for marketing/promotional opps – but I'd love to find a sponsor for linen tote bags that have some neon pink accents. I'll let you know what I come up with – I may have to buy the totes myself at the local craft store and get crafty with some paint. I have a few ideas. :)
After the event, which runs from December 7-9, 2012, I'll post photos showing the final goody bag loot, how I decorated the space, photos from the welcome party (location currently top secret) and more fun stuff so that you can see how the workshop went and maybe be inspired a little bit. Who knows, maybe you can host your own workshops at home or from your work studio eventually too?
(images: holly becker)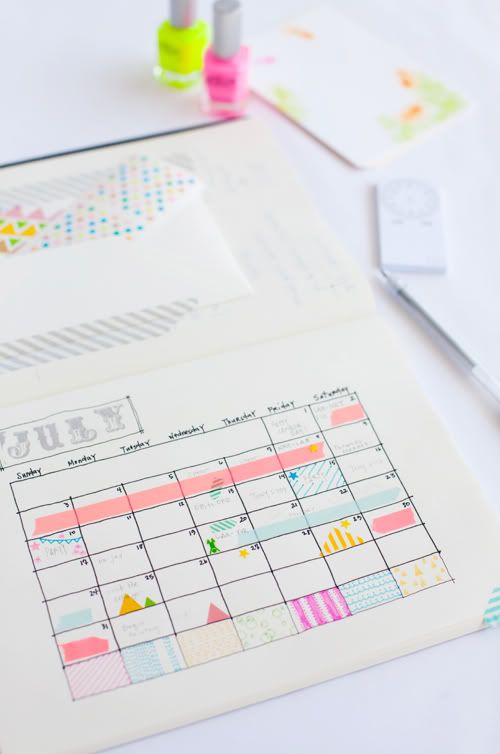 SURPRISE! I didn't plan to teach another e-class this year with all of the upcoming travel on my plate but I decided since many of you want to take another class with Leslie and I before the new year that BYW will be back in action again in the Fall. Blogging Your Way, the web's first online blogging class with a creative twist, launched in March 2009 and after over two years we still have such a huge demand to teach BYW which really makes us happy and feel motivated to keep teaching since the class sells out each time we run it. The next Blogging Your Way e-Course will run for 4 weeks from October 7 – November 7, 2011 and registration will begin on September 10th*.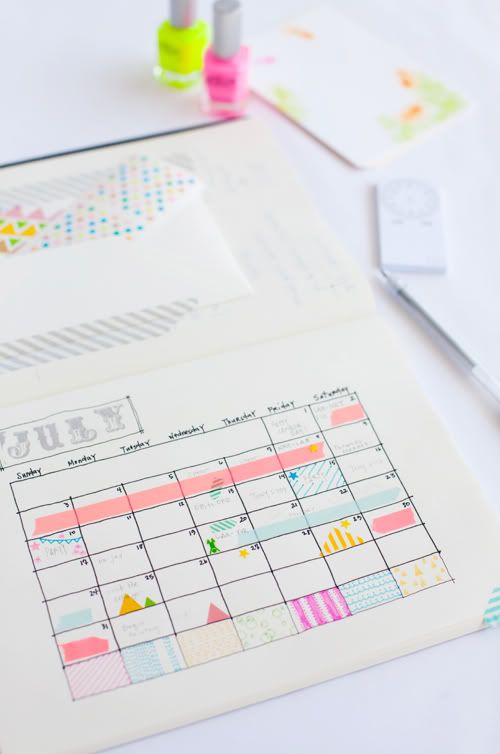 We can't wait to come together once again with our students in an intimate, private space online where we can connect and share information on blogging your best, photography, styling for photos, photo editing, adding text and embellishments to blog photos, social networking, finding your voice, figuring out what you want your blog to focus on, dealing with negativity online, getting out of ruts, organizing your workspace… We have lots to share in this class, including brand new videos, lots of podcasts that you can download, new photos of our workspace with organizing tips, new lessons, printable materials, an interactive student forum so you can connect with students (and your teachers!) around the world day or night, a live chat with Leslie and I, videocasts, a dedicated tech support person, written lessons…
In this class we will teach what we have shared already in previous classes but with all new videos, podcasts and additional lessons that you won't want to miss. It's not quite a BYW 2.0 but it it's definitely been enhanced with lots of new stuff and we even have a few surprises for you. :)
The theme of this class overall will be to encourage you to Use Your Blog as a Catalyst To Live Your Best Life and we'll show you exactly how to do that. I have found that the most successful bloggers do this and it's really the key to their success and I'll explain more in detail why and how to gain the confidence, courage and motivation to do it for yourself.
Mark Your Calendars for October 7th – November 7th!
*Registration begins September 10th to the general public but if you sign up for the e-class newsletter, you will be notified on September 7th with pre-registration details so you can get in before the others since we have set a limit to the number of students that we feel comfortable teaching per session.
See you in class! xo
(image: leslie shewring styling + photography)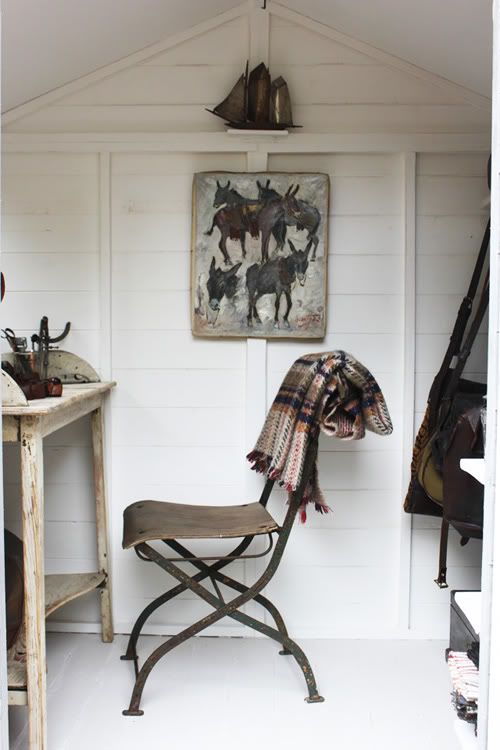 It seems like whenever I read a success story some idea was formed in a shed or a garage. Have you noticed that? It's a riot. From computers to candles, I imagine garages and sheds all over the world with this glow around them and little light bulb moments by the millions happening every second. I was telling my husband just yesterday that I need a shed! And we had a good laugh about that. But it's so true, when one has a space of their own to go a bit wild in from a creative standpoint, so many cool things can result.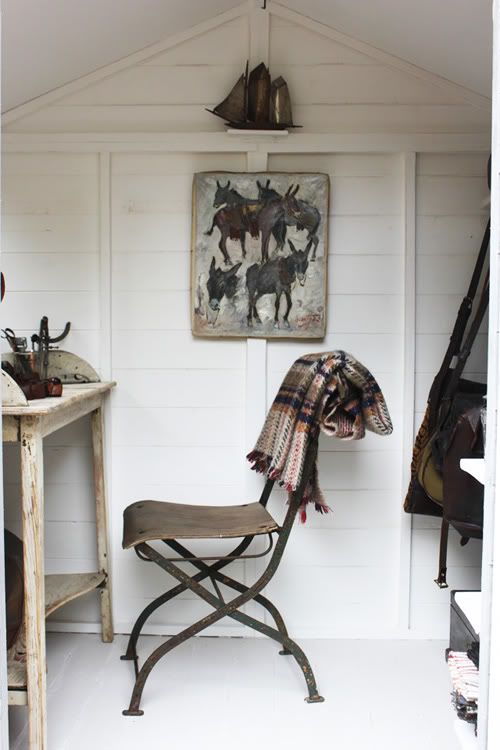 I guess that's why I love what Artemis Russell and her husband Nao Utsumi have done to be creative at home. Nao is from Japan but has lived in England since he was 18 and his wife, Artemis, is from the Isle of Wight. They live in England and write the lovely blog Junkaholique but that's not all…  They spend their days collecting and gently restoring vintage things from the UK and France to sell in their online shop (THE BUCKET TREE) but they also make gorgeous jewelry that they also sell online (RUST) — all created in their individual workspace – sheds! Not one but two sheds! Artemis sews and weaves and makes things in her crafty shed and Nao does his work in his cool shed too. I mean, hello – how inspiring is this?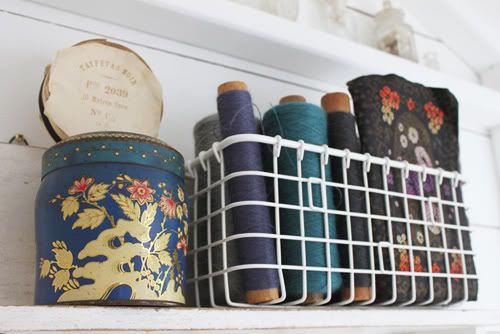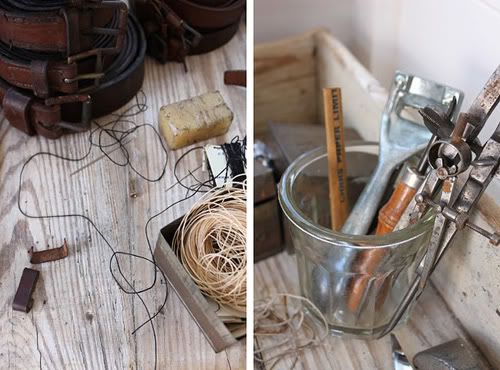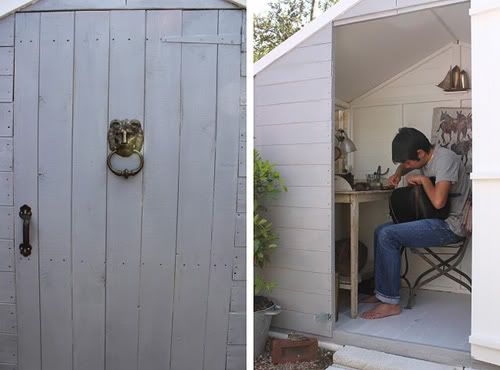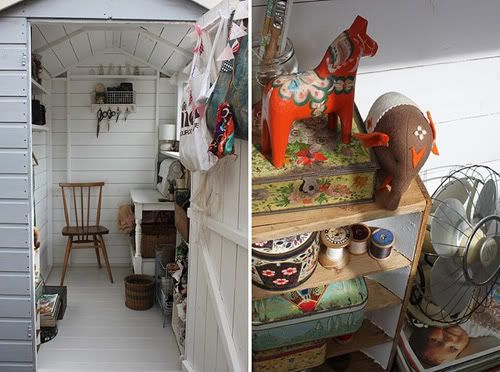 In our home, my husband has his own creative workshop – it's a room where he has his computer, instruments, photo equipment, collections, books, everything he loves is in "his room". And then I have "my room", a large light-filled workspace with a massive table for spreading things out, crafting, hosting girly nights, stuff like that. And then we have our bedroom and other common areas where we mix and share the space. I am a big believer in sheds, garages, attics, basements or spare rooms (even corners of rooms) where a person carves out their own space that their partner doesn't interfere with – so in my husband's room I don't influence any decorating decisions and I certainly let him have his privacy and I never touch his collections – I never walk in without knocking first – it's his space and I respect it. As a result, he is very creative and happy and in there he composes music, takes photos, writes and then of course does his "day job" as well. It works so nicely.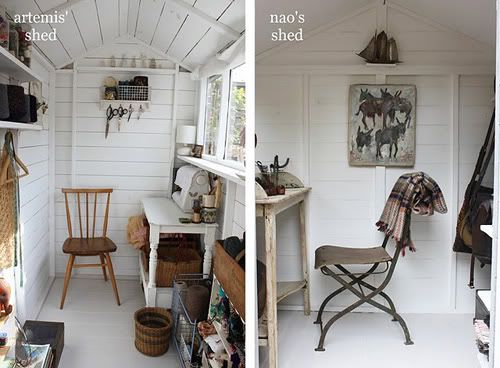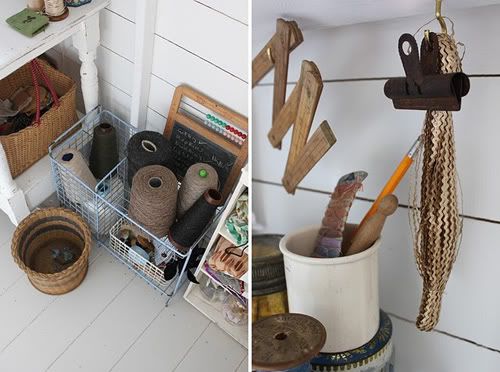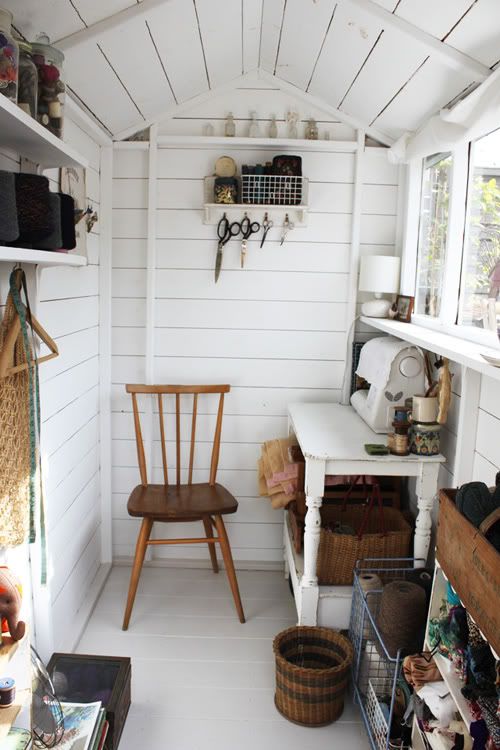 When we are little children, if we don't share bedrooms with our siblings, we normally have our own bedroom. That's where we dream, create, work, explore, imagine. Then we grow up and get married or partnered up and we're expected to merge everything into one space and it's hard! We do it because it's part of being adults we reason, and because the more rooms you have the more expensive it costs to live, but often there is one partner who really wishes that they had their own space and from the homes I've worked in on decorating projects, it's usually the guy who sacrifices so his partner can have her sewing room. This is very generous, and though some guys just don't care to have their own "zone" I think many wish they did — and I imagine it's really hard to not have a room to be creative in especially if a person is naturally curious and creative.
Everyone has different needs, of course, but it's good to see if your partner has those needs for a corner or room to use just for them because it's assumed, sadly, that, "Most men just don't care" and I believe some really do – at least most men I've met love the idea of having a media/computer room or a place to display their collections, etc. An "escape" from the rest of the family is good sometimes!
In my house, we both need our space. We had to pay more to find a place to live in with enough rooms to accommodate both of our needs for creative workspace, but it's worth every penny because we both get so much more done than if we didn't have these rooms to work and dream in. In our rooms we even invite over our friends and often my friends hang out in my room and vice versa, he'll have the guys over a few times a week and they hang out in his room and watch films, talk, listen to music, etc. which is nice for me because then I have the whole house to myself. I think this comes from how we were raised though, my grandparents always had their own space. My grandmother had her room with her piano and my grandfather had his photography room upstairs. My other grandparents had their own space too, my grandfather converted an area below his barn for his projects and my grandmother had her room for sewing, etc.
I love when couples have their own space to be creative if they require it – and I'm all for using whatever you have to make it work, even if that means building little sheds in your backyard or carving out a spot in the basement or even in a closet like Gregory Han has in LA. It's really important to do whatever you can to be creative and to make space for that. Creative people who are involved in making, creating, doing work they enjoy – even hobbies after work – are some of the happiest people on earth.
See more photos of Artemis' shed here.
Photos of Nao's shed.
Their jewelry shop and their Japanese blog (so cool).
Their vintage wares shop.
Do you and your partner share workspace or do you each have your own nook? How does it work for you? Does your partner ever express a need to have their own space to do things they love? Thoughts?
(images: Artemis Russell)