My book tour was amazing, surreal, an absolute dream come true BUT I had little time in each city to shop! Boo hoo! Fortunately though I did get to hit a few nice shops thanks to my friend Leslie who introduced me to this fabulous notions store in San Francisco called Bell'occhio. This store left me inspired and deliriously happy and now I have to play it forward to inspire you as well through this post. I loved the whole European vibe of it, it's always interesting to see how an American translates their European travels and inspirations into something that feels authentic to them. I do this when I travel and bring things home as well, it's a fascinating process with often equally interesting results.
(above: a gorgeous Polish paper chandelier – I blogged about these awhile back, you can read the post here for more info.)
Have you heard of Bell'occhio before? Oh dear, it's quite the store for those who love the finer things when it comes to ribbons (imported from Switzerland and France), paper products, jewelry (made by the shop-owners husband), threads… I could go on and on.
(above: I love faux wall treatments done right. This faux bois is done so, so right!)
Leslie and I were in heaven, nearly getting a parking ticket since we overstayed our welcome by at least 30 minutes. I didn't want to leave, and when I saw the adjacent studio space to the shop where she handles her online business, I was even more inspired by the sheer beauty of it all. What a gorgeous space!
(above: this looks very German to me – maybe it's the pretzels? I also love the peek-a-boo ceiling.)
(above: such a nice display idea for ribbons)
(above: the storefront made me smile, so pretty)
I snapped some photos with my iPhone, so the quality could be better, but at least you can get a sense of this store so that if you are a lover of all things pretty you may be enticed to visit Bell'occhio in person or online.
THANK YOU LESLIE for sharing this shop with me!!!!
(images: holly becker for decor8)
I've been meaning to write a post about Paris-based store Astier de Villatte for over a year now but kept forgetting or found myself onto something else (my attention span can be so short, if I were a dog I'd be a golden retriever for sure!), but today this will change because I'm focused and ready to share my ceramics obsession: Astier de Villatte.
In fact, when I was at Liberty in April I vowed to tell you about Astier de Villatte ceramics even then, especially after using some of their pieces in the table styling demo that we did in Liberty's dining room (we used the Marguerite side and dinner plates, Marguerite Tea Cup, and the Conserve vases in small and medium shown below and a few other miscellaneous pieces).
I imagine food served on these plates would look that much more appetizing and I've decided to start working on my collection of them, one piece at a time, since I currently don't own a single one. Perhaps one day I will own an entire Astier de Villatte table collection and fill my gray French vitrine with them – I imagine they'd look gorgeous inside of it and on my table as well. I'm quite pleased to finally have found my dream set of dishware. It sounds a bit materialistic and almost vain to say that, but to date, I've never found dishware that I was completely smitten by and I've been searching for a long time.
My current plates are basic plain white porcelain and my last set was plain white with a rim from Crate & Barrell, and though I liked them quite a lot, I didn't love them – they weren't something I would imagine passing down to my grandchildren. In fact, when I relocated to Germany I sold them at my yard sale.
You see, like many of you who "get this",  I've always wanted something (china particularly) to pass down because there has to be something of value, tangible at the end of the day other than tweets and blog posts or mass-consumed goods from the local big box store.
When my husband's grandmother gave us an entire tea service for our wedding gift, something she had used for years, I teared up – it had and still has great meaning in our family and now that she has passed away she is still seated at the table whenever we use it. Though Astier de Villatte is a dream collection for me to own, I imagine building a collection piece by piece so that I can serve guests and someday, hand it to my children and they can pass it on… I want to start investing in a few things like this – in a world full of chaos, mass consumption, Made In China, war, terrorism – maybe a plate is a rather mundane thing to place emphasis on but I believe that the physical things in our "world" at home are bookmarks and links to our memories, to places, to things… and those can help us to feel a part of our own community and a bit connected — a feeling of belonging and love that can be felt through taking tea from your grandmother's tea service because you remember when you would sit with her using that same tea set when she laid the table.
Shopping is often dubbed, "retail therapy" and attached to negative feelings or consequences – but it doesn't have to be like that. It can be joyous and meaningful at times. I don't believe going into a big store and spending $100 on a cart full of plastic junk is joyous and meaningful. Most of that stuff ends up in your spring yard sale. I know, I've done it many times in the past. Quantity isn't the goal. Quality is important and when it comes to certain things, like handmade goods, quality often comes with a much higher price tag. You can't always afford everything to be "special" or meaningful though, let's face it – that's silly. But some things should have meaning, whether they are passed down to you from others that you love or found in a special shop that you enjoy, or of the highest quality. I sip my Kusmi tea a lot slower than I drink my Twinnings. It's not because I don't appreciate both, it's because the quality of one surpasses the other so the experience is better and because it's more expensive, the experience is also less frequent making it special.
Would you like to see some photos of their shop taken just a few weeks ago by Aussie photographer (aka roving globetrotter reporter), Jillian Leiboff?

When shopping for decorative accessories, or even pieces of furniture, why not save for the cherished piece? Not everything need be the absolute best of the best, or even The feeling of collecting a piece of Astier de Villatte bit by bit, building the collection over time until it is complete, could be a nice memory passed down through these pieces to my future children. For my kids to know they had a mom who really took the time to collect something useful that had meaning and value. Who doesn't look back with fondness on a parent who cared about creating meaning?
I know I'm going down a totally random path with this but I see great value in some material possessions, not all, but some and I encourage others to think more about how something can add a layer of meaning to your life.
With each piece from the collection shown above handmade in Paris using black terracotta clay in milky white glaze allowing for the black to peek through ever so slightly, what's not to cherish about these pieces? While they appear to be quite delicate they are known for being extremely durable and are perfect for everyday use. They are even microwave safe and can be placed into the dishwasher… like I needed more reasons to want their dishes and mugs… I love their uneven forms which are quite thin and based on 18th and 19th century shapes, their irregular surfaces, occasional air bubbles, in fact their organic shapes appeal to me the most.
Astier de Villatte also carries their own beauty products, candles (available online at Barneys) and a carefully curated selection of antique furniture but it's their ceramics I love most.
* The Astier de Villatte store at 173 rue Saint-Honoré in Paris.
(photos: store – Jillian Leiboff, tabletop decor – Tiffany Kirschner-Dixon)
I'm happy to be able to share a fresh new shop tour today on decor8, this time in Paris, and the store is called Merci shot by fabulous Australian photographer Jillian Leiboff. If you've ever needed shop suggestions for Paris it's quite likely that Merci was suggested to you as an absolute go-to source for all things interior-related. As you scroll down, you'll soon see that Merci is a gem, the Liberty of Paris or so I've been told. But first, a little Merci history… Lots of us suggest is to friends but do you know much about it? I did some research and discovered that there is much more than beautiful things in a gorgeous environment, Merci has a beating heart – it's a store with a story and a soul.
Marie-France Cohen (who is sister of the late Annick Goutal from the prestigious perfume brand of the same name) developed concept shop Merci in 2009 after the success of her lovely children's brand called Bonpoint which has been around for over thirty years. In her sixties now, Ms. Cohen could have decided to keep everything comfortable after selling Bonpoint but instead, she decided to play a game of chance and open up shop again – only this time, a totally new concept and Merci was born
Merci has a cafe with walls of books to browse as you eat (you can buy them for between €3-10 each), a cafeteria, fresh flowers, clothing and lots of interiors accessories, furnishings and lighting. Merci is flooded with light, 1,500 square meters in size (around 15,000 square feet) with 10 meter high ceilings and loaded with inspiration at every turn. What makes Merci and shopping there even more special, in addition to the obvious beauty and selection, is that it is the only store where 100% of the joint profits are donated through a foundation to associations that help women and children in Madagascar, a country in which Merci and Marie-France Cohen has developed a special alliance.
Merci also works regularly with brands like Isabel Marant, Azzaro, Stella McCartney, Kris Van Assche, Paul Smith and others to create a unique piece to be sold there 30-40% less than in their shops.
A mix of old, new and commissioned work, Merci ("thank you" in French), is definitely on the top of my must-see list when I'm in Paris next month. When my friend, photographer Jillian Leiboff, was there recently on vacation, she photographed the store and so all of these pictures shown were shot by her to share on decor8 and I'm so grateful for her lovely work – thank you Jillian!

Isn't Merci just grand!? What are your favorite must-see shops and restaurants in Paris so I can visit some of them?
Merci is located at: 111 Boulevard Beaumarchais, 75003 Paris, Tel: 01 42 77 00 33, Métro station: Saint Sébastien-Froissart.
More beautiful photos of Merci (the store changes constantly so it looks a little different now as the photos above show.)
(images: jillian leiboff)
I'm so happy to see more Anthropologie stores moving into other parts of the world. I know my Australian friends are begging to have one down under, and that little me here in Germany cannot WAIT for one to open in hopefully Hamburg or Berlin at some point – my fingers are crossed! And then the Canadians… tempted right over the border for so long, poor things! They waited long enough so now that Anthro has moved into the land of the infamous "eh?" I am so happy for my friends there.
This is their fifth store in Canada and Vancouver was a great choice because my friend Julie Cove lives nearby and I know she'll keep them in business. ;) Seriously, so many stylish people live in Vancouver and neighboring areas, like Vancouver Island, that I'm sure they are just tickled pink having a new Anthro shop nearby. I know blogger and photographer Amanda Gilligan from Mocking Bird is. In fact, she asked me if she could shoot the store on opening night for decor8 (and for her own blog, of course) and I told her to go for it! Would you like to see some glimpses of the store?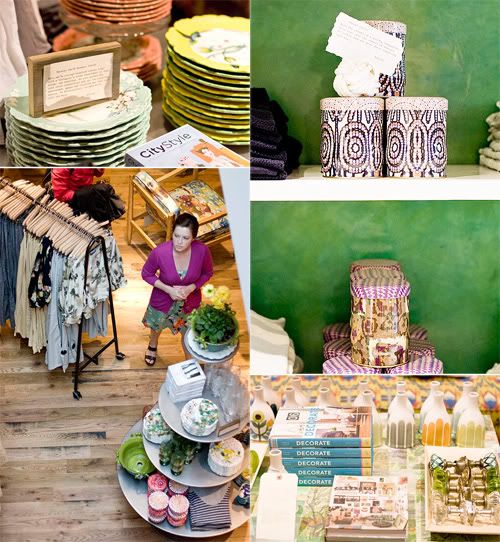 I love that bold kelly green wall color…
Aren't those wooden pendants the best? Anyone know who designs them? I also love the tabletop, it looks like a painting and so I wonder if it's a table design by the amazing Leslie Oschmann of Swarm in Amsterdam? Hmmm.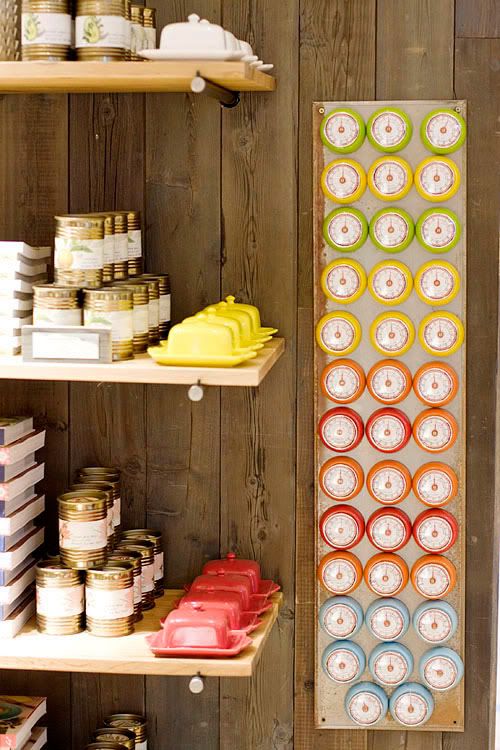 I love seeing magnetic timers-as-art. Fun!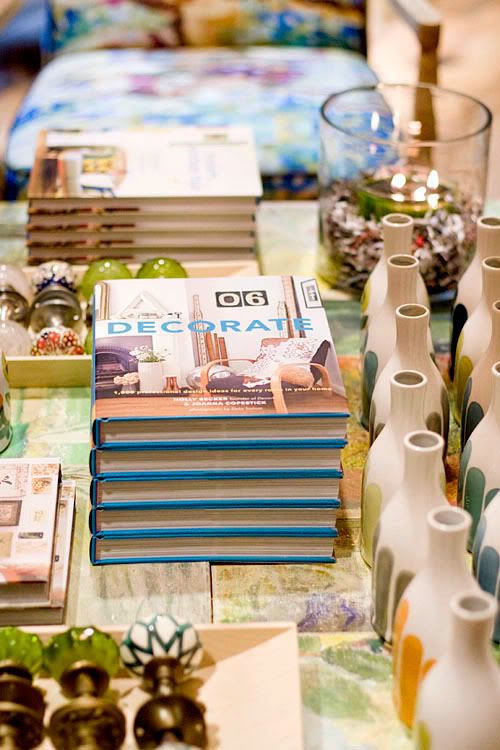 By the way, Amanda took lots of shots of my book, I know, but I swear I didn't ask her to – in fact, when I got her email with the photos I thought it was really sweet of her because I really do love seeing it in their new Vancouver store on opening day! Yay! Thank you Amanda and I hope you'll visit again in the future with other nice shops that you've photographed.
(images: amanda gilligan)