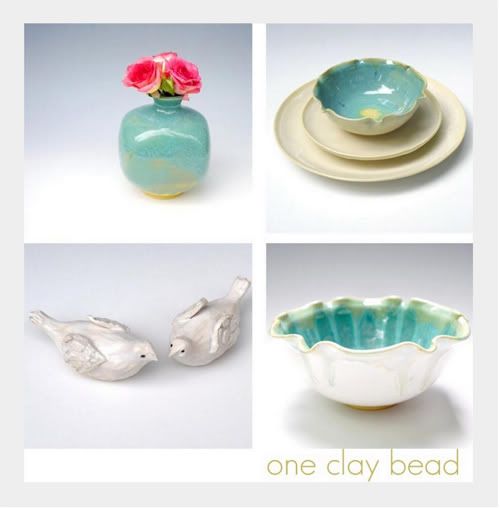 Hello again decor8 readers. This is Heather from Gathering Spriggs and I am back today to share with you five stellar Etsians while Holly is away in Copenhagen this week working on her book project. As I gathered these treasures together like a wildflower bouquet from a wooded walk, I realized my intuitive attraction to each shop came from their reminiscence of days gone by filled with the color of faded robin's egg blue, scalloped edges, and a simple connection to nature. So without further ado here are few treasures to share with you today… (hope you enjoy this gathering of simply stated wares as much as I have).
The first shop plucked from today's bouquet is One Clay Bead, the functional handmade stoneware serving, dinner and home decor pottery pieces from Asheville, North Carolina. Each piece is handcrafted from a life long artisan whose creations are honed from the natural surrounding of the Blue Ridge Mountains and consciously created with environmentally friendly processes. These pieces are not only beautiful, but durable, functional and sustainable.
Another such artist inspired by nature is Tricia Brink of Lynden, Washington, who wears many different creative hats including three Etsy shops, and a brick and mortar store shared with her mother and sister. But today's feature is her etsy shop, Wesley Asher, which focuses on all things natural, textural and pastoral. To me these works breathe timelessness with upcycled elements and a nod to past yet updated by Tricia's incredible eye for design.
Next posy to pluck is Mail Order Vintage a fun vintage shop whose shopkeeper has a similar addiction as mine, hunting and gathering at second hand stores bringing home faded objects and making them new again with a feminine touch. She dabbles in clothing, vintage linens, housewares, and accessories, from Hamilton, Ontario, Canada all with a subtle granny chic vibe.
Another one of my personal favorite jewelry makers on Etsy is Amy Kelly of That Winsome Girl who creates soft, feminine pieces with a touch of vintage. Based out of Lexington, Kentucky, Amy crafts as a way of life, a passion which comes as naturally as her love for baking.
Lastly but certainly not least in today's gathering is the well-designed personalized stationary products of Oh Louise! This Dallas, Texas stationer, Eleanor Louise, gives creative credit to her grandmother for inspiration and the name sake of the store. Although she learned from her grandmother using Print Shop as a child, Eleanor now creates each custom card design in Illustrator but her work still holds a timeless quality and nostalgic color palette that I adore.
Thanks again Holly and dear decor8 readers for having me back today!! Hope I see ya around again soon. – Heather.
(images linked to their sources above)
Etsy Take Five Tuesday this week has a little something for everyone and I've arranged them into two sets: Girly and a bit more graphic with a mini bonus set of some pretty portrait paintings that I found from an artist who lives is Israel. I know it's not your usual five sellers but sometimes I get bored with that format! I hope so much that you enjoy these little picks for your shopping basket today!
1. Vintage tennis rackets (certainly must be great for decorating, hang them over a bed in a guest bedroom!) from Bright Wall Vintage, 2. Chez moi screen print from Fric de Mentol, 3. Handmade vegan shoes by The Generation, 4. Felted art by Julie Blanchette, 5. Calm photograph by Aimee Clare and 6. Little Lamb Organic Hat made by SweetPeaToadTots.
Originals and prints of beautiful girls by Tush Tush
1. Flowers in Greece print by Art Quirk, 2. Stripe handbag by BKK, 3. Handmade vegan shoes by The Generation, 4.Pillows by Marianne van Ooij of Soap Studiooos, 5. Doggy letterpress print by Tag Team Tompkins and 6. Darling Clementine cards.
(images linked to their owners above)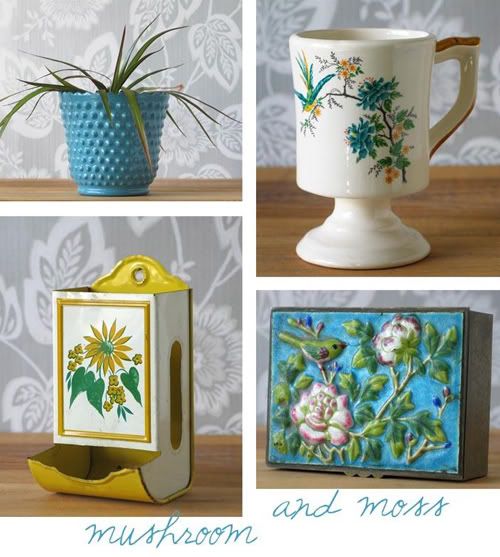 Greetings decor8 readers! This is Heather Spriggs Thompson from Gathering Spriggs based out of Nashville, TN and I am here today as a guest columnist presenting Etsy Take Five Tuesday with some of my personal favorite etsy sellers! What an honor to be here filling in for Holly while she is in London for her book. I will be back next month (June 1) for more favorites when she is working in Copenhagen. Yippee! Hope you enjoy this collection. Can you tell I heart pink, aqua and golden tones? Its the theme today… dreamy spring pastels.
You may know the beautiful work of photographer Cori Kindred but did you know that she also sells vintage housewares in a shop on etsy called Mushroom and Moss Vintage? Her familiar style and love for nature and thriftiness shines through in this colorful, quirky mid-century shop. Based out of Portland, Oregon she is part of a creative circle and I especially love the styling of her vintage finds and of course the photography is perfection!
Nestables has beautifully sewn objects for the home such as pillows and banners from many of my favorite textile designers like Amy Butler, Anna Maria Horner, and Joel Dewberry. Based in Ohio, this crafter loves to nest and create sweet lovelies for her home and yours too.
The dreamy work of Los Angeles artist, Zuppaartista, makes me start California dreamin'. This is ethereal photography with an artist's eye and a nostalgic hue. If you love LA or need a souvenir of your recent Pacific Coast visit then this shop is for you!
What is not to love about these precious toss pillows? Pastel hues, graphic and whimsical typeface sewn on with words of comfort… Ahh… heavenly. I could just curl up right now. These treasures are handmade by Lana of Honey Pie Design who is a New York-based graphic designer and stay-at-home mom extraordinaire who sews for her daughter and for the love of crafting. "I love working with my hands and am inspired by colors, patterns, textures, be it paper, fabric or yarn," Lana says.
Margot Bianca is the shop of an incredibly talented textile designer who is a practicing studio artist that also enjoys selling functional products. I fell in love with her work about a year ago as I was looking for some napkins for my home and spotted her Seedling Dinner Napkins (shown above) in my favorite color: coral. Her work has a global flare that works perfectly for summer dining alfresco. Her designs are influenced by Indonesian and Indian designs and created  using traditional batik techniques. For more info about her process read her profile page.
Blessings today and see you back in a couple of weeks! – Heather.
Good morning friends! How are ya? I hope that you are ready for Etsy Take Five Tuesday because I thought I'd get started early on this column today. You can shop for art prints, cosmetic bags, cute slippers, porcelain jewelry, mid century vintage goods for the home and more. See what you like and have fun viewing today's picks! Oh and just so you're in the loop, next Tuesday I have a guest who will be here to share her favorite etsy shops since I'll be in London so you won't miss a beat!
Sophie Blackall. "Sophie Blackall has illustrated over fifteen books for children and her paintings and three dimensional works have been exhibited in galleries in Sydney, Paris and New York, which sounds like a shopping bag but is actually true."
Lila Ruby King, "I am an Australian designer, currently based in Athens, Greece. I have a Bachelor of Arts (Hons) in Visual Arts, majoring in printmaking and with a minor in painting. I have since completed a Certificate IV in Jewelery Design and Manufacture."
Jonty Bloom. "I am an artist living and working in Brooklyn, New York. I like color. I like nature. That's why I live in New York City!"
Ameelia Bedelia."I am a self-proclaimed pack-rat who gets way too much excitement out of very old things. I love the patterns, shapes and textures that came out of the mid-century era. I love discovering little pieces of history and using them to transform my space. Buying vintage is the ultimate in recycling, and I believe that used and re-used items have so much more character than what you find in stores today."
JuJuBaju. "I'm Leila. Wife to a hardworking-so-I-can-stay-at-home-and-be-creative husband and mama to two beautiful-if-I-don't-say-so-myself girls. We live in Winnemucca, NV. If you've every driven on I-80 you've probably stopped here for gas."
(images: linked to their sources above)