I never tire of fluffy colorful pillows, it's a sickness I have and baby, I'm not looking to be cured so don't even try! It's the one accessory that I turn to when I need to freshen a corner of my home. I've confessed a million times before that I'm completely aware of my design ADD and tire of things quickly, but I'm not the only one. It's perfectly normal for design addicts like us to tire of things we look at each day. Since most of us can't replace the sofa that we're not sick to death of, we have to find alternative solutions to make things fresh and current. This is where our puffy friends step in…
When designing on the cheap, I look to pillows, throws, area rugs, affordable art, and mini collections of things carefully styled to turn up the volume. A tip for pillow addicts, try to purchase pillow covers that either zip or button on and keep reusing the inserts as you swap out the patterns each season. They're also easier to store this way, just fold and tuck away into your linen closet. And always use down inserts because they make the entire pillow look better and more relaxed than those overstuffed polyfil ones, and never, ever karate chop them because despite how many times you see this done on television, it really does look dumb. Freshly chopped pillows arranged like little bow ties give me that same oh-no-please feeling that I have whenever I'm watching some design show on TV and there's yet another throw rug shown on an angle. I think Becky from Design Public's blog Hatch will laugh when she reads this, as I know we've had many a conversation about weird design 'tricks' we've seen on reality shows that in real life, look odd and dated – not in a cool vintage find way, more like in a parachute pants way.
I just adore the bold graphics on these L?onor Mataillet pillows available at Pure Deco, and of course the folkloric prints on the Atelier LZC cushions.
(images from pure decor)
Have you heard of the online fabric shop called Volksfaden based out of Berlin? Volksfaden, translated as the "people's threads", have such an exciting array of fabrics imported from Japan and the United States. I'm tickled to learn about Volksfaden because when I'm in Germany I never know where to find such fabrics and now I do, I can order from a local online fabric store in case I require some additional yardage for a project. Shipping will be a breeze.

With names like Amy Butler, Kyo Yasai and My Folklore by Lecien, Free Spirit, Erin Michael, and Joel Dewberry, you can be certain that there's something for you. And check out how they collage fabrics with vintage photos on their website. The more I look at them, the more I think of mixed media collages and what a great idea this would be for creating mini DIY art.
Thank you Linda for writing to me today about your shop. It's great.
(images from volkfaden)
I introduced you to the ethnic prints and patterns of Akasha recently, their collection of bedding and pillows each handmade in India and are really luxurious, each with intricate details and lovely colors. This collection is perfect for those of you looking to bring ethnic prints into the home in a more subtle fashion, they blend so well with the modern home.
Best part, Akasha is now offering decor8 readers 30% off their total online purchase, simply enter DECOR8 upon checkout. Hurry! Offer ends September 21, 2007.
Thank you so much Akasha for this very generous offer!
(images from akasha)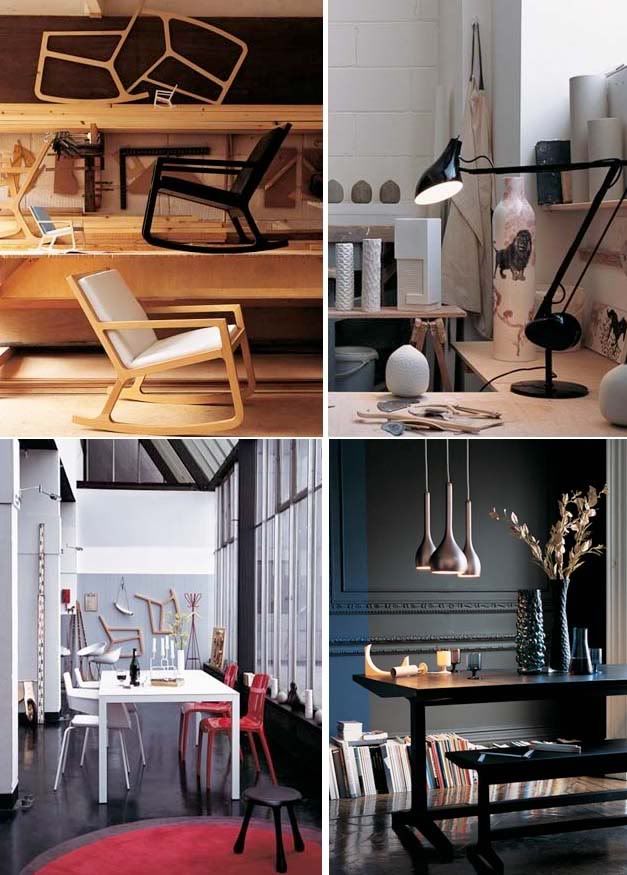 One store that I always look forward to visiting when in Germany is Habitat in Hamburg, where there's both a retail store and an outlet. I have to take photos for you this time when we go, you'll love it. Hamburg is so beautiful and this store is such a pleasure to shop because it's both affordable (the prices are in the West Elm range) and ultra stylish and chic in that European way, the way we all seek to recreate in our own homes here in the states.

I just flipped through their Fall/Winter '07 catalog and decided that I'm going to try to fit the Concetta vase in my luggage, I absolutely adore the pattern and colors on it. It's designed by none other than Concetta Gallo for Habitat. She is amazing.

I really like this affordable rocker, I see it in about a million different fabrics that I'd use on the seat, but I highly doubt I can fit this in my carry-on bag. :) The Concetta rug is fabulous as well, but again… Not going to fit on the plane. But if you live in Europe, most likely there's a Habitat store near you.

In addition to the styles and deals, another major perk when shopping Habitat, at least in their Hamburg store, is that there's a wallpaper section where you can buy fabulously hued rolls right on the spot. I love this, I wish stores in America sold wallpaper in their showrooms, such a great idea and it makes shopping for wallpaper super easy when it's right there alongside the great sofa or chair you're planning to purchase.
(images from habitat)