I know… Book tour, book tour, book tour! Marsha, Marsha, Marsha! But hey, this kind of thing is pretty huge and I have to keep you in the loop so we don't miss one another when I'm stateside! I leave next week for America to kick off my tour for Decorate and I'm thrilled that the Anthropologie workshop events (remember: bring some things to pin that inspire you that you don't mind leaving behind) are all officially full. If you've RSVP'd and received confirmation from Anthropologie you are in so please arrive on time and ready to participate and have some fun. I'm looking forward to meeting EVERYONE so even if you couldn't get in for the 30 minute workshop (they have limited seating) at the beginning then I hope to see you during the book signing portion of my visits immediately following that are open to the public (see invite below) plus I'll have a little gift for everyone, we'll be taking photos and I'll introduce you to some special guests. We can network and have some fun!
Above is the updated invitation for those unable to make the workshop – the times listed above will be when the actual book signing and mingling will take place. Yay!
BY THE WAY… Decorate has sold out for the third time in the US so you cannot order the book online at places like Amazon currently without a long wait time (it's being reprinted), but the great news is that Anthropologie has copies set aside for you so everyone attending will be able to purchase one that I can sign in the store.
We'll have such a great event all within the inspiring walls of Anthropologie and frankly, I can't wait! I am a bundle of nerves and happiness — I'm about to meet so many of you, and I'm traveling alone leaving my husband in Germany so this is a big deal for me and so I'm realllly looking to all of you to make me feel at home because this is not something I've ever done before – I mean a book tour? Hello! I have no idea what to expect but I'm ready, excited and can't wait to meet as many of you as I can.
(image: anthropologie for decor8)
Hello friends! I have a Paris shop tour coming up for you but since it will take me a few hours to work through all of the images, I've decided to wait until Monday so that I have something prepared for you to look forward to next week! Plus, I've had a long week and I'm ready to start my weekend! It's after 7:00 p.m. now and all I want to do is prepare dinner and go to the local music festival to enjoy the night air, good tunes and some twinkle lights…
I can't believe that in exactly two weeks from now I'll be in Boston – I'm so excited to be flying back home for this (are you coming?)  I have a lot to do to prepare for my 13 day trip abroad to America so I imagine my schedule is about to go from tame to insane but who cares, this kind of thing only happens once in a lifetime so I'm totally going to enjoy the moment and most importantly, meet as many of you stateside as I possibly can!
How about you, what are you up to lately? I hope you happy, feeling inspired and motivated, getting some good work done, enjoying your family life, connecting with your friends and taking in the summer sun. It's a nice time of year to linger in parks, at the beach, in your backyard… We need a little lingering… some relaxation does us good because it inspires our work. We are better at what we do when we approach it with a willing spirit and positive energy.
See you on Monday!
(image: holly becker for decor8)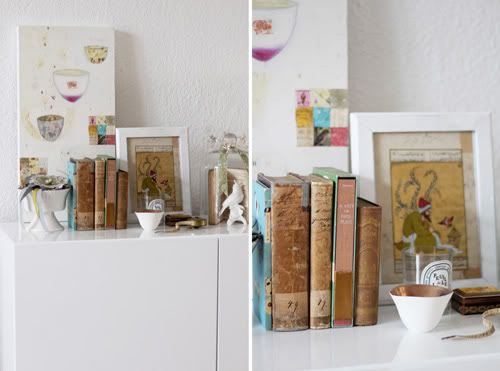 I like white things. I like gold things. I like new things. I like old things. What I don't like is the nagging voice that reminds me of what's missing. Here's a corner of my home that I stumbled upon this morning, paused, and said to myself, "I quite like that". Sure, I need to hang my art and get some wallpaper… but it's also fine just the way it is.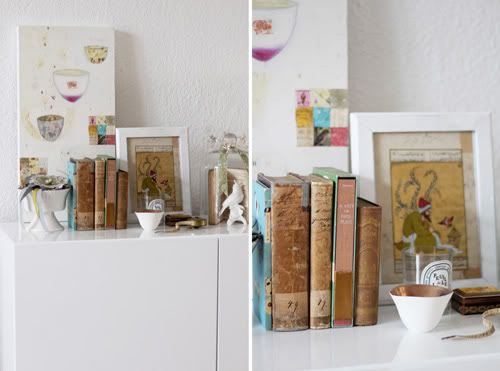 Sometimes we need to live in the moment and be perfectly content with what we have and forget about the projects pending, the ugly bathroom tile, the floors in need of a good scrub. It would do us some good to simply pause and say, "I quite like that," whatever "that" is, and just leave it alone, walk away, and feel good about accepting what is without worrying one bit about what it is not.
(image: holly becker for decor8)