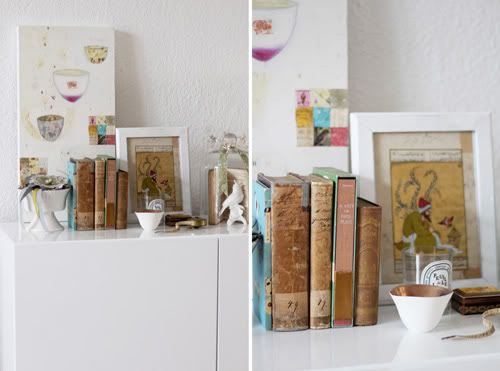 I like white things. I like gold things. I like new things. I like old things. What I don't like is the nagging voice that reminds me of what's missing. Here's a corner of my home that I stumbled upon this morning, paused, and said to myself, "I quite like that". Sure, I need to hang my art and get some wallpaper… but it's also fine just the way it is.
Sometimes we need to live in the moment and be perfectly content with what we have and forget about the projects pending, the ugly bathroom tile, the floors in need of a good scrub. It would do us some good to simply pause and say, "I quite like that," whatever "that" is, and just leave it alone, walk away, and feel good about accepting what is without worrying one bit about what it is not.
(image: holly becker for decor8)
Kinfolk is a new American e-magazine with a focus on simple entertaining available both online and in limited print runs. If you don't spend a lot of time and energy on the preparation of food, knowing the ingredients, or getting all hot and bothered when you find an amazing new food gadget, Kinfolk just may be the magazine for you. There is a big trend called eating in and it doesn't have to be complicated – it just involves sharing time with those you love. Here are four of my favorite pages from their debut issue.
"Kinfolk is a collaborative effort to encourage a more natural approach to entertaining. It's the marriage of our appreciation for art and our love for spending time with family and friends." This reminds me of my life in Germany where food is all about sharing time with family and friends – at home, in restaurants, in beer gardens, in parks, on the lawn — people really spend quality time and linger over meals and I love it. It's not uncommon for neighbors to put a table and benches on the sidewalk and eat together in the summer months. In my new culture, there is even a daily cake and coffee hour at 4:00 p.m. and Sunday is still considered the day in which to prepare a big family meal. It's this Gemütlichkeit that I love the most about living in Germany and being at home with friends here.
How do you spend time at home with your family? Do you have a meal schedule? Do you wing it? How often do you entertain? Do you have a day of the week in which you prepare a special meal? Do you do fish on Fridays (my grandmother always did)? Do you cook a large meal on Sunday or another week day?
Tasty!
(images: screenshots from kinfolk mag)
You are going to love this home + lifestyle brand from the Netherlands! I wrote about HK Living over the winter since I first found them during a business trip in Hamburg at that time, but they've since launched gorgeous new products and offered to give decor8 readers an exclusive first peek – so here you go my friends! Drool like a fool along with me! :)
As you may have noticed, the whole industrial ethnic chic vibe is huge over in my part of the world. My home has touches of this trend as well. How about where you live?
I personally LOVE all of the natural materials combined with gray and black with shots of bright color, ethnic touches, and the overall relaxed vibe. It's so inspiring, global and attainable. What do you think? See anything that you like from the photos above? What is missing in a collection like this that you'd like to see more of?
(images: Isabella van Reeuwijk for HK Living)
It's no secret, Berlin is the creative capital of Germany. While Hannover may have just been voted the greenest city in the country with 20% being parks, forests and gardens (we have the largest natural city forest in all of Europe behind my house), Berlin definitely has earned its reputation as an international city where creatives work and play. It's an inspiring place – gritty and pretty in some parts – eclectic, quirky, etc.  The cost of living is still relatively low compared to other cities in Europe, especially for the types of living spaces that you can rent in comparison to say, Hamburg, London or Copenhagen. It's nice to be able to actually afford to live nicely while still pursuing creative interests and even starting your own business. Right!?
So many love Berlin for many reasons, but for me, I feel inspired when I'm there surrounding by its 180 museums, stores, quirky districts, flea markets, Turkish market, exhibitions, random art galleries sometimes hidden behind buildings, music fests, cheap eats… That is why in mid October I will co-host yet another creatives & bloggers meet up there in collaboration with some incredible people and sponsors so we can make it happen – inspire each other, share, learn and create a positive energy that will motivate all to leave with a good feeling of community and support. We need that. I'll post more about the event as plans are confirmed.
Loved this video of Berlin-based fashion designer Esther Perbandt, her clothing is amazing and I like how she collaborates with others who inspire her to create her collections. See her workspace here.
Great room divider idea!
Fun, quirky table
If you are curious about Berlin and the types of people living there then you have to check out "online interview magazine" (or blog), Freunde von Freunde. I've talked about them before, but they have lots of new content and they are even taking their concept to London and Paris to spotlight creatives living in those cities as well. I was selfishly hoping we could keep FvF for ourselves in Germany, but that's okay, their goal is to open eyes and share what's happening all over Europe and so by creating new city spotlights on their site, they are able to reach more people. Good for them.
I must admit though, major cities get plenty of press when it comes to who is living in them and how they live and work — there is no shortage on the web of inspiring homes in Paris and London. Same goes for print publications as well. But most of the world isn't really in the know when it comes to what Berlin is like, or even Germany and the creative indie scene here for that matter as in who lives there, the cost of living, what people do for fun, what people are creating and where. Before I started visiting in 1999, I had no idea what was going on in this part of the world when it came to design and art. With so many in this country working hard to make a name for themselves (and for their country), there has been a lot of change in the last decade so definitely visit FvF to tap into what is going on in Berlin — a fascinating, creative German city.
My hope though is that instead of focusing on London and Paris because those places get plenty of attention, that FvF will share the way people live and work all across Germany and German speaking countries — not just Berlin but in Hannover, Hamburg, Munich and over to Vienna, Zurich, etc. And of course, cities that don't get so much "love" outside of Germany like random towns in Belgium or even parts of Poland. I mean hello, who wouldn't love to see how creatives live and work in Warsaw with English text so the rest of us can learn? Sign me up. I'd love that. There are plenty of us with interesting lives who live in un-hip cities that may even be called boring cities — but we are still doing creative work so I'd love to see more diversity online and in print when it comes to showing how and where people live. But Berlin is a great start, and while it's a massive city, it's still underexposed to the rest of the world so I'm all for FvF and their mission in opening eyes to what's happening there. Great stuff.
(images: FvF)