Hello friends! I have a Paris shop tour coming up for you but since it will take me a few hours to work through all of the images, I've decided to wait until Monday so that I have something prepared for you to look forward to next week! Plus, I've had a long week and I'm ready to start my weekend! It's after 7:00 p.m. now and all I want to do is prepare dinner and go to the local music festival to enjoy the night air, good tunes and some twinkle lights…
I can't believe that in exactly two weeks from now I'll be in Boston – I'm so excited to be flying back home for this (are you coming?)  I have a lot to do to prepare for my 13 day trip abroad to America so I imagine my schedule is about to go from tame to insane but who cares, this kind of thing only happens once in a lifetime so I'm totally going to enjoy the moment and most importantly, meet as many of you stateside as I possibly can!
How about you, what are you up to lately? I hope you happy, feeling inspired and motivated, getting some good work done, enjoying your family life, connecting with your friends and taking in the summer sun. It's a nice time of year to linger in parks, at the beach, in your backyard… We need a little lingering… some relaxation does us good because it inspires our work. We are better at what we do when we approach it with a willing spirit and positive energy.
See you on Monday!
(image: holly becker for decor8)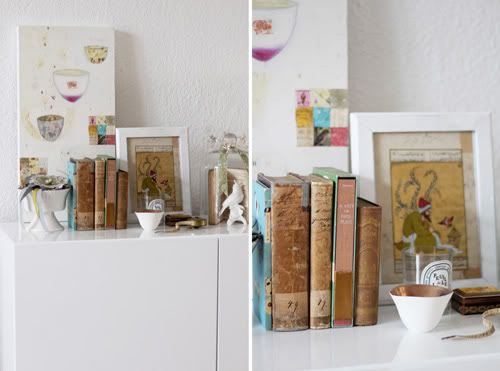 I like white things. I like gold things. I like new things. I like old things. What I don't like is the nagging voice that reminds me of what's missing. Here's a corner of my home that I stumbled upon this morning, paused, and said to myself, "I quite like that". Sure, I need to hang my art and get some wallpaper… but it's also fine just the way it is.
Sometimes we need to live in the moment and be perfectly content with what we have and forget about the projects pending, the ugly bathroom tile, the floors in need of a good scrub. It would do us some good to simply pause and say, "I quite like that," whatever "that" is, and just leave it alone, walk away, and feel good about accepting what is without worrying one bit about what it is not.
(image: holly becker for decor8)
Kinfolk is a new American e-magazine with a focus on simple entertaining available both online and in limited print runs. If you don't spend a lot of time and energy on the preparation of food, knowing the ingredients, or getting all hot and bothered when you find an amazing new food gadget, Kinfolk just may be the magazine for you. There is a big trend called eating in and it doesn't have to be complicated – it just involves sharing time with those you love. Here are four of my favorite pages from their debut issue.
"Kinfolk is a collaborative effort to encourage a more natural approach to entertaining. It's the marriage of our appreciation for art and our love for spending time with family and friends." This reminds me of my life in Germany where food is all about sharing time with family and friends – at home, in restaurants, in beer gardens, in parks, on the lawn — people really spend quality time and linger over meals and I love it. It's not uncommon for neighbors to put a table and benches on the sidewalk and eat together in the summer months. In my new culture, there is even a daily cake and coffee hour at 4:00 p.m. and Sunday is still considered the day in which to prepare a big family meal. It's this Gemütlichkeit that I love the most about living in Germany and being at home with friends here.
How do you spend time at home with your family? Do you have a meal schedule? Do you wing it? How often do you entertain? Do you have a day of the week in which you prepare a special meal? Do you do fish on Fridays (my grandmother always did)? Do you cook a large meal on Sunday or another week day?
Tasty!
(images: screenshots from kinfolk mag)
You are going to love this home + lifestyle brand from the Netherlands! I wrote about HK Living over the winter since I first found them during a business trip in Hamburg at that time, but they've since launched gorgeous new products and offered to give decor8 readers an exclusive first peek – so here you go my friends! Drool like a fool along with me! :)
As you may have noticed, the whole industrial ethnic chic vibe is huge over in my part of the world. My home has touches of this trend as well. How about where you live?
I personally LOVE all of the natural materials combined with gray and black with shots of bright color, ethnic touches, and the overall relaxed vibe. It's so inspiring, global and attainable. What do you think? See anything that you like from the photos above? What is missing in a collection like this that you'd like to see more of?
(images: Isabella van Reeuwijk for HK Living)