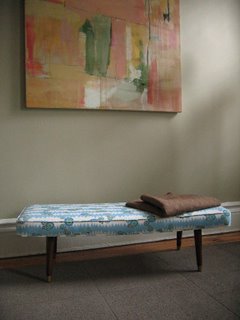 Welcome to a decor8 house call, a new addition to the decor8 website where readers and friends send in shots of their posh pads for our site. Our house calls are random so you never know when they'll pop up! But, when they do, you'll see the words [house call] in brackets next to the post title.
When I saw Lena's pillows and read the article, "25 Shockingly Simple Ways to Makeover Your Home", in the March 2006 issue of Glamour, I was all over it – her space totally spoke to me and I thought it would speak to all of you too. For one, the fab redo that the Glamour SWAT team did for Lena and Josh's Brooklyn vintage modern townhouse was just terrific. Glamour offered tips on where to find special items that won't throw you into the debt doghouse, which we're all interested in! It was the one month that I read Glamour and found something design related that I could relate too. It was nearly a Domino magazine moment!
If the painting above Lena's sofa looks familiar…I loved it so much when I saw the article that I instantly contacted the artist over the weekend, whom I featured earlier today (Elizabeth Schuppe). Then, I kept drooling over Lena's pillows, and so I featured those, too. Lena and I were in contact a few days ago and today, she sent some amazing photos of her apartment and of her amazing art collection, too! I just had to share them with all of you.
Thank you so much Lena and Josh for allowing decor8 into your most amazing space. Your place is fabulous!
Here's your visual candy for the week, design gang! You can also purchase Lena's ties, plates, and pillows on her website, so knock yourself out!


(photos from lena corwin.)
For once, I am speechless. [long pause]
Okay, I'm over it.
I spotted Amsterdam based Oromono at Lekker in Boston and had to touch and hold everything on display. (sorry, Lekker!!!) Designed by award winning British contemporary textile designer Kirsty Anne Powell, Oromono offers 3D beauty with pillows, bags, slippers, baby slippers (sooo cute), throws, scarfs, and fabric corsages. View Oromono's entire collection on their website, or purchase them online at Lekker.
Oromono – design that really stands out!
(photo: top: kirsty anne powell with the cover of met home where her pillow appears. below: photos from lekker home)
Chiasso (key Ah so). Italian. "To cause an uproar or sensation".
These fresh finds from Chiasso, known for offering "inspired design for the home" for 20+ years, will certainly create a stir when your guests spot your new digs. Obsessed with inovation and interesting new design, you can always count on Chiasso to bring you the very best in simple, clean and functional mid-century design. Get the chiasso catalog, or visit them to shop on online.
Here are some fresh finds that I hope you'll like! Also, don't miss thier rugs, the hoopla, dacca brown, concentrics in green, rings, tango, and mirage absolutely rock!
(photos: top: neptune chair, black or white, $498. below: all photos from chiasso.)
spots lamp
, $148 – when seeing spots is a good thing.
fuse hanging panels
, german design by Koziol, $28
great way to separate space while letting in the light!
brass mobileo
, fun dangling earrings for your ceiling! $98 per strand
arc alarm clock
, $38
now you'll really have time hanging over your head
spectrum paper lamp
, $118
if it's color you're craving…
rolo bookends
, $38 (set of 2)
you can roll a rolo to your pal
(except not these, they aren't chocolate + look a little heavy)
nemo fishbowl
, $98
now you CAN find nemo
finch vase
marked down to $8 from $18.
that makes for an ador-a-bird sale!
Ah. A breathe of fresh air. Paintings by Elizabeth Schuppe. Her use of color evokes feelings of serenity and joy. You may have spotted her painting above on page 275 in the March issue of Glamour magazine (USA). Stunning.
With a degree in studio art from Skidmore College, and with her art featured in glamour magazine and currently on display at Tao Living in the west village (nyc), this is an artist worth looking at.
Talented Elizabeth has a keen eye for color and design. She started working as a graphic designer (to pay the bills!), which left her with little time to paint, which is her greatest love. She knew this had to change, so she leapt into painting full time and never looked back. Influenced by the abstract expressionists of the 1950s, she uses the elements of painting itself ? color, line, shape, texture, and light ? to express emotions rather than including recognizable objects. There is no plan in her painting, yet there is definite process. She lets a color or line dictate what comes next.
Visit Elizabeth online or, if you're in the NY area, view her works on display at Tao living. Thanks, Elizabeth, for writing in and for sharing your works with decor8!
Elizabeth Schuppe. She's going places. Hopefully, on that empty wall in your living room.
(Photos: Courtesy of Ms. Elizabeth Schuppe. Painting details available at her website.)