"You know, I have one simple request. And that is to have sharks with frickin' laser beams attached to their heads! Now evidently my cycloptic colleague informs me that that cannot be done. Ah, would you remind me what I pay you people for, honestly? Throw me a bone here! What do we have?"
"But Dr. Evil, sir, all we have is a Twiggy mirror taken from Austin Powers' shag pad."
"That's frickin' unbelievable"
This silkscreened image on PVC 24×24″ mirror with a brushed metal frame is perfect for your shag pad, and the Vanessa in your life, or any Dr. Evil, will absolutely love it. I spotted it for $250.00 at Intermarche, along with a lot of other mod finds from Charles + Ray Eames, Marcel Breuer, Mies Van Der Rohe, Arne Jacobson…so hop to it, baby!
If you're looking for some vintage reproduction and retro themed fabrics, you'll love Repro Depot. They offer sweet little buttons, stationary, and other goodies, too. These fabrics would make terrific wall hangings, pillows, shower curtains, cover a footstool, or even cut them to fit into frames for your wall. Retro Depot carries a large selection and they're very affordable. Time to flashback, baby!
(photos: TOP: fabrics: looped citrus barkcloth $18.95 + light bright pistaschio, $8.50/yd, BELOW: fabric: maxi mondo lime barkcloth $18.95/yd + "Can't Make Me", baby shower invitations $12.95 set of 10)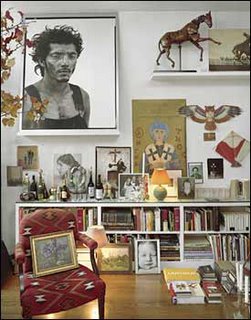 I had to do some research this week on Richard Avedon since I've been looking for a print of his, and I came across a unique look at his former home in New York. For those of you who don't know him, Richard Avedon is a famous fashion photographer, born in NY in 1923, and is known for reinventing photographic portraiture. In 1946, he was discovered by Harper's Bazaar and quickly began producing work for them, as well as Vogue magazine. His photography is famous for it's minimalism, and simply lovely. He's photographed the famous throughout his career, and as result, became famous himself. I spotted an older article about his home, a carriage house in the Upper East Side of Manhattan that was for sale about a year ago, along with a photo tour of his space. Again, it's dated, but still very interesting and visually appealing. Enjoy!
One step into haus and you know you're not in Kansas anymore. You're not in New York, or Massachusetts either. In fact, you're feeling a bit nostalgic for shopping in Europe. When you enter haus, you are transported to splendid Germany, where children's toys are made of wood, and whimsical colors flash before your eyes. haus + haus kids is a dual-duty boutique situated in quaint historic downtown Lowell, MA in the artist's district. A cobblestone street leads the way through a large glass door with a tinkering shop bell. As you enter this open airy space of sheer magic, you may hear the soundtrack to, "Amelie", as I did the day I visited. The store owner, Mirja Troppenhagen, is from northern Germany, which comes as no surprise; most of the children's items are from Germany or other parts of Europe. The store has a unique charm and an atmosphere created for lingering since Mirja is very helpful, but also allows customers to have their space to shop around. Half of their retail space is dedicated to the kiddies (or kids at heart), and the other half features stationary from companies such as Eggpress, along with other beautiful things like Angela Adams bags, candles, serving ware, and some Lotta Jansdotter items scattered about. If you don't live locally, you can shop their website for children's items; they don't sell their home accessories online since thier inventory changes so frequently. If you have children, or have friends with children, they'll love the charm and practicality of European toys. You'll find Haba, Steiff, Selecta, Wendt + Kuhn Collectibles, and more. If you're in the Boston area, take a trip up north to haus and see Mirja, she's usually in the store, often with her beautiful blonde toddler helping mommy run things. Mirja is very sweet and takes time to talk to her customers, even gift wrapping your purchase upon request at no additional fee — just as German boutiques often do. Viel Spass beim Einkaufen!
(photo: Wendt & Kuhn Angel with Baton, $20)