Have a lovely weekend everyone! I plan to do a lot of work around the house, see Coraline, and spend time with my family. I hope that you enjoyed decor8 this week as much as I did. Thank you for spending time with me and for your lovely comments and emails. I hope that you will enter the wallpaper contest, so scroll down for more information on that in case you may have missed it. Here's a glimpse of some other things that I will do this weekend:
I'll be visiting the Chiara Alberetti Milott website for more inspiration like this amazing photo. I love her collection of books!
I'll also be spending money that I do not have on pastel masking tape from Japan. Really. Need I say more? Pastel. Masking. Tape. That is the stuff that dreams are made of! You can find these yummy rolls at DWR, via Oh Happy Day who found it first. Don't miss the website of the Japanese company that makes it, such a lovely place to click around. They even sell some with a graph print (my favorite!).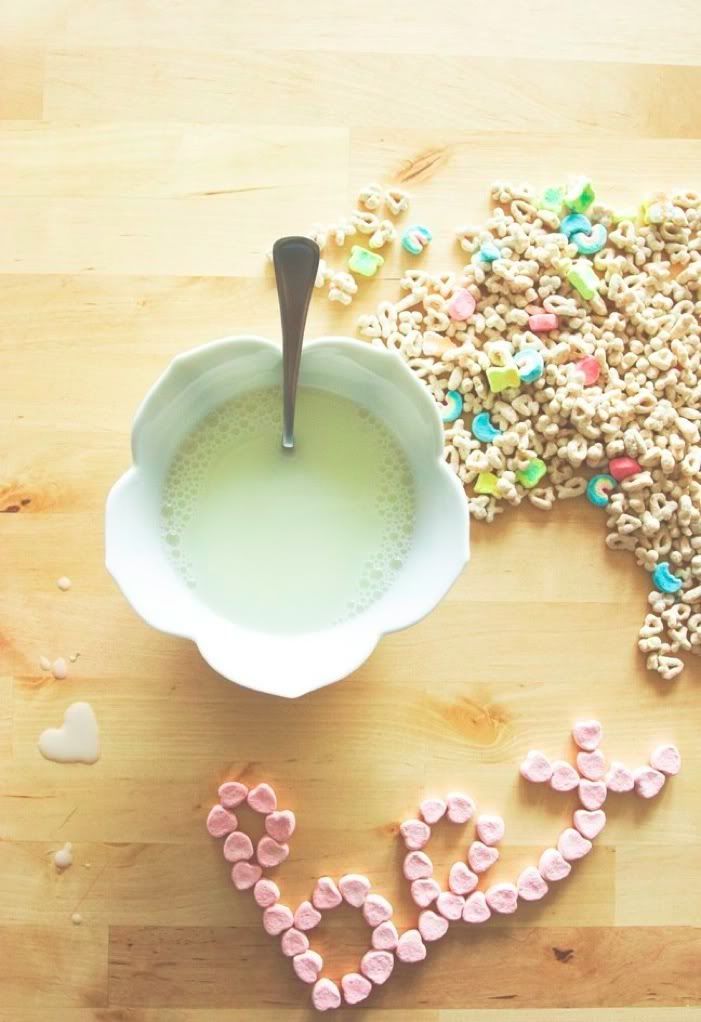 I plan to learn more about Aubrey Trinnaman, also discovered from reading Jordan's Oh Happy Day blog. I love this photo and the idea that playing with food is absolutely cool. Time to break the rules with a box of Lucky charms this weekend! Notice the milky heart on the table? Lovely subtle detail.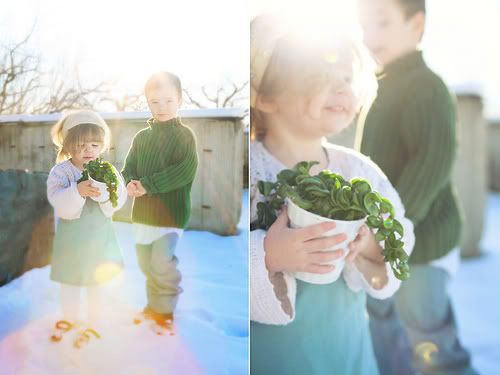 And I will read a new blog that I found today from a comment left by Mindy, her photography blog Three Little Birds is gorgeous and I want to spend more time later browsing it. I hope you will visit too.
What will you do this weekend?
(images linked to their sources above)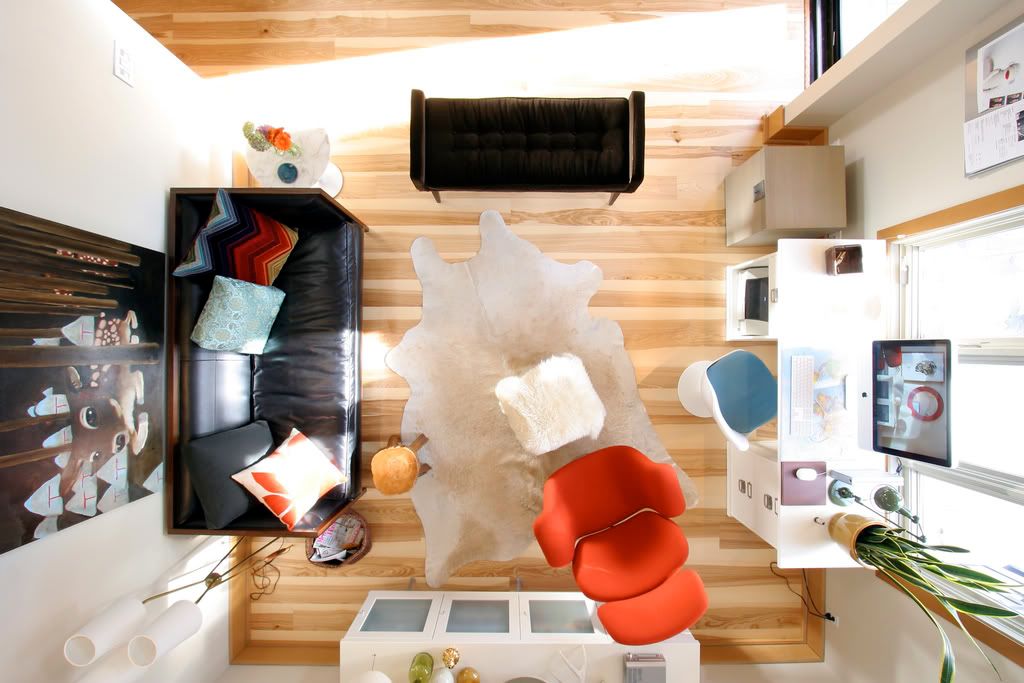 Hello and happy Friday! I love Fridays and for the next three weeks and possibly beyond, I'm going to give you another reason to love Fridays with How Much For This Room? — a fun new series on decor8 that will take you into a room and break down each item listing price and source along with a grand total for the entire space. Yay!
For the first three weeks Calgary-based interior decorator, artist, and photographer Lori Andrews, aka the 10-Cent Designer, will walk us through some client spaces starting with her own living room shown below. Lori and her husband Ken are just starting their fifth year in a charming 100-year-old 1,100 square foot home in a vibrant neighborhood in Calgary. They love their home and enjoy completing a new renovation project each year and love to mix in a few more "permanent" furniture items, too. Living close downtown, Ken is able to walk to work and Lori is minutes away from the shops she does business with for her Interior Design projects. They have no plans to move on to something bigger or to a fancier neighborhood, "it feels good to buck the environmentally disastrous trend of over scaled houses and suburban acreages". Their neighborhood is full of young families and an eclectic mix of people and cultures. You can view Lori's entire home here on Flickr.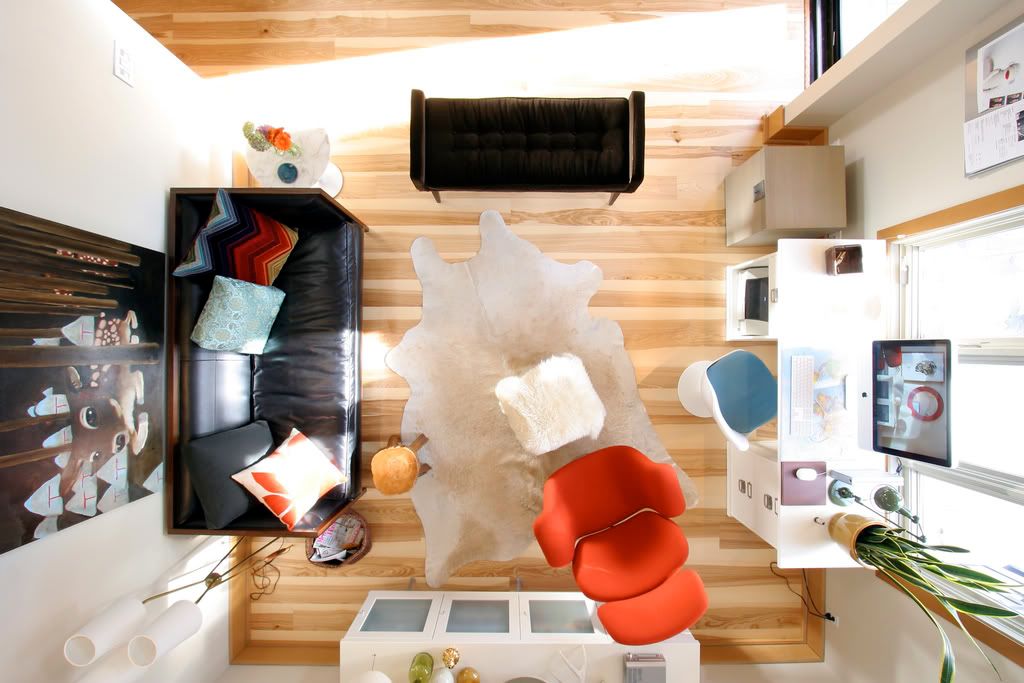 Lori's living room.
When we lust for rooms in Elle Decor or Dwell we can easily forget that costs can go into the thousands for such spaces, some into the ten and hundred thousand dollar range for a single room. Oh yes. Lori and I both agree that television shows and magazines can often mislead when it comes to how much rooms really cost to design. You see a space, try to recreate it according to your budget, and sometimes fall flat wondering why your living room doesn't look like the one that inspired you from the magazine. On the flipside, lots of us watch shows that miraculously pull together a dream room under $1000 and while it can be done if you have a hunky carpenter at your disposal building custom furniture at no charge and a seamstress doing all the window coverings and upholstery work for free, that's not real world design. It's also important to note that most shows play with the numbers so the rooms you see aren't always "under budget". Lori and I discussed these points just this week so I have to credit her for the idea to try out this new column.
One thing of many that I respect about Lori is that she shops local for the most part, "I prefer to spend my dollars in my own city. I have built good relationships with my suppliers and while I often am not assured of getting the "cheapest" price, I am confident in their customer service and in the fact that part of my money stays local." Lori is also a lover of handmade and prefers quality over quantity, "I prefer to buy Canadian artisans and design whenever possible". I am also happy to buy "antiques and retro items" online. Lori's furnishings are a mix of mid range pricing and quality and entry level IKEA, seconds and Pottery Barn) quality and pricing.  Her signature pieces are heading into the luxury range and the art that her and her husband purchase is by mid career artists.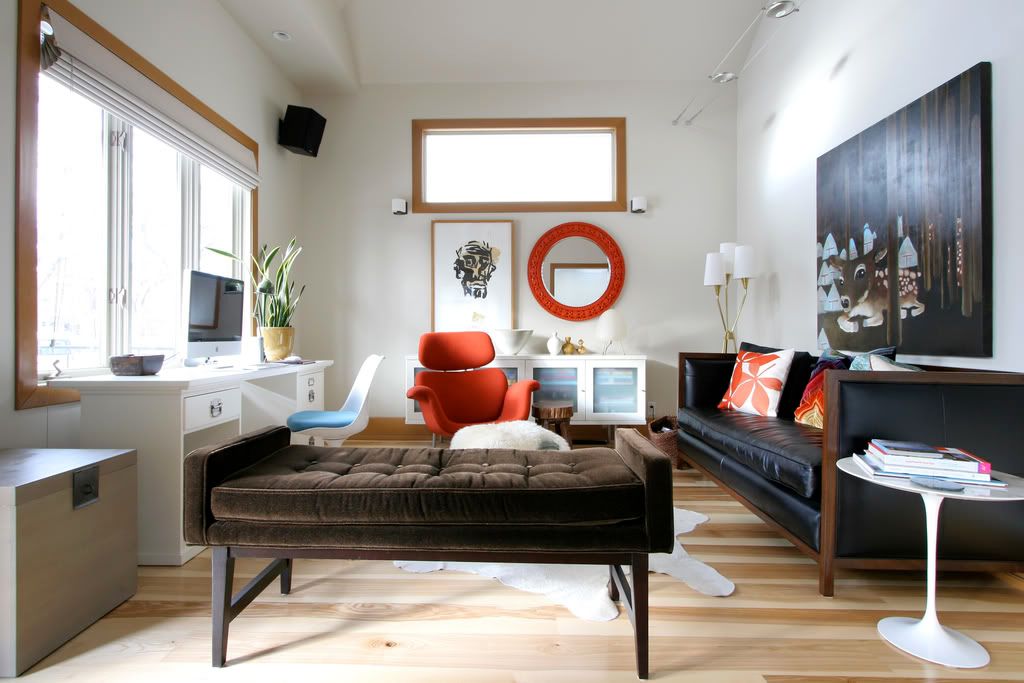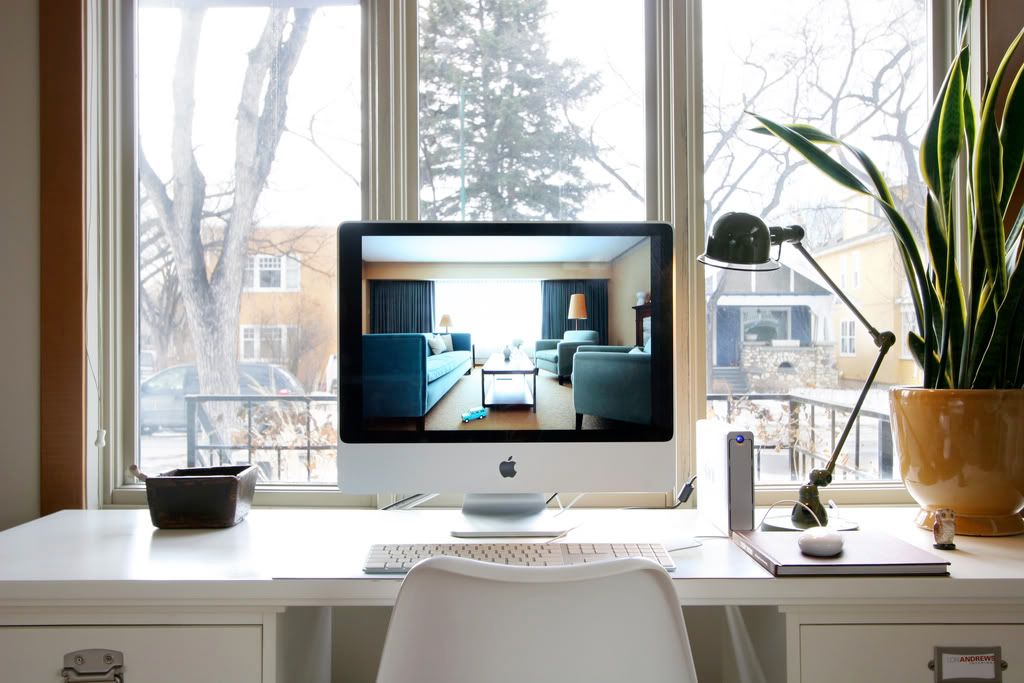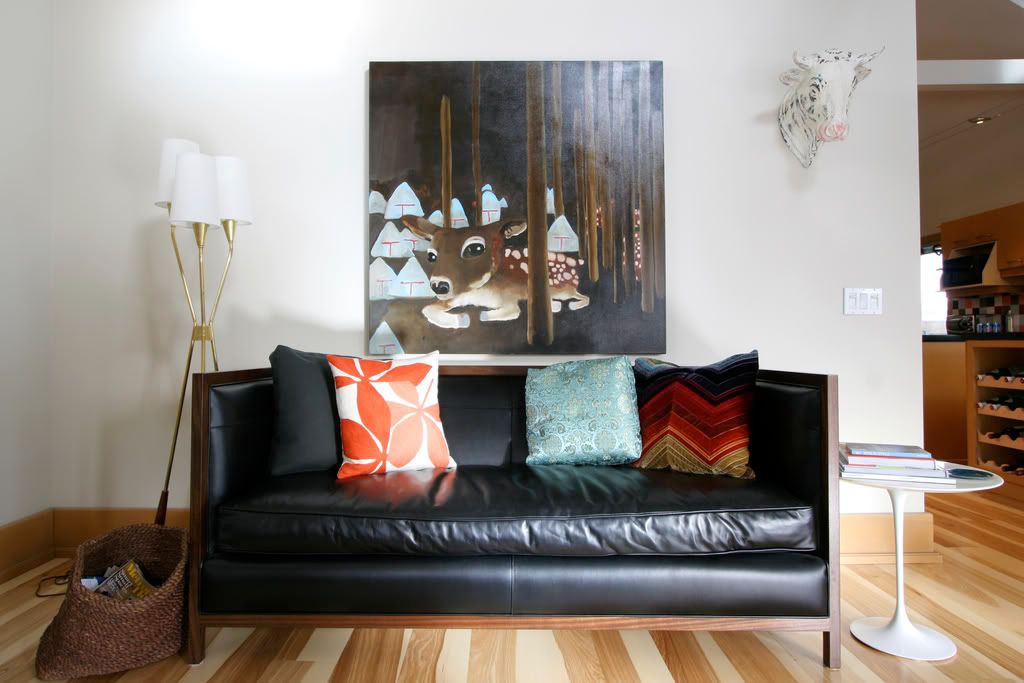 What you're seeing:
1. Sofa from Montauk wood frame custom 6 foot size $6000. 2. Painting, Margaux Williamson bought at Skew Gallery Calgary $3000. 3. Floor Lamp Gerald Thurston Three Leg lamp for Lightolier purchased through 1stdibs.com from Fat Chance $1000. 4. Pillows Judy Ross cushions purchased from Kit Interior Objects $200 each (2). 5. Plastic cow head purchased from Home Sense $35. 6. Side table, Saarinen marble purchased from Kit Interior objects $650. 7. Stool, recycled teak purchased years ago for $350. 8. Leather cowhide purchased from Buckskin Leather $290. 9. Silk chevron cushion purchased in SF at Krimsa $500. 10. White Credenza, IKEA Bonde $400. 11. Trevor Mahovsky drawing $500 (market price). 12. Mirror orange filagree $260 at Steeling Home. 13. Bowl large handmade natural bowl by artist Chris Faulkner purchased at Kit Interior Objects $300. 14. Vase small handmade white artist Tyler Fritz purchased from Kit Interior Objects $140. 15. Noguchi Table Lamp Model 1A purchased from Kit Interior Objects $100. 16. small Gold vase Jonathan Adler $65. 17. Wall Sconces from Robinson lighting and Bath originally by Tech lighting no longer available but some just like it are available here at Jesco lighting $300. 18. Artifort Orange chair from Kit Interior Objects $3000. 19. Desk from Pottery barn bedford modular desk components $1000. 20. Lamp on desk by Jielde $500. 21. Computer 24″ iMac $2000. 22. Gold vase made by artist Tyler Fritz $140 purchased at Kit Interior Objects. 23. Vase and Plant $100 from Sunnyside Home & Garden. 24. Small wooden vessel $65 from Country Furniture. 25. Saarinen tulip chair $1000 from Kit Interior Objects. 26. Painted storage chest from Pier 1 Imports $300. 27. Magnetic board IKEA $10. 28. Mohair Jonathan Adler Bench approximately $2,350. 29. Small blue polished stone coasters $20. 30. Custom gray boxed cushion $300. 31. Blue Asian silk cushion$120. 32. Flooring Kahrs Ash floors installed by contractor with new subfloor $4333. for this area of living space, 33. World map desk pad $16.95 from Map Town. 34. Blue leather/brass tack footstool $800 from Soho + Nada. 35. Sheepskin $89 from Buckskin Leather.
Grand total- $30,433.95 (not including track lights, speakers, back up drive, paint or window coverings).
In addition to Lori's help on this column over the next three weeks, I want to recruit fellow bloggers, designers, and readers who have a space that they would like to break down here on decor8. Budget spaces are welcome, high end, mid range, a variety is good. If you want to participate, please send me one clear image of your room shot in daylight to holly AT decor8blog.com for consideration.
Any questions for Lori? Please comment below!
(photography by lori andrews)
This rustic solid elm coffee table is gorgeous. I wrote about it today along with some other gorgeous deals over at Real Simple because I've had my eye on this particular table for a year now and nearly died when Shabby Chic slashed the price yesterday from $695 to $199. Problem is, I have since purchased another table so I have to pass on this beauty.
I love large coffee tables like this one because I enjoy sitting on cushions dining by candlelight or serving snacks to my friends – we're big on fondue and sushi parties but also serve a lot of cheese, wine, bread, and olives around here and so a large surface is extremely helpful. I just slide over my decorative items and stacks of interiors books and there's plenty of room to get down to business and eat!
I currently have a large wood table like this in Germany and I love it, it's a prized piece in my flat because it's not only a beautiful chunk of natural wood (adds great warmth near my crisp snow white slipcovered sofa), but it is highly functional because I use it daily for everything from eating to entertaining, card games, board games, even crafting and painting while I watch television. Don't miss the other huge savings over at Shabby Chic online! Get them before they are gone for good! I'm hoping the Ella Bench goes on sale because it would be perfect for my home office.
(image by shabby chic)
I'm so pleased to be sitting here with all of you today to discuss creativity and how to better tap into it. I love writing the Creativity Series, I feel like all of us are really connecting through the comments and because I read each one, I'm clicking on your links and learning about your blogs, what you do for a living, and many of the things that are important to you. Thank you so much for your participation in this series thus far!
For those just catching up, the first week we discussed the benefits of tapping into childhood and how mind mapping as a good way to do that. Our second week was all about exercise, and week three focused on the benefits of keeping a journal. So what will we talk about today? I've invited Marisa Haedike of Creative Thursday to visit us and share her personal experiences, which she does after my thoughts below, so let's get started. I also can't wait to see what you have to say on this topic, Marisa and I will be reading your comments and answering any questions you may have.
Develop a positive support system.
I know, easier said than done since friendships grow and change on a daily basis, often by no conscious choice due to relocation, pregnancy, marriage, and changes in employment. With so many friends on the go, it's often challenging to schedule a 10-minute coffee break so most of us get little quality face time with our friends. How does one form a support system?
Here are a few ideas that I've tapped into. You can reach out to your local community by joining a group with similar interests through a website like Meetup.com. You can also take advantage of the many social networking websites to stay in touch, try Twitter (my current obsession), Facebook, LinkedIn, etc. Another idea, join a book reading club or form a knitting circle. (And if you think a knitting group may be boring read Unravelled by Robyn Harding!) I've done this in the past, host a clothes swap or decorating swap! I made up the decorating swap idea, it's where I invite over friends and we trade stuff from our homes, trading a Jonathan Adler ceramic for a design book for instance,that kind of thing.
Another way to form connections with others is to seek those online that you feel a connection to through blog reading. That is how decor8 was born. Comment on the blogs that you love regularly so their authors can get to know you. Find out if they are using the same social networking sites that you do and request to become their friend and follow their work. I've had lots of decor8 readers send me cards through snail mail along with their business card, I keep every single one and refer to them often.
Looking for good blogs? For those of you new to the blogworld, you can locate thousands organized by genre at Delightfulblogs.com. There are blogs written on nearly every topic imaginable, the topics span from crafting to interior design, architecture, creative writing, DIY, IKEA hacks and beyond. There is even a magazine devoted to artsy blogs called Artful Blogging and it's a beautiful, informative publication where I have been introduced to many lovely new faces online.
Once you start reading blogs, you may feel inspired to author your own as yet another way to build a supportive network. You can attract many like-minded individuals once you put yourself out there as either a blogger, a regular commenter on blogs, or both.
A Little Bliss by Marisa Haedike.
For those of you who already read blogs or author your own, how do you take it to the next level and form a friendship?
I've invited Marisa Haedike from Creative Thursday to share from her personal experience as an artist and blogger. Take it away, Marisa!
"Just the other day I had lunch with a new friend and the main topic of our conversation was the importance of human connection. And while this particular lunch was in person, my first introduction to her was via the internet.
It is now becoming the norm for me that many of my closest friends here in Los Angeles are actually friends I initially "met" by coming to know them through their blogs. This is when you realize just how powerful the internet is in opening our possibilities to connect in such meaningful ways, becoming a community of support to one another.
It seems obvious that human connection is vital, especially in person. But now we are all fortunate to be part of a time where you realize that human connection has the potential to extend across the continents on a daily basis.
And that is key in building your community online, recognizing that there really is no difference between connecting online and making friends in person.
Which brings me to my first and most important recommendation in building your community of support online. Choose to be yourself. Start connecting from who you truly are, and this way you will build that kind of community that will be the most genuine. The beauty of connecting online is that now more than ever you have the chance to meet so many wonderful people.
Just say hello. It all begins with willingness to say hello to the people you want to "meet", reaching out to the people who inspire you. Also be willing to offer your support to those who inspire you and do so unconditionally. When you do reach out, or offer support, you may hear back from some and not from others. Remember, if for some reason you don't hear back from someone, not take it personally, just trust that the community that will resonate the most with you will find you, and you will find them.
And when you do find them, be a friend. Friendships are an exchange between people and it's the same online. You have to be willing to open up. Of course, I don't mean revealing parts of yourself that you choose to keep private, but you have to be willing to share who you are.
This is where I can't say enough about blogging. I don't think the importance of having a blog or a web presence that you can update regularly, like facebook or flickr can be stressed enough in terms of building your community. A web presence where people can leave comments is especially good. Having a place that you call "home" online is the only way the friends that you are wanting to connect with will have a chance to "meet" you and over time come to "know" you just as you would with an in person relationship. Even if all you have is an about page attached to your blog ~ that's something, it's a start.
And you may be wondering why I'm focusing so much on friendships and less on the business connections, because going back to the conversation I had over lunch with my friend, we both realized how business connections are built from human connection, which starts with the willingness to be a genuine friend to someone." – Marisa.
—-
Building friendships, having a support system with others who 'get' you, this builds creativity. Exchanging ideas, a process, a fear, a success.
Now it's your turn readers. Do you have a support system? Online, real time, or? How did you build it? What is missing that you wish existed? How does a support system help you to feel inspired, to be more creative?
(photo by holly becker for decor8)