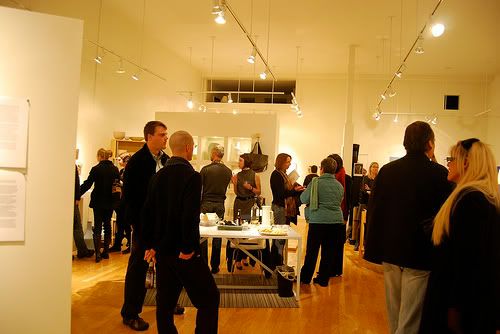 I know I said I'd be light on text today, and I will after this post (grin), but this topic may spark a nice discussion either here or within your own circles so I thought I'd throw it out into the world and see what comes back. It's also a nice thought to bring into the weekend: the idea of needing one another. Many of you asked to read the essay that I wrote for the current Inspired: This I Believe exhibit at the Nahcotta Gallery in Portsmouth, New Hampshire. It was the first time that I contributed to a show like this as typically galleries look for art and not essays for their shows. It's exciting to see both mingle together, which inspired me to write an essay titled, "My Declaration of Interdependence". In addition to the essay appearing in their gallery space until February 1st, it's also up on the Nahcotta blog. After you read it below, I hope that you'll take out a moment to chime in with your thoughts on the interdependence in the art and design world. I'd love your take.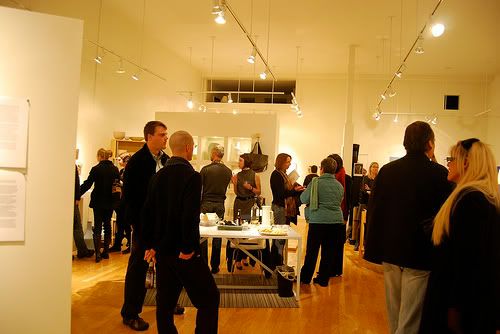 My Declaration of Interdependence
"No man is an island". Whether this quote calls to mind author, John Donne in his work Meditation XVII written in 1624 or the 2002 film About A Boy in which Hugh Grant perfectly plays a single shallow thirtysomething with a disposable income but no real "life", the point is clear: We can not thrive when isolated – we need each other.
The Indie movement has made great strides and continues to thrive because though "Indie" may mean breaking off from 'the man' it does not encourage complete independence, its success is based on the principals of interdependence. Interdependence is about making allies, building bridges, forming solid partnerships. In big business you can step on a few faces to climb your way to the top. In the indie world, and I'm speaking of the one in which I'm a part of mingling with creatives and artists, stepping on others is the fastest way to find yourself at the bottom. Going "indie" also means that we'll find ourselves handing over power to others, trusting and sharing, and that's perfectly okay because our goal for personal and creative freedom can still be met. A desirable goal for creatives and artists, the indie lifestyle is also becoming a necessity as corporations continue to outsource, downsize, and close their doors.
This is exactly why I left a lucrative profession in the corporate environment in 2005, I wanted to pursue my talents and use more of my creativity to help others. Working from home nearly full-time as a writer and blogger, I'm able to do that successfully but there is a negative to this lifestyle: too much independence can create a personal vacuum and hinder growth and development. I'm not as independent as I once thought going 'indie' would make me. I'm more dependent on others than ever before. I depend on my readers, my contracts, my clients, because I care about their success, I have a vested interest. Their success is my success, and I like it that way because it keeps us all responsible in my 'circle' and that's a good thing. I've come to learn that this daily interaction — being independent as a small business owner and being dependent as a creative professional — is interdependence.
My husband Thorsten Becker so nicely puts it, "We are becoming independent of the established conventions and restrictions placed upon us by conformist thinking and profit margins yet we need a strong support network to stay independent." That is why I believe in interdependence within the creative community. The exchange of ideas, whether through a blog or at a gallery such as Nahcotta, can influence our thinking, open our minds, and help us to build such networks. Great things can be accomplished amongst independent but interconnected individuals and groups who work together towards common goals. I think another excellent example of this is blogging and how rapidly it has grown in such a short period of time. At first, it required some effort in overcoming long established but outdated thinking patterns, certain preconceived notions as well as misconceptions about what on the web is worth reading and what is not, but the reward has been that bloggers are recognized as a large reason for the success we see in this new creative economy. Design and craft blogging started off very small, one person, then two, and currently blogs number into the thousands. What better way to illustrate interdependence and its power to transform than online.
Another powerful illustration of interdependence is alive around you in this very space, at Nahcotta. Many independent artists are presenting their work and their interpretations of the theme "This I Believe" through art and text. We all want to believe, though we may not always know what the future brings as we cannot foretell the definite outcome before we reach it, but the more we believe in each other and ourselves the greater the end results will be. There is also the journey to consider, and I believe that the journey alone is often more rewarding than the result as new dependencies are often established and existing ones strengthened while at the same time the spirit of independence is fostered. Seeing it all in motion and experiencing it first hand as a blogger and freelance writer, I believe in interdependence even more but also believe that in order to see change we must be a part of that change and work alongside those who support it. No man is an island.
– Holly Becker
(image from Shari Altman sent to me by Nahcotta)
Sometimes it's best to say just a little and show a lot. This is my theme for Friday. All posts will be light on text and BIG on beauty today.
Happiness is…
Groundwork, Hadley Hutton, Orange Lola, and Bethan Lloyd Worthington.
Tea Cup Series.
Moth Speak print.
A limited edition book from Art & Ghosts.
Eskil jewelry.
Brenda Rose, Eek Design, Brooklyn Rehab, Art & Ghosts.
The latest issue of Mankind Mag makes me happy, too. I love watching Erin grow out her business and produce this fine magazine.
Clothing by Maria Lucia Squillari.
(images linked to their sources above)
When Joy blogged recently about balloons being the next mustache when it comes to trends I was sitting here with my head bobbing up and down in total agreement. Balloons are all I see, think about, I just love them in pretty pastel or metallic silver or gold. Festive, happy, uplifting, balloons mean fun, freedom, and femininity. I've noticed them in everything from ads to fashion photography, products, and in lots of artwork lately. Are you seeing them too?
Birds of a feather…In addition to balloons, I am enjoying feathers more than usual… After watching the MTV Europe Awards in Manchester, England last year seeing all of the feathers flying around in Pink's performance in addition to celebrities donning plumage (real, faux and feather motifs), I felt this whole bird trend changing a little, going from the entire tweeter to its lovely coat. I'm starting to see feathers as earrings, feathers on hair clips, feathers on evening bags, and of course in art, craft, etc. Samantha Hahn uses them in some of her most recent work. Ez posted about the beauty of a single feather placed in a test tube just today. I notice them in more and more music videos thanks to the most intellectual channel I've been watching wayyyy to much of lately called MTV.
(Bobbin bunch necklace from Anthropologie,Rug from Anthropologie, Sustenance print by Celebrate Life, Do you believe in fairies photo by i.anton, Just a Fledgeling print by KJS Design, and feather boutonniere via Twigs & Honey.
Aside from balloons and feathers, I'm inspired by Springy colors lately… Apricot and a pale Jade green to be exact. My suspicions that others may also be into these hues were confirmed upon finding this gorgeous artist box over at the Shop House store on Etsy. It is at least the hundredth find using these two colors that has come across my desk this week. Doesn't Apricot sound better than Peach by the way? So going forward we use Apricot to describe Peachy tones, deal?
Remember my obsession with soft lilac late last year? The love affair is over. Which can only mean that my German apartment is in BIG trouble when I fly back over there in May. Looks like I will need to tone down the lilac and freshen things up with jade and apricot. Another color I think works within this palette is a mid tone aqua. Your thoughts? Not dark, not subtle, I guess I can describe it as 'there' but not screaming. A Caribbean sea, the lightest part of the water that you dip your toes into (before the piranhas snack on it).
Pink is still on my list of colors that inspire me, but pale and I'm liking it paired with either a yellow (think pink lemonade) or with apricot. It's also quite stunning with mustard which sounds so unexpected and potentially wrong but it's not. Trust me. It makes pink look less Hello Kitty and more Hellooooo! It's very SF Girl By Bay. And very Springy. As the snow hammers down here in my part of the world, Spring is all I think about.
Another popular, I guess you can say trend, I'm seeing are light blobs on photos (here's a beautiful example from Flickr photographer i.anton), along with photos out of focus, and ones that merge handwritten text or doodles though that's nothing new but certainly seems to be growing in popularity. Do you like these things?
A funny trend I laugh at whenever I'm looking at the fashion mags are those big bad circa 1985 earrings that resemble door knockers. It's the 1980's all over again. Gotta have at least one statement maker in the jewelry box this season, no matter how large or how much you swore you'd never wear them again except at those throwback parties where everyone is encouraged to show up dressed like Madonna or Boy George. I'm still on the line when it comes to massive earrings so I cannot say they are inspiring me right now, but I think seeing the 1980s reinterpreted is inspiring because I grew up then and wonder if anything is even worth bringing back. After seeing that Kelly Wearstler spread in last year's Domino magazine with her "new" style being big on 80s resort hotel-chic with a whole lot of bad 70s thrown in for a healthy fight for attention, I think perhaps others are having fun with seeing what potential lies from styles buried long ago. I think I have an answer. Very little. If I see friendship pins, gummy bracelets, and lace gloves paired with the current big earrings heading down the catwalk this Spring I just may seriously start to question those tastemakers out there. But for now, it's fun and I'm enjoying some of this cheeky 80s. The only thing I have a problem with is when people call the 80s "retro" or "vintage". I know I should get over it but man my skin crawls. I was watching a commercial the other day, and it wasn't that annoying ShamWow one (it holds 20 times its weight in liquid!), but some equally annoying 30 second blurb about some RETRO 80s Music CD with bands like Journey! Foreigner! Wham! and I hung my head low and felt really, really vintage.
What are you liking at the moment? Any trends you'd like to call out for the fun of it? Not that we care about trends here because I don't think I own anything trendy at the moment, but it's fun to talk about isn't it? Anything you see that has like been DONE ALREADY and you are so sick of it?
Share! Because sharing is caring. :)
(images linked to their snazzy sources above)