Great news! There is yet another gorgeous online gallery to add to our growing list, it's called Udessi and it offers contemporary Australian art, craft & design from emerging and established artists. Launched by Kim Wallace, a graphic designer and artist born and raised in the Netherlands, Kim is constantly on the lookout for fresh and exciting contemporary art and craft.
Now based in Australia with her husband, Kim says, "I want to showcase what amazing art Australia has to offer, focusing on pieces with a uniquely Australian quality and feel, whether it's the materials that are used to create it, the look and feel of the artwork, the colours and textures, or the story behind the artwork."
After browsing the site this morning and looking through the various works, I knew I had to share this gem with you. It's such a beautiful spot on the web and the products are unique, affordable, and make the nicest gifts. It's still new so more products will be added but Udessi is off to a good start as it's clear Kim is in the right business as she is the perfect curator and passionate about what she's doing. Bravo, Kim!
A special thank you to Stephanie Bond for sending me the nicest email about Udessi, these little tips from readers are so very helpful!
(images from udessi)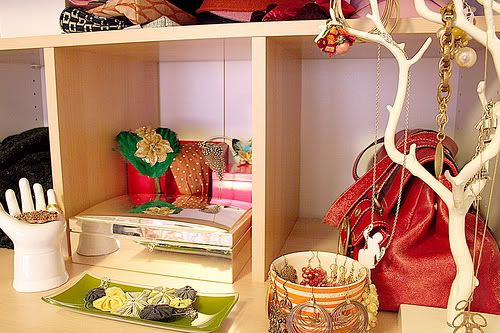 Have you ever looked at something someone else did or had and felt like a total loser? I have the fingers on my right hand shaped like an L on my forehead right now all because of Nicole. I still love ya Nicole but my God are you showing us all up. Talk about raising the bar! Look at this closet. OMG.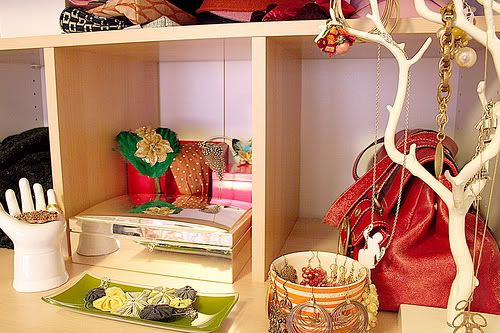 Seriously, this girl is amazing, she is the younger pregnant Martha Stewart of Chicago. Not only did she wallpaper her dining room 5 months pregnant, but she has the most organized closet in the entire world. I'm not about to re-post all of her photos here, so you'll have to check out her blog Making It Lovely for the full scoop (and more images) but here's a glimpse of her seriously awesome closet. I love how she even sketched out how everything is organized. Bravo, mama!
I'm inspired now… I need to whip my closet into shape. How many of you need to work on your closet too? A good post-holiday project, don't you think?
(images from nicole at making it lovely)
This is a little embarrassing to admit, but when it comes to gadgets I'm in the stone age. My phone is not very exciting, it's old and lots of the keys do not work. And while my desktop computer is swanky, my laptop is far from cool. What made me wake up to the fact that my gadgets aren't very current has to do with a young girl seated nearby on my flight home. You can learn a lot from a college student. She was sitting there enjoying videos and TV shows on her iPod and there I was with my prehistoric iPod Classic, well perhaps it is called the super classic or something because it has no color and can only play music and podcasts. I've used it for several years now and felt quite content with the way things were up until my flight home. I felt so out of touch, like I should be wearing mom jeans and a scrunchie, but more than that, kind of ticked because I wanted to watch sitcoms and music videos like college girl.
When I got home, I contacted my Mac geek friend in Luxembourg and he suggested the iPod Touch 30 Gig so I  ordered it. It will arrive on Wednesday, the day I will officially rank a few points higher on the hip-o-meter. I rarely let others influence my purchases but I'm glad I did this time because I think this little gadget will be helpful for me and I love the fact that I can access the web on it and Facebook because I'm ADDICTED to it.
I know this isn't a gadget blog, but I have to ask… Does anyone have the iPod Touch and if so, would you like to leave a review? I'm always interested in what my friends have to say about products so I'd appreciate your feedback. I'm especially interested in small business tips and ways that it may be able to help me in that respect.
(image from mac)
Hello everyone! After 24 sleepless hours, I'm home and jet lag free. Our friends met us at Logan airport with tulips, wine, and a bag of gourmet style foods from Whole Foods, which nearly made me cry. The moment I stepped into my New Hampshire home this dreamy feeling washed over me, like I knew that this was my home but I couldn't quite process that I was no longer in Germany. Can you believe that our next door neighbors brought over a casserole because they missed us so much? Yeah, I mean really. How nice was that?
It's been an odd few days, this is my first time experiencing two homes and I hadn't thought about all the little things that would occur as I settled back in on this side of the pond. I couldn't remember where I kept my scissors, I kept grabbing for a long handle on my cabinets instead of a center knob, I had 7 bins of mail to sort through, and I have a car again. I also find myself making plans that I would go here or there this week then realizing I cannot because those places are now thousands of miles away. I also came back at a pretty bad time, we have had unbelievable snowfall, our car is completely buried (you can only see the tires). It's truly a winter wonderland and so very pretty but also a bit of a pain because exchanging the convenience of the city for country life that is, well… not nearly as easy.
How are you today? It's a holiday week so blogging will be sporadic here on decor8, but I'll be back in a few minutes with some inspiration for you to bring a little cheer. :)
(image from holly becker for decor8)